Engineering Design and Manufacturing Lab (EDML)
EDML is the heart of manufacturing in the Mechanical & Industrial Engineering department.
Designed with an emphasis on safety and efficiency, the EDML facility is divided into three areas:
Protocols are in place to establish a clear way for students, at all levels, to have the opportunity to work with professional industrial quality machinery.
Exposure and even access to advanced CNC and CMM machinery is possible!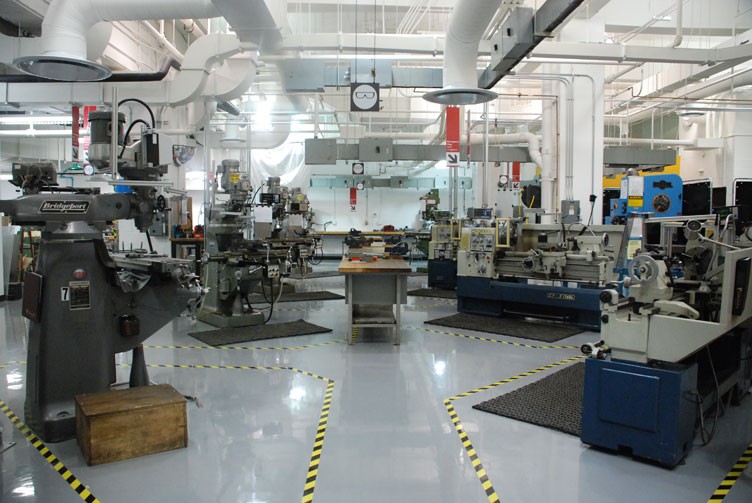 EDML. Click to enlarge.
EDML A is staffed by 1 manufacturing instructor and 3 technicians. We are equipped with conventional [drills, mills, lathes, welding, etc] and advanced [computer numerical control] machinery to help you produce your prototype. It also has rapid prototyping capabilities and a small inventory of parts to accelerate student familiarity with industry components.
EDML B features conventional mills, drills, a sheet metal area and welding facility THE place to allow YOU to manufacture your prototype.
EDML C boasts rapid prototyping capabilities, a laser engraver, some exhaust capability and an inventory of parts to accelerate student familiarity with industry standard components.
While the primary mission of the EDML is to provide undergraduate manufacturing support, it also serves as an example of excellence and provides space and support for all levels of students to attain their manufacturing objectives. During fall and winter, courses such as Mech 311 (Manufacturing Processes) and Mech 490 (Capstone Mechanical Engineering Design Project) make heaviest use of the facility and outside these courses, graduate, post graduate and extracurricular student organizations are given opportunities for training, access and service.

To pursue this mission, the EDML is equipped with three CNC mills, one CNC Lathe, four conventional mills, three conventional lathes, sheet metal facilities, welding facilities and other machinery typical for a metal working environment including, but not limited to, hand tools, grinders, bandsaws and drill presses.

EDML staff look forward to helping you learn, design and develop for engineering excellence!