Safety is a number one priority in our Engineering Program as supported by University policy VPS-40. Teaching laboratories are supervised by trained technical staff who also have completed first aid & CPR training.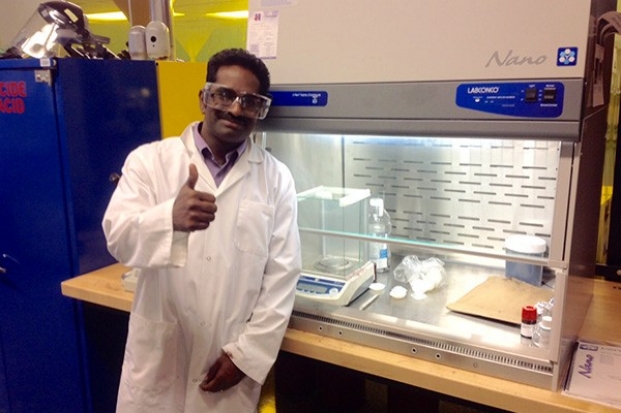 Dr. Jayan Ozhikandathil in front of a nano particle enclosure used for the safe transfering of nano materials into solution.
Laboratory Safety Guidelines
Students are required to follow our laboratory safety guidelines and to be aware of emergency procedures.
We work closely with the Environmental Health and Safety office (EH&S). Any student who has a question regarding safety can contact the department safety officer or EH&S for assistance.
Every project requires attention and the prioritization of safety principles, training required, hazard identification, risk analysis and hazard mitigation.
The department safety committee comprised of of faculty, students and staff meet regularly to discuss safety and training.
Safety Training Events

Consult this calendar of safety training events encompassing chemical handling, hazardous materials, corrosives, lasers, radioactive materials.