Concordia alumna wins big on Jeopardy! — twice
Who is history and journalism grad Diandra D'Alessio?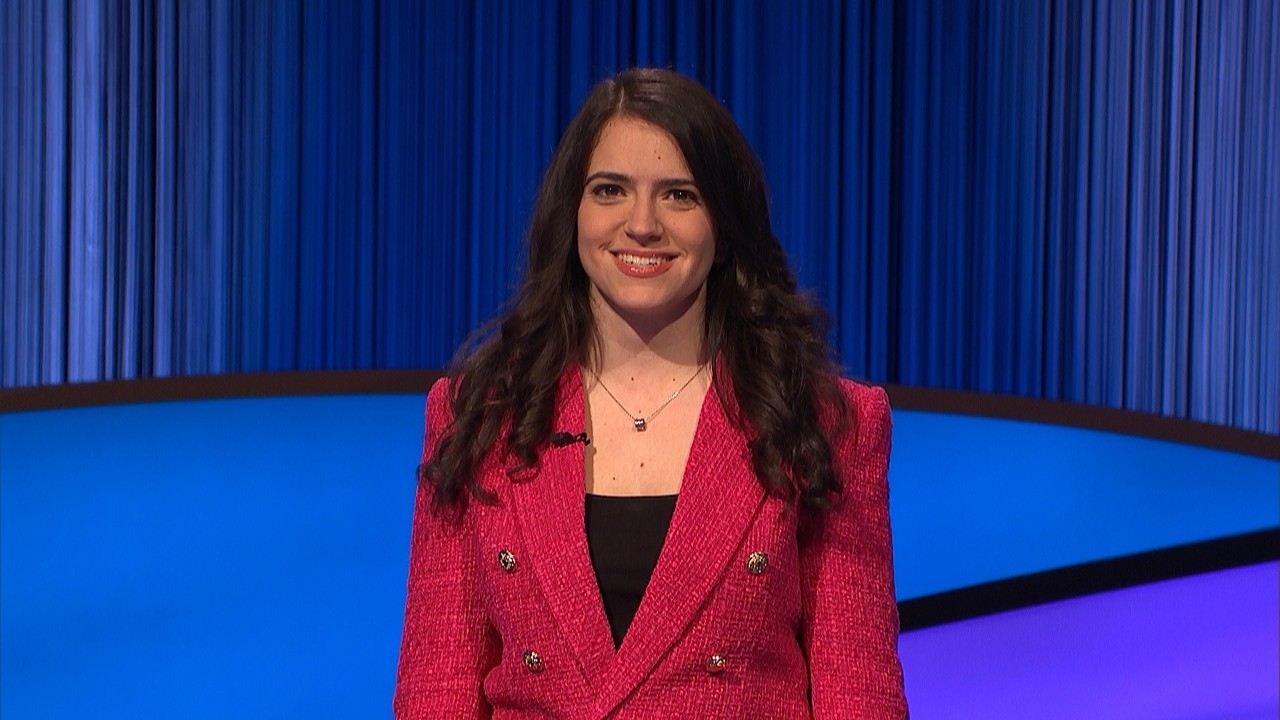 Diandra D'Alessio appeared as a contestant on the popular television quiz show
Jeopardy!
in May 2023.
A childhood dream became reality for Diandra D'Alessio, BA 14, MA 14, GrDip 16, when she appeared as a contestant on the popular television quiz show Jeopardy! in May.
The technical writer, and history and news enthusiast, made her appearance with back-to-back wins on May 26 and 29, bringing home $16,700 USD.
"I've watched Jeopardy! since I was a preteen but never imagined I'd be on the show," D'Alessio says.
The three-time Concordia graduate says she started applying to be on the show in her mid-20s, but it wasn't until 2021, at 29 years old, that she made it past the second phase of qualifications — an audition in the form of a game simulation. After the audition, she says it can take up to 18 months before contestants are informed that that they've been selected for the show. D'Alessio got her call in February 2023.
"I was thrilled, but it still didn't feel real. It finally hit me when we landed in L.A.," she says. "It was surreal to see the Alex Trebek stage in person, let alone to play there. I also appreciated seeing all the work that goes into producing the show — there's a lot that viewers at home don't get to see."
'Proud to represent Concordia'
Following her bachelor's and master's degrees from Concordia's Department of History, D'Alessio then enrolled in the Graduate Diploma in Journalism program.
"I've always been a news junkie and like to stay informed on current events," she says. "Both my history and journalism degrees came to good use on Jeopardy! because of the wide array of topics I learned during my studies."
As a student, D'Alessio served as a research assistant to Barbara Lorenzkowski, associate professor of history, as part of the Concordia Undergraduate Student Research Awards Program (CUSRA). She was also a recipient of the Sportsnet Scholarship in Sports Journalism and interned at CBC News. After graduation, she worked as a copywriter and an editorial assistant before landing her current job.
"My experience on Jeopardy! was even more amazing than I had imagined," D'Alessio says. "I kept trying for the show because while I never knew for sure that I'd be on it — let alone win twice — it was something I always wanted to do."
Her wins not only reflect her hard work and perseverance, but her time at her alma mater, too.
"I was very proud to represent Concordia and my hometown because there aren't many Montrealers who go on the show." Most Canadian contestants hail from Ontario, British Columbia and Alberta, she adds.
"I'm happy that I was able to put what I learned at Concordia to good use."
---