'People are looking for ways to contribute'
Conserving the natural world at Concordia and beyond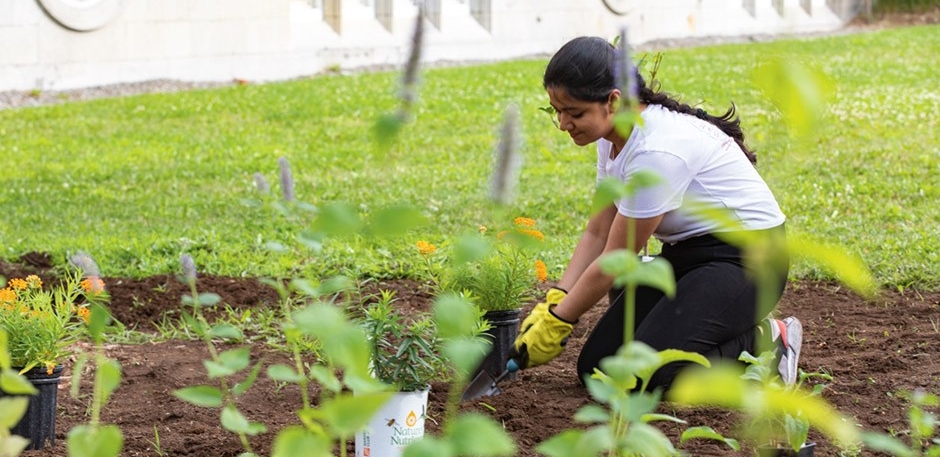 When Concordia partnered with WWF-Canada in 2020, it became the first university in Quebec to join the Living Planet @ Campus program. The goal? Do good for the planet by involving students in meaningful sustainability and conservation work, both on and off campus.
The initiative quickly gained momentum despite the pandemic restraints "because these are issues our community really cares about," says Cassandra Lamontagne, BA 12, MSc 16, coordinator for Concordia's Office of Sustainability.
"With climate change and the biodiversity crisis, people are looking for ways to contribute." The program supports hands-on action to help steward, protect and restore nature in communities where students live, learn and work.
Students can power down for Earth Hour, launch energy-reduction challenges in their departments, create spaces for nature to thrive and represent Concordia in national environmental-design competitions.
The program also offers special funding for biodiversity projects. Last year, for example, several departments collaborated on an innovative student-planned garden on Loyola Campus. With its perennial flowers and native trees, the pollinator-friendly garden contributes to biodiversity corridors and encourages students to put into practice what they learn in the classroom.
Students can also take on the self-guided Living Planet Leader certification or apply to represent Concordia at the annual Designing Change for a Living Planet conference.
"Students who take part in these initiatives graduate from Concordia with hands-on experience and the capacity to continue their sustainability journey," says Lamontagne. "We're thrilled with the value that they get out of the program."
---