Get to know 4 Shuffle teams raising the bar for Concordia students
Find out which causes are being championed at the 32nd edition of the university's walkathon — and how you can help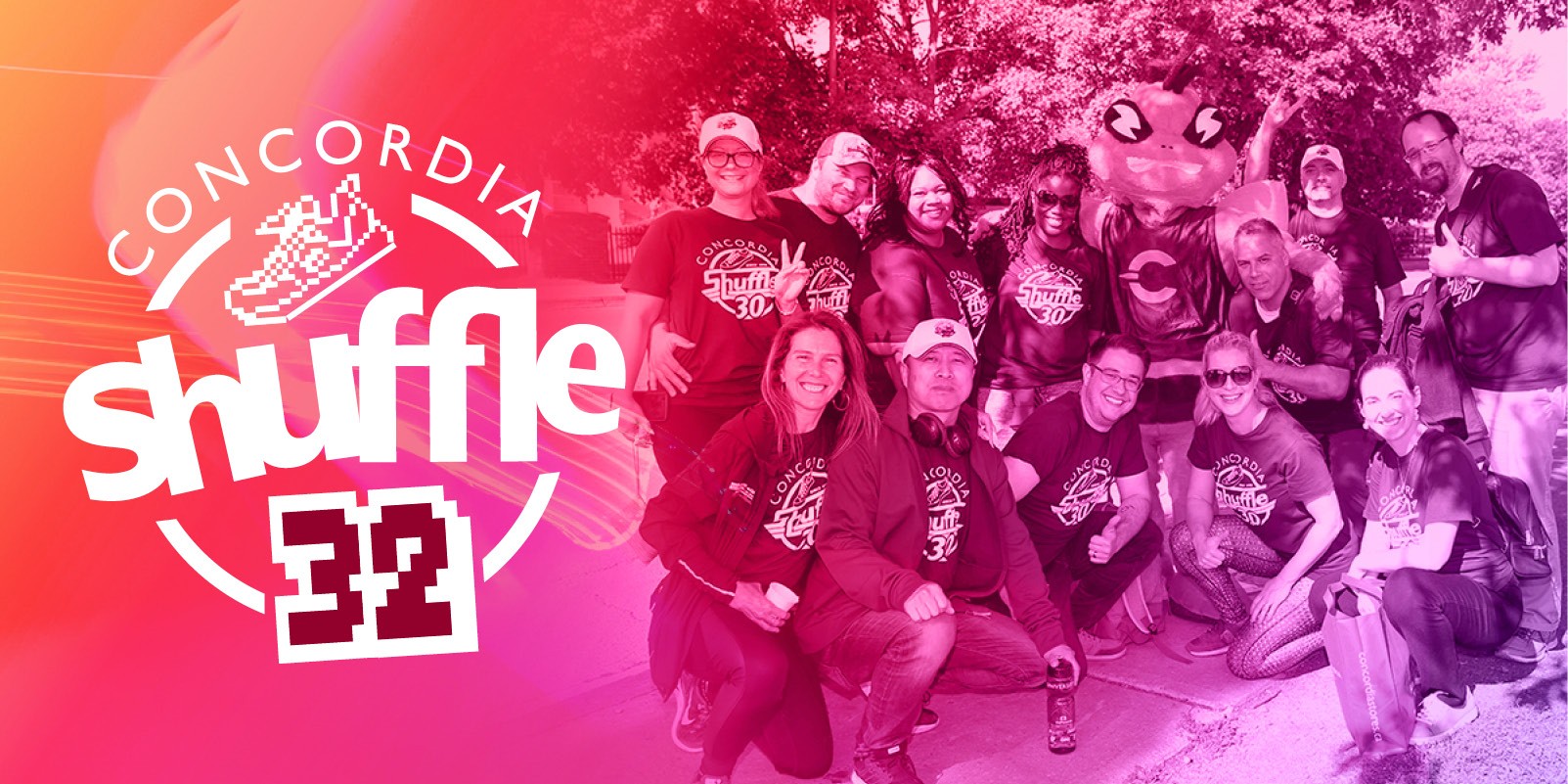 Preparations are ramping up for Shuffle 32, Concordia's annual fundraising walkathon where staff, faculty, retirees, students and alumni raise funds for student financial aid and to enhance university programs and services.
Due to current public health regulations and guidelines, Shuffle 32 will take place virtually with an online closing ceremony on September 24. This means that instead of the traditional 6.5 km walk between Concordia's two campuses, participants can walk where they want, when they want. Shufflers are being asked to set personal or team fitness goals and to share their progress and photos on social media using the hashtag #CUshuffle.
One way to amplify your Shuffle fundraising efforts is through team fundraising, where you can join forces with colleagues, friends and family to support a cause that is meaningful to you.
Meet four Shuffle 32 teams who are making a difference this year.
CU at the Top
Last year, CU at the Top raised more than $20,000 for the Black Perspectives Office's (BPO) Black Mental Wellness on Campus Project, which helped launch ambassador and mentorship programs, offered awards to the graduating class and hosted Concordia's first-ever Black graduation celebration. The BPO Shuffle team is once again hard at work raising funds.​
This year, in response to the unmarked and undocumented graves discovered at residential schools across the country, the CU at the Top team was compelled to support Indigenous students at Concordia. To do so, they partnered with Manon Tremblay, BA 03, senior director of Indigenous Directions, with the goal of raising $25,000 for the Otsenhàkta Student Centre.
Given the ongoing pandemic, CU at the Top team captain Katia Lorye says it is more important than ever to encourage and assist students at Concordia.
"The Shuffle is an important annual tradition at Concordia and students need our support more than ever. Students have been disproportionately affected by the pandemic, with many losing their jobs and struggling to make ends meet. The Shuffle is a great way to support our students while having fun, staying healthy and connecting with others."
Student Success Centre
The Student Success Centre (SSC) Shuffle team is fundraising for the Student Success Centre Scholarship — an award for returning students with a previous failed standing who are determined to start fresh and succeed in their studies.
"The award coincides with our entire idea of helping every student, no matter their circumstances, to succeed," says Ann Mclaughlin, SSC coordinator and Shuffle team captain.
"We're all here to help students succeed, and Shuffle really helps bring us together as a team to support them," says Ann Mclaughlin, SSC coordinator and Shuffle team captain.
She explains that this scholarship is unique because it doesn't punish students who have previously faced academic probation — instead, it rewards them for overcoming adversity.
"The award coincides with our entire idea of helping every student, no matter their circumstances, to succeed."
Concordia Pensioners
Led by members of the Concordia University Pensioner's Association (CUPA), this group of Concordia retirees raises funds for the Concordia University Retired Faculty and Staff Scholarships and Awards Endowment, which distributes 12 awards every year to support undergraduate and graduate students across all faculties.
Joanne Locke, captain of the Concordia Pensioners team, notes that although CUPA members are retirees, "We remain very much a part of the Concordia community, of which we are extremely proud. We support and recognize the value of education, but we also understand that at times it is difficult to juggle one's studies with other obligations, whether they be work or family related."
Ika Periac, a PhD candidate who received a CUPA scholarship in 2020, says, "The award came to me truly like a blessing; the timing was perfect. It has enabled me to continue my PhD studies despite the global health and economic crises. It reminded me of my responsibility toward those who might not enjoy such privilege."
Team Chen
Representing Concordia's Institute for Co-operative Education (Co-op), Team Chen fundraises for the Chenfeng Huang Memorial Scholarship in memory of former Co-op director Chenfeng Huang, who passed away in 2018.
Team captain Stefanie Corona believes Shuffle is an important way to make a difference in the lives of Co-op students while paying tribute to Chen's legacy, whose life was dedicated to supporting students academically, personally and professionally.
"This award recognizes a Co-op student who exemplifies the character traits that Chen possessed," says Corona. "Someone with dependability, personal accountability, collaborative practices, intellectual inquisitiveness and who inspires others to contribute in the workplace and within the Co-op community."
Feeling inspired to create a team or join an existing one? Here is how you can make an impact:
Encourage student success
Create a named undergraduate or graduate Adopt-a-Student award and direct the funds toward a specific student demographic or area of study. Your team can also contribute to an existing award. Visit the Shuffle website for award fundraising guidelines.
Honour a colleague, family member or friend
Shuffle teams can fundraise to support students in honour or in memory of someone special to them. You can create an award or support an area of the university that holds meaning to the honouree.
Enhance department services and programs
Teams fundraise to enhance department programming and services that are vital to student academic success. Funds can allow departments to purchase critical equipment, art supplies or even send students to competitions.
To create a team
Then log into your Shuffle account.
Access your "Participant Dashboard" where you can use existing templates to invite others to join your team.
Join an existing team
All gifts to the Shuffle count towards the Campaign for Concordia, which supports the university's nine strategic directions and ensures a bright future for both our students and our university.
For questions or to discuss team ideas, email shuffle@concordia.ca
---