Top tips for taking online finals
From study-time grids to testing tech — student mentor Salma Adem shares exam-prep wisdom for these unusual times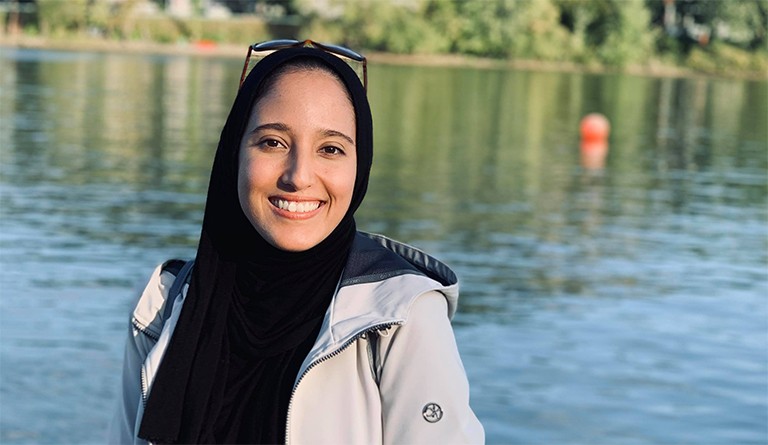 Salma Adem's study tips include testing your internet connection, avoiding all-nighters and more.
Salma Adem is a Welcome Crew mentor at the Student Success Centre
Finals are just around the corner. And let's face it, exams will look a little different this term. But with the right strategy, you can learn to make the most of this new remote testing reality.
Take a look at your personalized exam schedule on My Student Centre for the most up-to-date info and then consider these tips to ace your online exams:
Buckle down and get ready for test day

● Know the exam format and understand expectations
Get clear on how your professors will deliver the exams. This will not only determine the best study strategy but also what platform to familiarize yourself with, whether to prep for an open book or proctored exam and what equipment you need.
● Study smarter and stick to a schedule
Studying can be overwhelming if you don't know where to start. Find out what you do and do not understand and prioritize what you need to review first for each course and exam type.
Once that's clear, avoid cramming. Establish a schedule by setting aside chunks of time for when you want to study (ask yourself when you're most productive) and what content you want to cover during those times. You can use one of these study time grids or compile it into a calendar. Setting reminders on your computer calendar is also quite helpful!
● A clear desk = a clear mind
Identify what distracts you and get rid of it. Clear your desk of any extra books, notes and even your phone to get focused.
Also consider cleaning your digital study space before your exam by using browser blocking apps, turning off notifications and organizing your course content files.
● Check your equipment
Make sure your computer is ready for an online exam. This means verifying that you have all the necessary software downloaded and tested and that you actually know how to use them. Check out the technical requirements and tips on taking open book timed exams via Moodle or COLE for proctored exams.
Make sure that your computer is charged and well rested to avoid overheating and technical freezes. Having a reliable — best if wired — internet connection and internet browser compatible with the type of platform you're using is also key to avoiding setbacks.
Keep this in mind if you're writing in a different time zone

● Show up for your exam at the right time
Seems obvious, but with studying remotely in a different time zone, it's easier than you think to miss an exam. Make sure you double check the date and time of your final to determine when it will take place and how long you have to complete it. You can even update time zone preferences on Moodle and eConcordia as well as your notification preferences to get reminders sent to you via email.
● De-stress in between exams and get enough sleep
Most finals take place at a fixed time and you may have more than one in a day or even a couple hours apart. Give your brain a rest, even if it's for 10 or 15 minutes, so you're better prepared to dive into another exam.
Avoid all-nighters. Without enough sleep or power naps, you won't be able to focus, which will affect your performance and all your hard work will go to waste.
Tips for the big day

● Anticipate potential technical issues
Sometimes even if you plan ahead, things go wrong. Starting your exam as soon as it becomes available allows you buffer time to recover and ask for support in case of technical issues.
If you can take a screenshot of your problem for your professor and the built-in tech support, it helps with solving it sooner. For any technical issues during an exam on Moodle, contact help@concordia.ca, and if on COLE, contact 1-888-202-8615 for immediate help. Also make sure you check if any scheduled maintenance conflicts with your exam time.
● Don't forget to submit
After you've completed your exam and reviewed your answers, once you're done, remember to click "Submit." And don't rush to close the web page — wait until your submission is confirmed, and then you can breathe easy!

Find out more about online final exams by visiting Concordia's Exams page.
Check out Concordia's Welcome Crew at the Student Success Centre.
---