How to connect with your peers and profs while studying remotely
Concordia student mentor Roksana Sheikholmolouki offers 4 tips for staying engaged during this exceptional fall term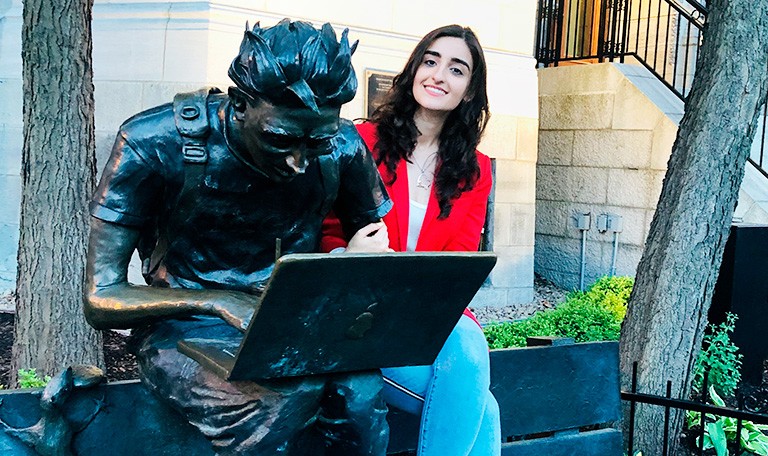 Roksana Sheikholmolouki is an undergraduate student in the Department of Biology and a Concordia Welcome Crew mentor with the Student Success Centre.

I think it is fair to say that fall 2020 is going to require adjustment to what we consider normal.
First off, we're shifting to the various online systems that Concordia uses and wrapping our heads around attending most of our courses virtually. Then, there's the very important aspect of making connections with other students and even professors that is a bit more challenging in the current context.
Many of us are in different time zones, and we are juggling multiple responsibilities in addition to our studies. Sometimes it can feel overwhelming. But socializing and interacting with others can certainly help alleviate that feeling and add variety to your day.

With that said, here are four tips to help you start making connections at Concordia:
1. Don't be shy to ask for help
It's okay if you don't know where to start! Concordia is a big place and there's a lot to learn and figure out in your first year. It's okay to ask for help — even if you're looking for help with making friends.
You can always start with the Welcome Crew mentors. We're experienced students from Concordia's four faculties whose main goal is to help new students make as smooth a transition as possible to their first year of university. Based on your needs, we can help find the appropriate resources, student groups or activities for you to get connected to the Concordia community.
2. Schedule virtual study sessions
Forming virtual study groups, ideally with a few classmates in each of your classes, is a great way to infuse social interaction into your day. If you haven't met anyone from your classes yet, try messaging your classmates through Moodle, where you can find each of the participant lists. Or, if your classes have Zoom lectures, sending an individual message to a classmate could be the virtual equivalent of turning to the person sitting next to you in class.
Even though we can't be in the same physical space, using voice or video calls to study in a group at least gives the impression of having someone else "with" you and makes studying much more fun.
Similarly, the Student Success Centre's peer math assistants and writing assistants are still available for virtual appointments should you wish to take advantage of those services. And, ECON study groups are offered online too.
3. Take advantage of your prof's office hours
Speaking with your professors during their office hours is an effective way to feel more connected to the Concordia community.
All profs schedule office hours within their week to meet with students one-on-one. They have different office hours for each course they teach. Not only could you use this time to ask questions about the course material, but it may also give you a chance to learn more about your prof's expectations of you in the class, or about their own field of study. You could even share some of your goals, interests or apprehensions related to the class.
After speaking to your prof, you'll likely feel more motivated to attend classes and put in more effort overall.
This term the office hours will be virtual, so be sure to check your course outline for the time and format available to you for each class.
4. Use your hobbies to connect with new people
Your hobbies are your escape from the daily routine and pressures of your studies. I highly recommend keeping a balance of work and fun in your student life. If you already have a few hobbies or interests — anything from gaming to gardening to hiking and more — it's a great idea to check whether a Concordia club or student group is linked to that specific interest.
Many of these student groups are offering their activities and programming online this term. Some may even offer physically distanced outdoor meet-ups. Taking part in these activities can help you find new friends and make meaningful connections.
If you're open to picking up a new hobby, browse through the list of clubs to see if anything sparks your interest. For instance, learning a new language is a great way to make new friends! You could even take advantage of the French and English conversations sessions hosted by the Student Success Centre to get started.
Find out more about starting your first year at Concordia by exploring the online Orientation platform. You can access all the kiosks and information sessions — including a presentation on getting involved and making connections — you may have missed during the live event on September 1.
---