3 Concordia student mentors share their tips on prepping for the upcoming term
Create an at-home study space, plan out your schedule and get tech-ready to thrive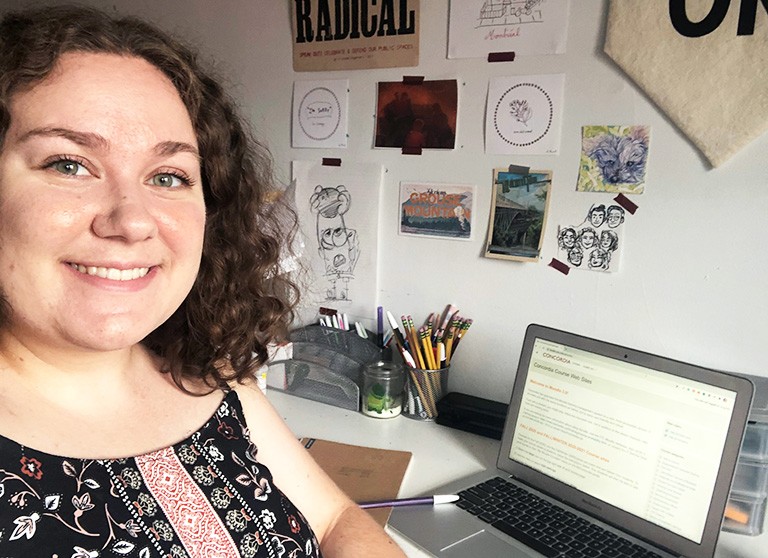 Abigail Candelora: "Getting tech-ready is always an important part of preparing for the term, but especially now!"
Prepping for the new term is something Emma Wang, Josh Wells and Abigail Candelora, mentors with the Welcome Crew, generally start tackling around now. This school year, of course, is going to look a little different, and their pre-term prep is looking different too. Here are some of their tips for getting prepared for the fall.
Getting in the school mindset
Emma Wang: I like to take time to prepare myself mentally for the term ahead by getting organized and school-oriented.
While I would usually walk around campus to get to know where my classrooms are, now all my classes are in one place — my apartment! I find that having one space dedicated to school really helps me get into the school mindset. It's important for me to have a space that is equipped with my school supplies, well-lit, clean and free of clutter.
I also take the time to start planning out my schedule, and not only for my courses, but also for my work schedule, extracurricular activities, study times and times to relax. This is even more important to do, now that much of our daily routine will occur in the same space.
Something I've found really helpful is to schedule in small "commute" times. In the time when I'd usually be riding the metro, I try to get outside for a short walk to mimic commuting to my next task. Not only does this provide a well-needed break from the screen, it also gives me a clear endpoint for one task and a clear beginning to the next one.
Getting textbooks and other course materials
Josh Wells: Before the term starts, I always make sure to check out Moodle. It's a learning platform used widely at Concordia, where professors post course outlines and materials, as well as host forum discussions and other class activities. Even if your professors haven't activated their Moodle pages yet, it's good to familiarize yourself with the platform before classes start. Once your course pages are active, you can look for what materials have been assigned.
Then, I would usually head down to the Concordia Book Stop to get my textbooks. While the physical Book Stop is currently closed, the online shop is fully functional. And even better — no standing in long lines! If you have any assigned textbooks or coursepacks, you can find them on the Concordia Book Stop website starting August 15, with many digital textbook options available.
Getting tech-ready
Abigail Candelora: Getting tech-ready is always an important part of preparing for the term — especially now! I always take the time to make sure I have everything set up and ready for the start of classes, and to find useful online tools to help me study.
If you haven't already, I highly recommended activating your Concordia email account in the 'Accounts and settings' section of your MyConcordia portal. Many students prefer to have an email account solely for their studies, whether it be to coordinate group projects or receive important communications from professors. Activating your email account will also give you access to Office 365 Education, including Microsoft Word, PowerPoint and Excel.
Now is also a great time to download the Concordia app, familiarize yourself with your Zoom account and register for eConcordia if you have any eConcordia courses. Having these ready to go will make the first week of classes much smoother.
Finally, I like to take some time to download apps or online resources that will help me be productive and organized throughout the term. One of my favourite resources is Quizlet, where you can make flashcard sets for studying. I start a set and add to it as the term goes on, so that I have materials ready for studying once midterms and finals roll around.
Another great tool is the StayFocusd browser extension, where you can block websites for certain periods of time to more easily concentrate when completing coursework or studying.

Concordia's Welcome Crew mentors are available to answer your questions about studying at the university.
Want to connect? Reach out now and join us at Orientation.
---