Convocation 2018: a territorial acknowledgement
Concordia's graduation ceremonies will begin with remarks about unceded Indigenous lands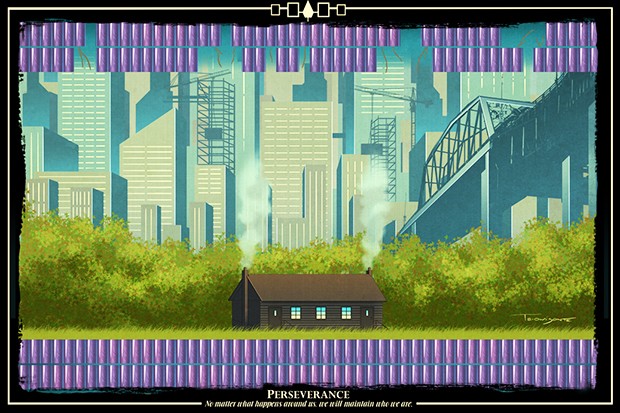 The Kanien'kehá:ka Nation are the custodians of the lands and waters on which Concordia is located. | Image by
Teyowisonte Tommy Deer.
Courtesy of the Initiative for Indigenous Futures/Aboriginal Territories in Cyberspace.
This spring, convocation ceremonies at Concordia will include a public acknowledgement that the university sits on unceded Indigenous lands.
Developed by the Indigenous Directions Leadership Group, the territorial acknowledgement is in keeping with Concordia's responsiveness to the Truth and Reconciliation Commission's Calls to Action.
It's a living text, subject to changes in wording as the university continues to develop the most respectful and appropriate context for its usage.
At convocation, the territorial acknowledgement will be read as follows:
"We would like to begin by acknowledging that Concordia University is located on unceded Indigenous lands.
The Kanien'kehá:ka Nation are recognized as the custodians of the lands and waters on which we gather today.
Tiohtiá:ke/Montreal is historically known as a gathering place for many First Nations. Today, it is home to a diverse population of Indigenous and other peoples.
We respect the continued connections with the past, present and future in our ongoing relationships with Indigenous and other peoples within the Montreal community."

A senior Concordia official will read the territorial acknowledgement at the beginning of each convocation ceremony.

For more information, visit Concordia's Indigenous Directions hub.

---