Concordia's University of the Streets Café celebrates its 20th anniversary
The innovative and accessible series of neighbourhood conversations launches an engaging anniversary season this fall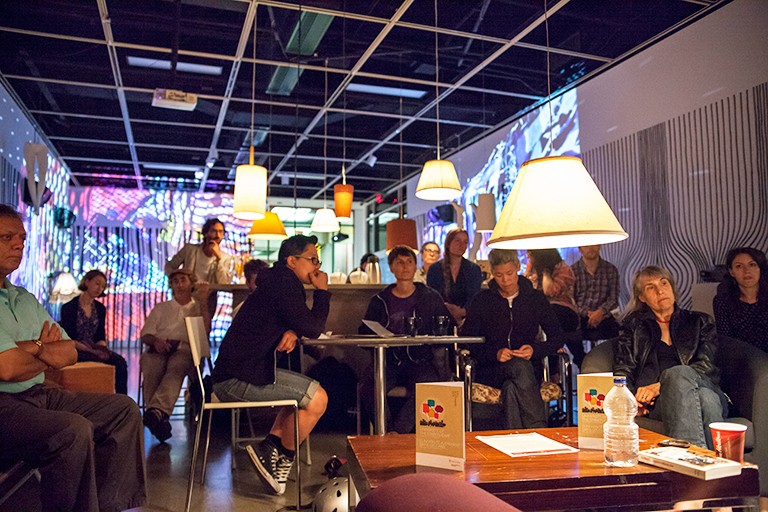 University of the Streets Café has held over 400 bilingual public conversations since 2003. | Photos: Marion Elissalde
Twenty years ago, Concordia affirmed its reputation for accessibility and openness to the city around it by bringing the university to the streets of Montreal.
The University of the Streets Café series would gather the diverse perspectives of Montrealers together in conversations about the most pressing issues their neighbourhoods, city and world were facing.
In 2003, social media was emerging and would become the primary means for public dialogue — creating polarization and silos. By contrast, the University of the Streets Café began offering the opportunity for real-time, people-centred, face-to-face public conversations.
Elizabeth Hunt, a coordinator in the early years of the series, points out its value. "The informal conversations in our lives, rather than the structured formality of the classroom, are possibly one of the most effective ways in which we can learn, connect with others and find meaning," she says.
"During public conversations, we give ourselves permission to engage with complex information, struggle with dissenting views and help each other come up with our own response."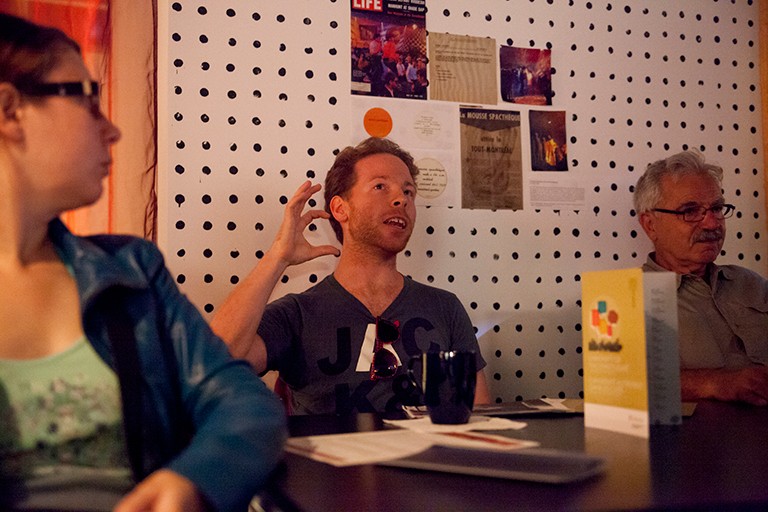 A catalyst for social change
The University of the Streets Café series is led by Concordia's Office of Community Engagement. The office, now based at the Concordia's SHIFT Centre, was created to develop and sustain fruitful and mutually beneficial relationships between the university and the diverse communities of Montreal.
The bilingual University of the Streets Café conversations are hosted by a moderator, and are free and open to participants of all ages, backgrounds and levels of education. The invited guests get the ball rolling by sharing their ideas, experiences and questions. After that, it's all up to the participants.
The series has proved its relevance over the last 20 years, sparking spontaneous conversations that have provided opportunities for growth, empowerment, community building and social change.
Alex Megelas headed the series for the Office of Community Engagement for more than five years. "I have great memories of when we were focusing on neighbourhood mobilization," recalls Megelas, now program and communications coordinator for Concordia's Office of the Provost and Vice-President, Academic.
"During one conversation held at Bâtiment 7, Rahul Varma from the Teesri Duniya Theatre Company denounced the lack of recognition given to BIPOC-led arts. It was a sobering exchange that led to a collective critique of institutionalized culture in Quebec, and how it controls whose voices are recognized and represented in communities."
Nourishing conversation, cultivating democracy
University of the Streets Café has presented over 400 bilingual public conversations in neighbourhoods throughout the city, from Saint-Henri and Pointe-Saint-Charles to Park Extension, and at venues such as Head and Hands and YWCA Montreal.
To celebrate its 20th anniversary, the fall 2023 season will focus on a foundational concept of the series: the importance of public dialogue and how that advances democracies. Its theme is "nourishing conversation, cultivating democracy."
"Public conversations which bring neighbours, academics, activists and artists together are more important today than ever," says Susan Edey, senior director of community engagement and social impact at Concordia.
"Rather than staying isolated, we hope that this series can create connections that encourage dialogue, foster understanding and inspire positive social change."

Join the conversation! University of the Streets Café is a call to action to all Montrealers to seek out and participate in these vital conversations. Take a look at the series of conversations taking place in a neighbourhood near you.
Learn more about Concordia's Office of Community Engagement.
---