Long-time professor and academic leader Paula Wood-Adams is leaving Concordia
'Her infectious energy touched students, academics and administrators alike and her contributions were many'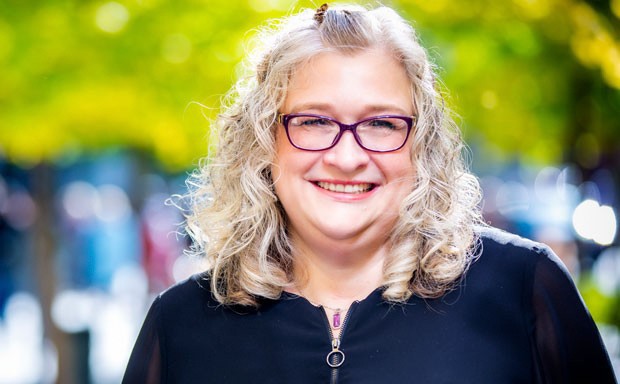 After a remarkable 22-year career at Concordia, Paula Wood-Adams — special advisor on innovation to the vice-president of research and graduate studies — is leaving the university to pursue a new role. She heads to the University of Northern British Columbia in Prince George to become its vice-president, research and innovation.
Wood-Adams defined what it means to be a Concordian in her over two decades as a professor, researcher and administrator.
"I would like to extend my deepest thanks to Paula for everything she has done for the university," says Concordia President Graham Carr.
"She and I worked closely together for many years. Her infectious energy touched students, academics and administrators alike and her contributions were many. I wish her all the best in her new adventure."
Wood-Adams came to Concordia in 2001 from McGill University as an assistant professor of mechanical engineering. She quickly made an impact as she secured an NSERC University Faculty Award (2001-2006) and the Petro Canada Young Innovator Award (2005) and was named a Concordia University Research Chair from 2006 to 2016.
Over the years, Wood-Adams took on several important positions in academic leadership.
After serving as graduate program director in the Department of Mechanical and Industrial Engineering and associate dean at the School of Graduate Studies (SGS), she was appointed dean of graduate studies in 2013.
During Wood-Adams's mandate, graduate enrolment increased by 29 per cent and annual graduate student funding increased by 71 per cent, reaching $58 million in 2020. Under her leadership and guidance, SGS created the very popular GradProSkills program as well as the Public Scholars and Horizon Postdoctoral Fellowships programs.
In 2020, Wood-Adams was appointed interim vice-president of research and graduate studies. In that position, she provided strategic leadership, innovation and vision to further develop high-impact research, graduate education and international initiatives at Concordia.
She was instrumental in the creation of Concordia's School of Health and launching the Next-Generation Cities Institute and the Applied Artificial Intelligence Institute, as well as helping the university secure a historic $123-million research grant in electrification from the Canada First Research Excellence Fund.
"Paula's important contributions have helped Concordia grow its research mandate to new heights," says Dominique Bérubé, current Concordia vice-president of research and graduate studies. "I would like to personally thank her for her ongoing collaboration and advice over the year that we had the privilege to work together."
Beyond her formidable work as a professor and administrator, Wood-Adams has been published in numerous academic journals and has supervised over 30 graduate students and postdoctoral fellows, while bringing in research funding from multiple provincial, federal and industrial funding sources.
She is also a sought-after guest lecturer who has presented her research at conferences and universities around the world.
"Concordia has been my university for so many years. I am leaving with good memories and even better friends," says Wood-Adams.
"I cannot wait to see what the next stage of my career looks like at UNBC."

Learn more about research at Concordia.
---