'We are the epitome of the beauty and strength of diversity'
Family, friends and others flocked to support and applaud graduates and honorary doctorate recipients at Concordia's June 2023 convocation ceremonies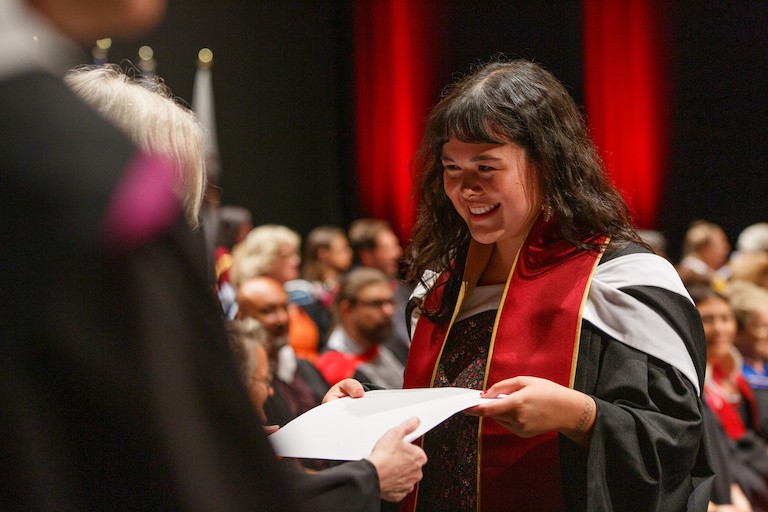 This past year, some 8,300 students graduated from Concordia, the second most in the university's history. That was reflected by an overflowing turnout at its June convocation ceremonies.
Graduating students, along with their family and friends, university faculty and staff and others, packed Montreal's Place des Arts on June 20, 21 and 22.
The eight ceremonies honoured the graduating classes of the university's Faculty of Arts and Science, Gina Cody School of Engineering and Computer Science, John Molson School of Business and Faculty of Fine Arts. The newly minted grads are now part of Concordia's 253,000-plus alumni worldwide.
The university's chancellor Jonathan Wener, BComm 71, Concordia President Graham Carr, class valedictorians and honorary degree recipients passionately imparted words of wisdom and inspiration to the new grads. The faculty deans welcomed those in attendance and recognized the Kanien'kehá:ka Nation as the custodians of the lands and waters on which the ceremonies were being held.
"Over the last few years, you learned together in a myriad of programs, you researched together and you grew together — together you became Concordians, an identity you will share forever," Wener said to the grads.
Carr described some of the university's recent successes, including the Concordia-record $23-million grant to Jason Lewis, professor in design and computational arts; the launch of PLAN-NET/ZERO, which will transform the campuses into living labs; and the university's largest single institutional research award, over $123 million, to support a Concordia-led nationwide project on electrifying society.
"By now, I think you get it: that great things are happening at Concordia, and that we're not afraid to be bold. But at the core, what drives us, and what I hope inspires you, are values," he said.
"We're committed to the idea that talented students across Quebec and around the world should have access to a great education. And hand in hand with this, we're committed to the belief that respecting diversity in all its forms will allow our students to channel their passions to make Quebec, Canada and the world a better, fairer, more open, inclusive and equitable place for all."
Highlights from the honorary doctorates' addresses
Vikas Swarup, Clarissa Desjardins and James Donald McCully addressed Faculty of Arts and Science graduates on June 20.
Honorary Doctor of Laws degree (LLD) recipient Vikas Swarup is a television host in India and former member of the country's foreign service. He's also an internationally bestselling author, most notably of Q & A, which was adapted into the Oscar-winning film Slumdog Millionaire.
Swarup praised the education the students received at Concordia. "This great university has indeed provided you with all the knowledge, skills and tools needed to succeed as a leader in the innovation economy of the 21st century," he said.
"You are fortunate to be graduating in the most exciting era of innovation and disruption in human history. Now, it's time to unleash the power of these tools and embrace the opportunities that lie before you," Swarup added.
"Go — create the future."

Concordia presented life-sciences entrepreneur Clarissa Desjardins with an LLD. She is founder and chief executive officer of the Montreal-based biotechnology company Congruence Therapeutics, which bridges computational and experimental drug discovery.
"The fact is, I'm an ordinary person who's had the opportunity to achieve extraordinary things. All of you are like me when I was your age," Desjardins shared with the graduating students."Through your perseverance and hard work, you've proven to the world that you have what it takes to do anything."

Concordia bestowed an LLD on two-time graduate James Donald McCully, BA 75, BSc 78. A pioneer in a life-saving technique to save organs in infants and children, he has enjoyed more than three decades associated with Harvard University's Department of Cardiac Surgery.
McCully related to the students his fond memories of his time at Concordia and that his degrees provided the foundation for his chosen career. "The Bachelor of Arts degree provided me with the ability to reason and rationally question observations and beliefs, while the Bachelor of Science degree gave me a foundation for my career," he said.
McCully pointed out that the graduates' career paths "will likely take many different routes as you go ahead. Opportunities will open before you and you will be prepared to move forward and excel. I stand before you as a clear example of this."

Kathy Baig and Deborah Estrin addressed Gina Cody School of Engineering and Computer Science graduates on June 21.
Kathy Baig is vice-president of positioning at global design company Stantec. She is serving as president of Engineers Canada for the 2022-23 term and was president of the Ordre des ingénieurs du Québec from 2016 to 2022.
Baig expressed her thanks and appreciation for receiving an honorary Doctor of Science degree (DSc) from the largest engineering school in Quebec and "one of the most important in the country," as described by Mourad Debbabi, dean of the Gina Cody School.
She confessed that she avoids giving direct advice for attaining success. "I think that each of us should define what success is for ourselves and keep this definition throughout our career," Baig said.
"For me, the definition of success is having fun at work, being happy in my life, in all aspects of my life. There needs to be a balance."

DSc honouree Deborah Estrin is a professor of computer science at Cornell Tech in New York City and a trailblazer in health-related computer science research. She is a pioneer in the use of mobile and wireless systems to collect and analyze data, including for health.
Estrin acknowledged that many of those present studied in fields related to computer science, which Nobel Prize winner Herbert Simon called "the science of the artificial." Yet she reminded the grads about the value of reality.
"Remember to look up and around. The real world is a source of consternation and inspiration and will help you to keep it real," Estrin said.
"And by real I include real interaction, with real people, in real rooms. Give yourself those in-person opportunities for spontaneous and peripheral observations, interactions and learning."

Sandra Chartrand and Alain Bouchard addressed graduates from the John Molson School of Business on June 22.
Sandra Chartrand, BA 85, and her husband Alain Bouchard were presented LLDs. Chartrand, Concordia grad and veteran fundraiser, is president of the Sandra and Alain Bouchard Foundation. Bouchard is founder of Alimentation Couche-Tard, the Quebec-based convenience store chain with more than 14,300 stores in 24 countries and territories.
Chartrand and Bouchard established their foundation in 2012. It is dedicated to assisting various causes related to individuals with intellectual disabilities, along with fostering artistic and cultural activities. Under Chartrand's leadership, the foundation has donated close to $30 million to local organizations over the last 10 years, including $1 million to the Concordia Arts in Health Centre and the Centre for the Arts in Human Development in 2022.
Chartrand left a hopeful message to the students, thanks to her work in philanthropy. "We have been amazed by the amount of good there is in this world," she said. "If you look for it, there is good everywhere."
She advised the graduates not to stick too closely to their long-term plans and to remain open-minded. "I believe the true marker of intelligence isn't making no mistakes; true intelligence is recognizing when you've made one and being brave enough to face what it is trying to tell you."
Bouchard congratulated the grads on their achievements. "You've all worked extremely hard to meet your own challenges. You've earned these diplomas, which I'm convinced represent the first of many accomplishments," he said.
"Dream big. Dream wildly. And let no one stop you from dreaming. For dreaming counts for everything."

Elisapie Isaac addressed the Faculty of Fine Arts on June 22.
Concordia bestowed a Doctor of Fine Arts degree on Elisapie Isaac, an award-winning Canadian Inuk singer-songwriter, filmmaker and activist. Originally from the Nunavik village of Saluit, Isaac is a passionate ambassador for Inuit communities.
"You have to transform your books, your lessons, what you learned, into something that is close to you, that is you," Isaac said.
"You had the chance to go to an amazing school, the best art school in Quebec and one of the best in Canada. Be responsible human beings and become artists who will respect the chance you have. Inspire the people around you."
Isaac related that there is no proper term for "artist" in Inuktitut. "No title needed. We are creative beings. I hope we can make art together and have honest, meaningful things to say to one another and inspire one another."
Inspiring valedictorians
Class valedictorians representing their graduating cohort addressed each convocation ceremony.
Merveille Moungang Djifo, who earned a BSc, delivered the valedictory address at the Faculty of Arts and Science evening convocation on June 20. The native of Cameroon related that she worked and volunteered about 20 hours a week throughout her studies, including at Montreal's Hôpital Notre-Dame during the COVID-19 pandemic.
"I think we've got a problem, a big one," Djifo warned her fellow graduates. "This graduating class is simply over-the-top amazing! Passionate Concordians coming from different horizons all over the world. We are the epitome of the beauty and strength of diversity."
She is president of the Quebec Black Medical Association's youth initiative and will be attending medical school at Université de Montréal in the fall.
"Concordia anchored my dreams, gave me a platform, silenced my doubts and empowered me to become the scientist and person that I am today," Djifo added.
"My heart goes out to every single Concordian — past, present, future, students, staff and faculty — who goes above and beyond, from all pages of the beautiful Concordia story to be written every day. Cheers to us, cheers to our community and cheers to the future."
---