New repair stations, the May bike sweep and other Concordia cycling resources
PLUS: Take advantage of the BIXI discount!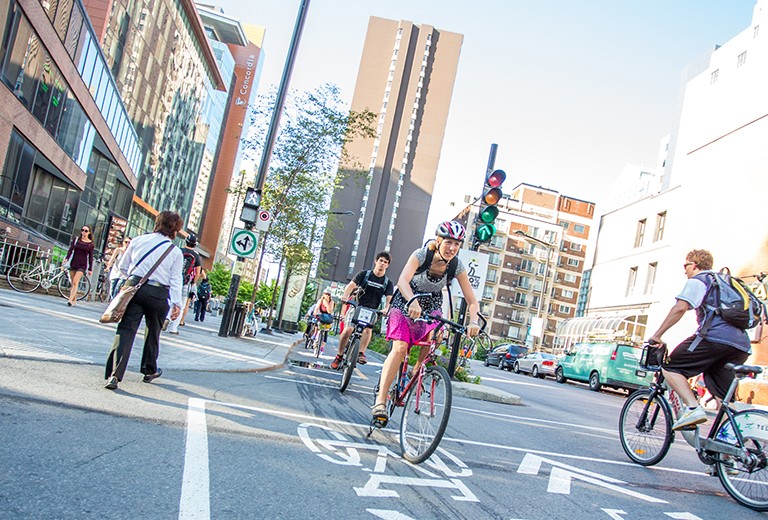 According to Vélo Québec, May is cycling month — a chance to engage and take on new biking challenges. To help kick it off, Concordia signed an open letter supporting the transition to sustainable modes of transportation in the city, alongside 38 other members of the Montreal Climate Partnership.
In addition to promoting cycling, there are several university initiatives to help make biking easier to and from both campuses.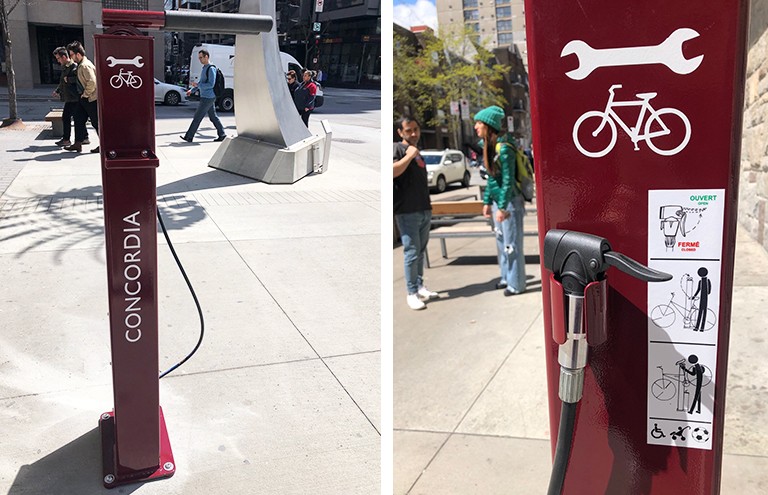 Among the initiatives to become even more bike-friendly, Concordia has opened repair stations on each campus.
New bike repair stations
Concordia encourages all able members to bike to the campuses as much as possible. To assist, there are several resources, with more on the way!
New for spring 2023 are bike repair stations on each campus. They serve as convenient locations to adjust a bike, oil a chain, change a tire or fill it with air.
The one at the Sir George Williams Campus is at the corner of Mackay Street and De Maisonneuve Boulevard, just outside the Henry F. Hall Building. The Loyola Campus repair station is situated near the Vanier Library.
Canadian manufacturer Biciborne is overseeing maintenance of the repair stations. However, immediate needs can still be flagged to the Facilities Management service desk.
Mid-month bike sweep
Starting May 8, cyclists may see their bicycles tagged if they're locked up on campus, including in the indoor bike parking facility and those locked illegally to public infrastructure. Facilities Management is on the lookout for abandoned bikes, trying to make room for those seeking space on crowded racks.
If your bicycle gets tagged by mistake, simply take off the tag. Towards the end of the week, Facilities Management will cut the locks and remove bikes still bearing a tag.
If you miss the warnings and your bike is removed in the sweep, you will have 90 days to get in touch with Campus Security and Emergency Services at 514-848-3717 to reclaim your bike.
Abandoned bicycles are donated to SOS Vélo or Loyola Campus's Petit Velo Rouge for refurbishment and resale to the community at reduced rates.
BIXI discount
Looking for an alternative to driving and public transport but don't have your own bicycle? Until May 31, members of the Concordia community can enjoy a 10 per cent discount on a seasonal BIXI membership.
For details on how to sign up as a new member or the steps to renew an old membership, visit the Sustainability Hub's BIXI page.

Find out more about sustainable transportation to and from Concordia.
---