With COVID-19 restrictions lifting, options for in-person event planning at Concordia are expanding
Virtual and hybrid formats will also continue to be an option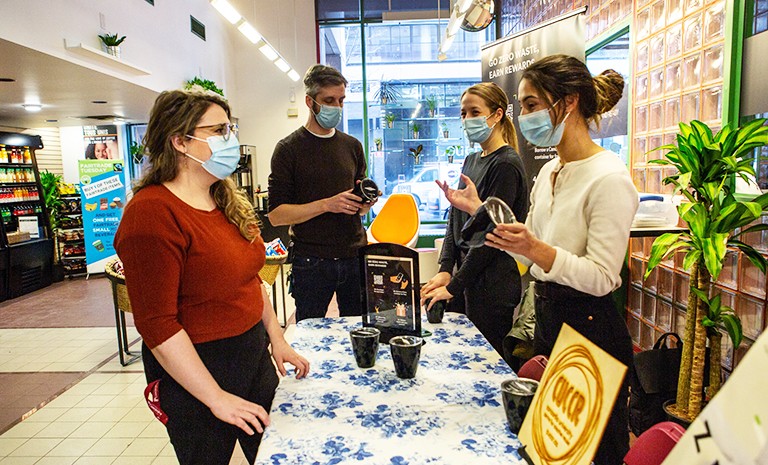 Events on campus will begin to have a pre-COVID feel in the coming weeks, following the further easing of public health restrictions on April 1.
With capacity limits being lifted, contact tracing ending and food and beverage requirements loosening, hosting events on campus will be a much easier process. Additionally, external organizers will again be able to book Concordia spaces for events.
While restrictions will be eased, it's important to note that they won't be gone altogether.
"Masks will remain mandatory at all times when not eating or drinking, and guests must be seated when they are," notes Marie-Josée Allard, director of Hospitality Concordia. "However, on a positive note, self-serve food and beverages stations will be allowed again."
While vaccination passports are no longer required, Allard says that at least one event organizer or representative must remain present per 150 attendees to ensure the remaining COVID-19 guidelines are followed.
New booking platform
Booking events on campus will also become easier now that Hospitality Concordia has launched an upgraded version of the MyEvents portal for booking Hospitality-controlled spaces online.
More user-friendly than its predecessor, the new and improved MyEvents allows for browsing hundreds of spaces on campus by building, room number, availability and more. Users can also make recurring bookings to guarantee they have the location they need on their preferred dates and times on a monthly, weekly or daily basis.
"The system is great because it's live and allows you to see every option available across the university in an easy-to-use scheduling format," Allard says.
She adds that users even have access to important room details such as capacity limits and set-up options and can browse spaces on campus within their event parameters to see what options are available. Hospitality has also created a MyEvents user guide to help new users navigate the site and explain how to book space step-by-step.
While the new system may make things easier, Allard advises people not to leave their event planning to the last minute.
"Our community is very active, so space tends to book up quickly on campus. It's important to book as early as possible to ensure enough planning time," she says.
"Event spaces must be booked 15 business days in advance; classroom spaces require 10 business days and kiosks require five business days for processing. Different lead times might exist for spaces not controlled by Hospitality Concordia, so be sure to check with the appropriate designated space administrator."
Continuation of hybrid and virtual events
While happy to see things slowly returning to normal, Allard is quick to note that some of the offerings that took place throughout the COVID-19 pandemic will remain in place.
"Over the past two years, virtual and hybrid events have proven to be not only a viable option but one that allows greater accessibility for larger audiences," she says.
As the pandemic hit in 2020, Hospitality Concordia saw almost all the conferences under its purview delayed or cancelled. Seeing the need within the community to continue to meet for the purpose of research advancement, the department used the health crisis as an opportunity to think outside the box and pivoted to virtual events.
Since then, Concordia has expanded its service options to include virtual and hybrid events, with a new suite of tools including Grenadine event-management software, online booking and payments options, personalized conference website development, virtual conference rooms and more.
"Seeing how the industry is right now and how work is changing, the time and effort it's taken in developing virtual events has been an excellent investment," Allard says. "We're thrilled that our vision for tomorrow's events and our efforts over the past year have evolved into what it is today and that it's here to stay."

Find out more about event and room booking at Concordia.
Hosting a virtual or hybrid event? Check out the Sustainable Virtual Events Guide.
---