Concordia's SHIFT Centre for Social Transformation funds 5 new projects and begins a learning journey
Members of the university and Montreal communities come together to challenge systemic barriers and advance social change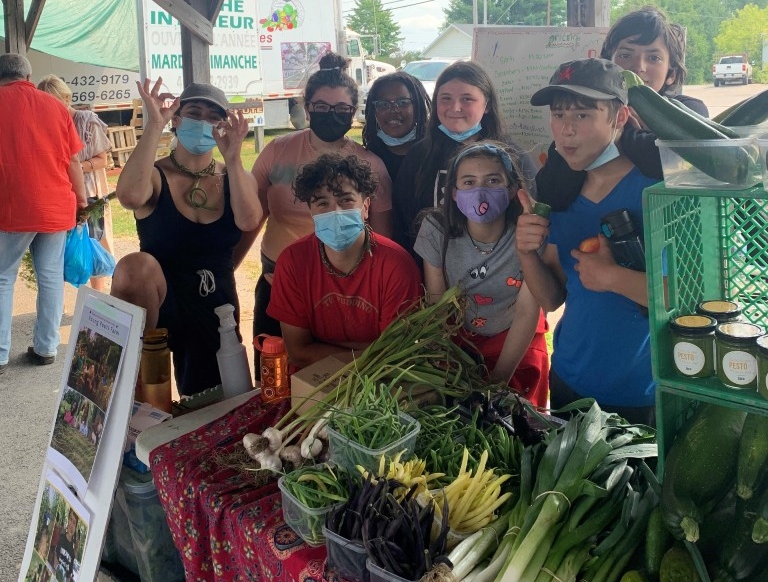 Young Roots City at Camp Amy Molson teaches youth to become agents of transformation of the land.
SHIFT, Concordia's Centre for Social Transformation, has announced the five community-led projects selected for the first round of the Gateway Program. Each project team received $5,000 in funding to support their work and joined the Horizons Learning Journey, a six-part workshop series on social transformation.
"With the Gateway Program and the Horizons Learning Journey, we continue our work of connecting the community with university resources, meeting teams at any stage of their development to support them in activating their contribution to systems change," says Elisabeth Cramer, social innovation lead at SHIFT.
A focus on healing and community empowerment
In this first round of deliberations, the five projects selected by the independent, community-led jury attest to the power of actions focused on community needs.
The NDG Art Hive facilitates weekly artistic workshops for seniors and marginalized families living in low-income housing, known as HLMs, in Montreal's Notre-Dame-de-Grâce district. It will continue to offer programming to help break the cycles of social isolation and provide a space conducive to the emergence of tenant mobilization.
Concordia's student-funded organization, the Centre for Gender Advocacy, will build on its long history of peer support services to expand programming designed by and for QTBIPOC folks in ways that deconstruct and rethink institutionalized models of healing.
Marlihan Lopez, coordinator at Concordia's Simone de Beauvoir Institute, and Afro-feminist Jade Almeida seek to legitimize the contribution of Black women to the Quebec feminist movement. Parcours des femmes Noires dans le milieu féministe québécois will shed light on the mechanisms of exclusion and oppression experienced by Black women involved in institutions self-proclaimed to be inclusive.
Healing Through Art Days, led by the Black Healing Centre, will create a safe space for the Black community to explore their artistic abilities as a means to help alleviate social isolation and the symptoms of seasonal affective disorder.
Young Roots City, a project of Camp Amy Molson, will engage youth in vulnerable circumstances in the bioremediation of land in Montreal. By helping to create the first carbon-neutral camp in Canada, this initiative seeks to empower youth to become agents of transformation at the intersection of healing the earth and healing the heart.
"When driving for transformative change, the focus needs to be on the roots rather than the symptoms," says Stephanie Childs, project coordinator at SHIFT. "Unequivocally, these projects demonstrate that in order to address systemic challenges, communities need healing to overcome the lesions of the past and empowerment to become experts of their own conditions."
For six months, until June 2022, the cohort of 12 participants will meet monthly to collaboratively reflect on system change strategies and explore the socially transformative potential of their projects.
"We are excited to see a diversity of voices, perspectives and expertise come together in the SHIFT Horizons Learning Journey, where everyone can contribute to gathering knowledge toward the same ultimate goal," says Childs.
Facilitated by SHIFT staff and guest speakers, the workshop series creates a dynamic space for participants to learn from each other as they mobilize knowledge to activate systemic change.
Learn more about SHIFT's funding and support program.
---