Meet Désirée Rochat, Concordia Library's new researcher-in-residence
'I work to preserve histories of Black diasporic activism'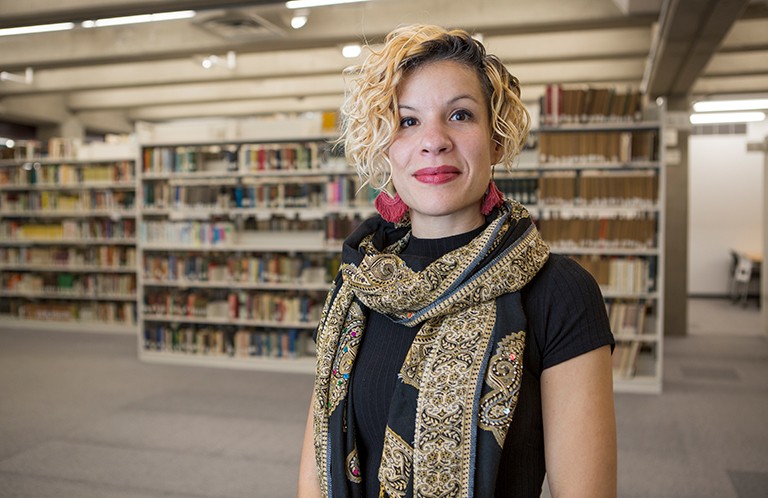 Désirée Rochat: "I am interested in how people transmit knowledge." | © Concordia University, photo: Lisa Graves
Concordia Library welcomed its latest researcher-in-residence this fall for a period of one year. Désirée Rochat is a community educator and transdisciplinary scholar. An alumna of Concordia, Rochat (BA 09) is also currently the program director of the Observatoire des communautés noires du Québec.
Rochat's work has been guided by an integrative approach connecting historical research, community archival preservation and education. Through it, she aims to document, theorize and transmit (hi)stories of Black communities' activism.
Her research interests are multi-faceted and include histories of Black transnational activism, Caribbean diasporic community organizing in Canada, community education and archives, collaborative research methodologies, archival pedagogy and engagement, and the racialization of youth.
As researcher-in-residence for the 2021-22 academic year, Rochat will explore and propose strategies to improve community outreach, relations and engagement to foster the holistic development and use of Black community–related special collections.
Now in its fifth year, the researcher-in-residence program supports the library's efforts to foster a strong research culture and promote evidenced-based librarianship.
'I work to preserve Black communities' histories because they are histories that we can all learn from'
How does your work aim to transmit (hi)stories of Black communities' activism?
Désirée Rochat: Before being a researcher, I have been a community worker and educator for over two decades. I started as a teenager after I arrived in Montreal, and I have never stopped.
Through my community work I got to discover the tremendously rich histories of social and political mobilizations of other immigrant and racialized communities, especially of other Caribbean and Black communities. As I learnt these histories, I became aware of their political, intellectual and pedagogical significance. My desire to transmit and engage with these histories started there.
The research I do now that connects the preservation and transmission of histories of Black communities' activism is a direct continuation of my community organizing and educational practice.
What inspired your research and interests?
DR: My work aims to bring forth the histories and knowledges of racialized and immigrant communities through an integrative approach connecting history, archival sciences and education. The common thread of my interests in community education, community archives, archival engagement and pedagogy, and histories of Black communities' activism is knowledge.
Ultimately, I am interested in how people produce, transmit, acquire and preserve knowledge.
What are a few misconceptions about your research?
DR: I research, theorize and work to preserve histories of Black diasporic activism. But ultimately, these are histories of activism, political organizing and community building — period. They are relevant for how we understand transnational practices and politics in general, how we understand community organizing more broadly and how we understand the world in its complexity.
So, I work to preserve Black communities' histories because they are histories that we can all learn from. They are necessary to have a broader understanding of world politics and history.
Are there some best and innovative practices that you would recommend within the context of the Library's Special Collections?
DR: The Library's Special Collections has made the acquisition of archives related to English-speaking Black community organizations in Montreal and Black history in Quebec part of its collecting priorities. These initiatives have put the library in a position to become a unique resource on Black community heritage within Quebec and potentially within Canada.
But to foster an ethical and anti-racist approach to the acquisition, documentation and use of these archives, and to encourage engagement from Black community members inside and outside the university, the development of these acquisitions needs to be embedded in a wider social justice and community-based framework.
What I aim to do is to propose mechanisms and strategies building from my community practice to ensure a holistic and representative approach to collection development, accessibility and use so that the diverse contributions of Black communities are integrated and activated comprehensibly.
What attracted you to Concordia Library's researcher-in-residence program?
DR: I am an alumna of the university and an affiliate of the Centre for Oral History and Digital Storytelling (COHDS). In 2017 I collaborated with Steven High, professor in the Department of History and Alexandra Mills, the library's special collections archivist, for the course HIST 388: Telling Stories, which was based on the NCC/Charles H. Este Cultural Centre Fonds.
I also have worked with Annick Maugile Flavien and Teeanna Munro from the Black Perspectives Office in the past, through our community work. Being able to collaborate in this context is interesting because here we are, three community workers bringing our practice to participate in the transformation of the university. I'm looking forward to developing projects with all these collaborators.

Find out more about Concordia Library's researcher-in-residence program and connect with Désirée Rochat at desiree.rochat@concordia.ca.
---