Concordia PhD grad in physics celebrates a student excellence award
The Society for functional Near-Infrared Spectroscopy recognizes outstanding research by Zhengchen Cai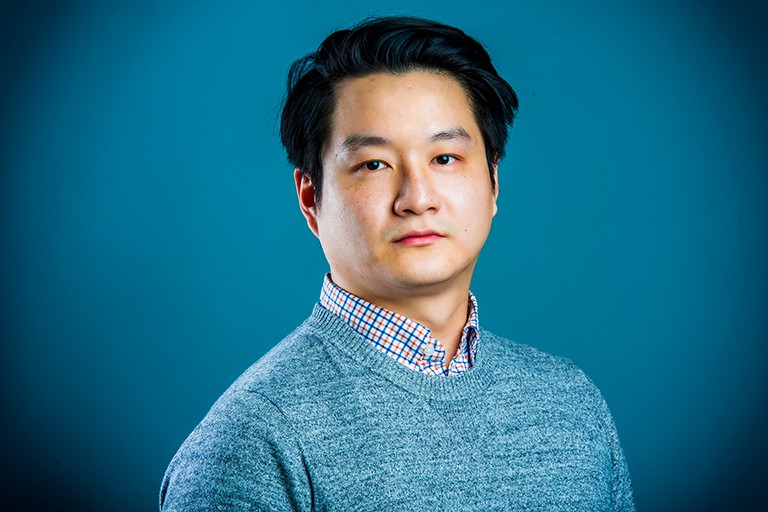 Zhengchen Cai's research focuses on how our brains integrate neuronal activity that consumes oxygen.
Concordia's Faculty of Arts and Science and the Department of Physics are celebrating a big award won by one of their own.
Recent doctoral graduate Zhengchen Cai (PhD 21) earned a Student Research Excellence Award from the SfNIRS (Society for functional Near-Infrared Spectroscopy) for his work investigating the hemodynamic activities of the human brain. The prize was presented on the final day of the virtual SfNIRS conference, held by the international society from October 18 to 21.
Cai credits his supervisor Christophe Grova, associate professor of physics, for helping him toward this achievement.
"I feel thrilled and honoured to be selected," Cai says. "This work was the last project of my PhD program under the supervision of Dr. Grova. It was done during the pandemic when we all faced difficulties in daily life and at work."
He also notes that Grova's professionalism and personality guided and encouraged him.
"I want to express my great appreciation to the FRQS Doctoral Training Program 2018-2020 and the PERFORM Centre Graduate Scholarship in Preventive Health Research 2020-2021 for providing me with financial support," he adds.
"I also thank myself for having a good mindset and working hard."
Cerebral studies
Cai's research focuses on how our brains integrate all kinds of neuronal activity that consume oxygen delivered by hemoglobin.
"We noninvasively probe the hemodynamic activity of the human brain using an optical imaging modality called fNIR," Cai explains.
"During my PhD program, I developed a method to generate 3D images of hemodynamic activity along the cortical surface from the measured signal on the scalp surface. We further applied this technique to investigate the relationship between hemodynamic activity and cortical excitability that may help us to understand the relationship between cortical metabolic demand and cortical readiness."
Improving patient care
In Grova's lab, fNIRS is also applied to study subjects like sleep physiology, workloads during cognition tasks and abnormal hemodynamic responses induced by epileptic discharges.
Cai is keen to continue his research and is currently working as a postdoctoral researcher at the Montreal Neurological Institute-Hospital of McGill University. He is looking forward to the future.
"The general goal of Dr. Grova's lab and one of the perspectives of my PhD program is to apply multimodal neuroimaging to epilepsy so we can apply this methodology to presurgical evaluation," he notes.
"I am currently working as a postdoc to improve the utility of non-invasive neuroimaging on presurgical evaluation for focal epilepsy such that patients suffer less from diagnostic procedures."

Learn more about the Grova Research Group at Concordia.
---