Why Centraide? Why now? Four Concordians explain why the need to support the campaign is more urgent than ever
Until Nov. 12, there are many ways to give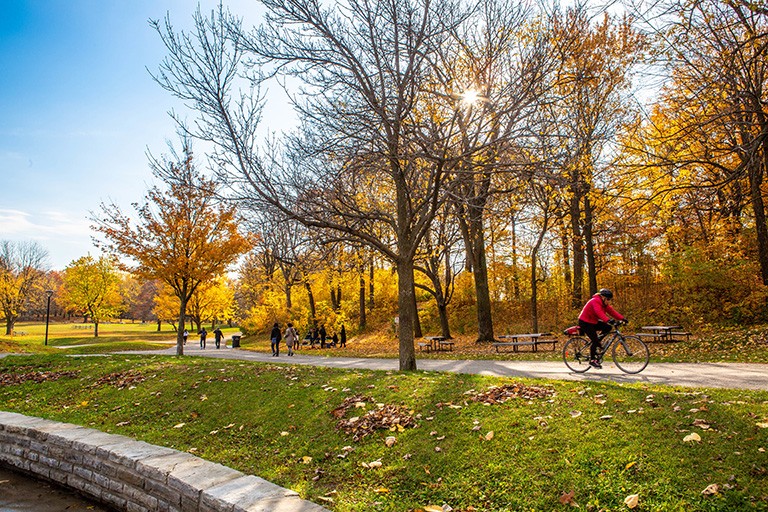 The success of the Concordia Centraide Campaign through the years is down to people. On the giving side, it's the donors, the volunteers, the leadership. And on the receiving end, it's about the millions of Montrealers who have benefitted from the support Centraide of Greater Montreal — many whose needs have become more pressing than ever during the COVID-19 pandemic of the past year and a half.
Four Concordia staff and faculty share what it means to be part of the Concordia Centraide Campaign 2021, which runs to November 12.
Dianne Cmor
Associate University Librarian, Teaching and Learning, Library
I have been with Concordia for four years. I oversee a number of Library services that support teaching and learning, and try to identify new ways for the Library to support the changing needs and practices of students and instructors.
I have represented the Library on Concordia's Centraide Campaign Committee for the past few years and am a regular donor via payroll deduction.
I support Centraide because of the work of so many of its funded organizations that are focused on compassion and dignity for all, especially the most vulnerable among us. Last year, Centraide was able to quickly provide emergency funds to support people who were most severely affected by COVID-19.
Poverty, housing insecurity, mental health, isolation — supporting Centraide is a way for me to help in so many important areas, and to respond to the changing needs as they present themselves.
Melanie Gudgeon
Alumni Officer, Homecoming and Reunions and Athletics, University Advancement
I have been with Concordia and the University Advancement team since 2008. I work to engage members of our alumni community and support the Campaign for Concordia: Next-Gen. Now., to help our students and advance their education.
I've contributed to the Greater Montreal Centraide campaign for numerous years, through donations and/or by participating in activities that raise funds.
This year I'm also volunteering for the Centraide Campaign Committee, one of 20 volunteers from across the university. Furthermore, this year a number of advancement volunteers and I are mobilizing our efforts to support the campaign.
As a member of the University Advancement team, I'm well aware of the value of philanthropy.
There is no one-size-fits-all solution to the societal issues in Greater Montreal and, unfortunately, the arrival of the pandemic has exacerbated many pre-existing problems.
That's why I'm grateful that Centraide supports qualified partners in the field making a difference. These frontline staff immersed in communities are best equipped to provide impactful solutions to our most vulnerable.
This year I'm donating to Centraide to bring meaningful change to individuals and families suffering from social isolation and neglect.
Nadia Bhuiyan, Concordia Centraide Campaign Co-Chair
Vice-Provost, Partnerships And Experiential Learning
Professor, Department of Mechanical, Industrial and Aerospace Engineering
I will have been at Concordia for 20 years this January. As a professor in the Department of Mechanical, Industrial and Aerospace Engineering, I conduct research in product design and development and supply chain management, among other topics, and apply my research in the fields of aerospace and health care.
As vice-provost of partnerships and experiential learning, my role involves developing sustainable partnerships with industry, community organizations, governments and other organizations to offer valuable experiential learning opportunities to all of our students.
Philippe Beauregard and I are now in our fourth year as co-chairs of the Concordia Centraide Campaign. I was quite honoured to have been asked to co-chair the campaign, and it was an easy yes for me. I truly believe in and value the social good done by Centraide. It helps so many individuals, organizations and communities that are in vulnerable situations, and it's hard to ignore the dire needs these groups face.
The organizations supported by Centraide benefit so many members of our communities, including many of our own students. The work Centraide does allows these organizations to focus on their core mission rather than spending valuable time trying to find resources to get the work done.
Why not try to contribute whatever we can to help them reach and advance their goals? It really doesn't take much out of our pocket to have a substantial impact on society. As well, making a contribution is easy — just a touch of a button.
There's no downside to giving to Centraide, and 85 cents of every dollar you give goes directly to helping someone in need.
Andrea Clarke
Senior Director, Community Engagement and Social Impact
Andrea Clarke (BSc 09, MSc 12, MBA 16) began as senior director of community engagement and social impact in 2020. She provides strategic leadership to the Office of Community Engagement and SHIFT Centre for Social Transformation.
Prior to arriving at the university, Clarke was executive director of Head & Hands, a community organization in Montreal's Notre-Dame-de-Grace neighborhood committed to the empowerment and holistic well-being of youth and their communities. Head & Hands is among the 350 community organizations that receives funding from Centraide of Greater Montreal.
The ability to have access to multi-year funding can be extremely stabilizing for organizations. While the funding landscape is changing, too often support if only available for projects which are expected to be novel, highly impactful and financial sustainable without relying on the funds being renewed.
Supporting Centraide is a great way for the Concordia community to come together for Montreal.
Community engagement and social impact have been a part of the university's culture well before my role was ever created, and the Concordia community's long history of supporting Centraide is one more example of that culture.

It's not too late to sign up for the Let's Get Moving for Centraide! Challenge, which has already begun and ends November 12. Help the Concordia community reach the goal completing 1,000 kilometres by walking, jogging, cycling — any physical activity that enables you to track distance.
Pledge your gift to Centraide today. Online giving is secure and easy. Look for your personalized giving link in your email inbox from Centraide@unclic, which arrived beginning October 12.
See the impact of giving through payroll deduction.
---