Life on campus — with Guy Gosselin
The planning and operations facilities manager talks about his role in reopening Concordia's campuses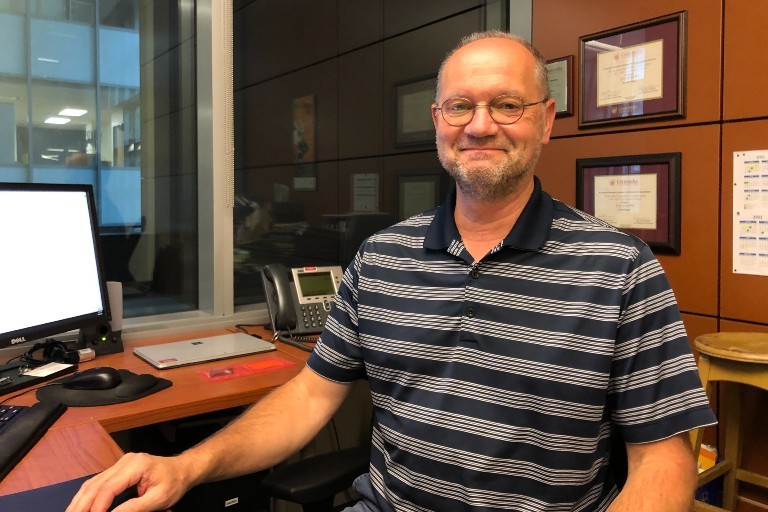 Guy Gosselin: "What really motivated me was seeing a lot of people working together toward the same goal."
Life on campus is a series profiling inspiring faculty and staff who have been working on the Sir George Williams and Loyola campuses throughout the COVID-19 pandemic. To nominate someone you know, send an email to now@concordia.ca.
Guy Gosselin's typical workday changed dramatically with the onset of the COVID-19 pandemic. Like the majority of Concordia faculty and staff, the manager of planning and operations facilities in the Gina Cody School of Engineering and Computer Science had to learn quickly how to work remotely, but he also had to keep a handle on ongoing construction and renovation projects on campus.
"For the first two to three months, I had to come onsite a few times for emergencies or issues that arose," Gosselin recalls. "Some of the project managers couldn't be on campus and there were questions that needed answering, so it was easier for me to come in."
Fast forward more than 18 months and Gosselin has been spending the bulk of his time working in a hybrid model. When projects are close to completion, his colleagues can often see him on campus up to five days per week. At other times, he may make the trip to the university twice during the workweek.
Gosselin describes the arrangement as the best of both worlds.
"Working from home has its benefits. It's nice to wake up in the morning, take your time and not have to commute," he says.
"But it gets to a point where you feel lonely. I missed the social part of my work, which is an enormous part. By coming to campus, I can see more people and fix a few things for the benefit of the university."
Going above and beyond
Gosselin's role at Concordia is to work on the planning and technical operations for the Gina Cody School. He meets regularly with Facilities Management to carry out renovation projects and makes sure the infrastructure for the school's research and teaching labs are in good shape.
When the pandemic hit, he and his colleagues were in the middle of several major projects and had to find ways to keep them going despite the unusual circumstances. In addition, Gosselin became one of several campus access managers tasked with evaluating the necessity of those wanting to drop by the university.
"At one point, everybody wanted to come to campus to pick up a book or a computer. We had to convince them not to come or see if there was another way to get what they needed," Gosselin says.
Then, at the end of April 2020, Concordia announced its plans to gradually reopen research labs. For Gosselin — as well as the other campus access managers, Environmental Health and Safety and Campus Security — facilitating and coordinating the partial reopening was a major effort.
"We had to put together a plan, apply it and make sure everybody was coming back safely," he says. "It was quite stressful, but what really motivated me ­was seeing a lot of people working together toward the same goal. Everyone worked hard to get the university flowing again."
A welcome return
Now that in-person courses and activities for the fall term are underway, Gosselin is happy to have faculty and students back on campus.
"Just seeing the activities in the research and teaching labs or hearing the hum of people talking in the hallways, that's what I've been looking forward to," he says.
"Having others around helps you make decisions and move forward. That was something I really missed."
Looking back on the past year and a half, Gosselin's biggest takeaway is how quickly Concordia was able to shift gears in March 2020, especially since the university was in the middle of its winter term.
"The administration made the right calls, especially during the spring and fall of 2020," he says. "They put everything on the table, hosted many town halls and built trust. That gave me a lot of confidence."

Find out more about Concordia's roadmap for a safe return to campus.
---