Life on Campus — with David Kruse
The property manager discusses how his team adapted and innovated during the pandemic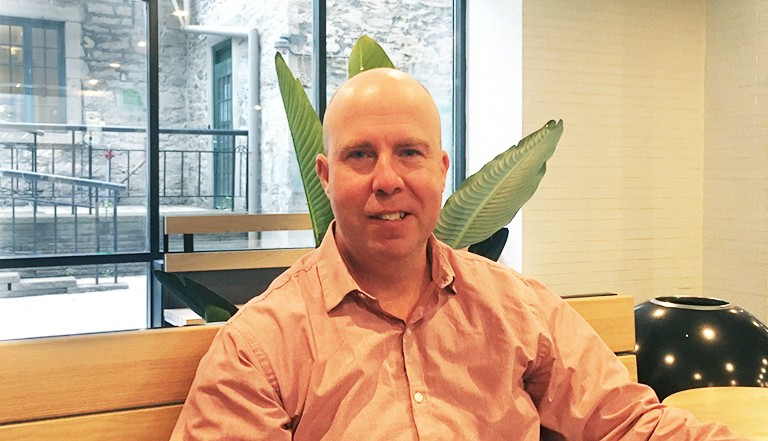 David Kruse: "The approach to deal with these things was one day at a time, one issue at a time."
Life on campus is a series profiling inspiring faculty and staff who have been working on the Sir George Williams and Loyola campuses throughout the COVID-19 pandemic. To nominate someone you know, send an email to now@concordia.ca.
When Concordia's two campuses shut down in March 2020, at the beginning of the pandemic, a rotating crew of five to seven employees and their supervisors from Facilities Management stayed on.
Their job was to make sure the university's physical plant continued to operate without a hitch.
By June 2020, most of the Facilities Management team had returned to campus. Among them was property manager David Kruse, who began working on site full-time in May 2020. As he points out, it was difficult being among the first back.
"There was no shortage of unknowns, risks and varying information from different sources," he says. "The approach to deal with these things was one day at a time, one issue at a time."
Kruse and his colleagues slowly and carefully adapted to their new working situation, overcoming not just the physical but the mental hurdles as well.
"Probably the most stressful part of being on site was managing the human emotions of our teams as they reintegrated into a new normal," he recalls.
"I believe this will be the greatest hurdle for people returning to campus. It took great patience for anyone to navigate access protocols, mask-wearing protocols, safety meetings and training, and self-cleaning measures. Although some of these protocols have been lightened, the same patience will be required to navigate the next chapter of the pandemic. It will take a tactful and constructive approach to reminding people to follow the rules, and to keep our community safe."
There was a silver lining, though, for Kruse and his team. Without all the usual requests from clients and departments flowing in, Facilities Management was able to take the time to implement a new, decentralized way of working.
"We divided all of our shops downtown into three groups to address three smaller portfolios of buildings," he explains. "So now you have a multidisciplinary team of boiler room technicians, plumbers, electricians, architectural and custodial employees reporting to a new supervisor who is in charge of a smaller set of buildings."
It's something that the team has been planning to try since late 2018, he adds, explaining that it was a question of finding the right time to do it. The pandemic provided that opportunity.
While Kruse admits changing over to the new way of working at first presented a challenge — which he has continued to overcome — it has provided an objective to focus on.
"I think it gave everybody something concrete to be working towards and figuring out," he says.
As the rest of the Concordia community prepares to return to campus eventually, Kruse says he hopes everyone will remember to take it one day at a time.
"The hardest part is starting with that first day. Each day after will be easier but will come with different hurdles. After a few days they become less significant," he says.
"Just be patient and open-minded. Perhaps think about what makes you nervous about returning and conquer a few hurdles each day."

Find out more about Concordia's roadmap for a safe return to campus.
---