Life on campus with — Alex Rousseau
The Hospitality Concordia business operations coordinator talks about maintaining a healthy routine and reaching out when you need support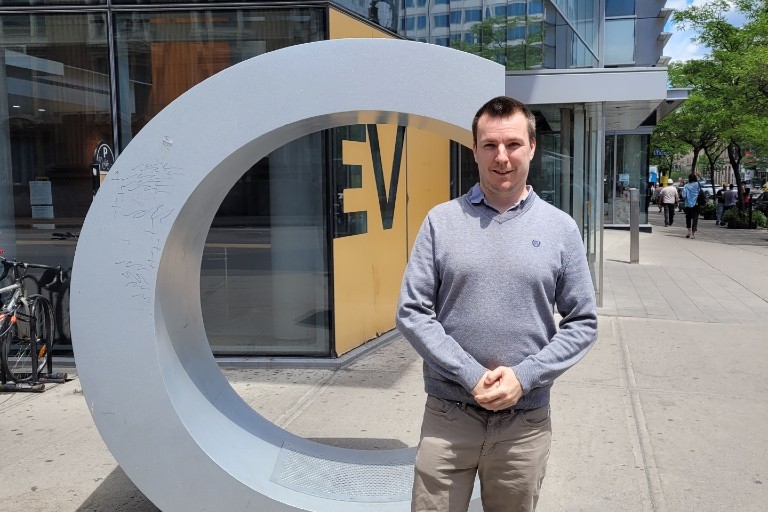 Alex Rousseau: "It will eventually become normal to come into the office, just as it was before the pandemic."
Life on campus is a series profiling inspiring faculty and staff who have been working on the Sir George Williams and Loyola campuses throughout the COVID-19 pandemic. To nominate someone you know, send an email to now@concordia.ca.
As a self-described introvert, Alex Rousseau didn't realize how much he would miss interacting with others until the COVID-19 pandemic hit. The business operations coordinator for Hospitality Concordia has been working on campus full-time since August 2020, but he rarely sees his colleagues in person.
"The isolation of working alone was an obstacle that I didn't think would have such an impact on my mental health," Rousseau shares. "Staying connected with my colleagues through Zoom and Teams did help to bridge the physical disconnection, though I am very thankful that people will be returning on site."
Rousseau is responsible for Hospitality Concordia's day-to-day campus operations — everything from parking to lockers to ATMs. He says he was nervous about returning to work at first, but the health protocols have made things feel safe and close to normal.
"Over time, my anxieties eased," he says. "Receiving the vaccine has also helped. Nowadays, working in the office feels almost like before the pandemic."
Rousseau adds that as most of his day is spent in a closed office, it's quite easy to follow public health measures.
"When I do need to walk around on campus, it has become second nature to don a mask, register at the security desk and maintain a social distance from others," he says. "And the people I interact with are also doing a great job at respecting the measures. I have never felt unsafe in my interactions with people on site."
Helpful habits
A year in, Rousseau has learned a few helpful tips for working on campus in the context of the COVID-19 pandemic. For one, he emphasizes the importance of establishing a solid routine and sticking to it.
"I made it a point of ensuring that I ate well and maintained a healthy sleeping habit. This has had important benefits to my mental and physical well-being," he says.
Learning when to disconnect from the computer also proved valuable, he adds. "Taking a break and going for a short walk helps me to re-energize. It's also an occasion to see people!"
Communication, communication, communication
Rousseau also can't stress enough the importance of communication — both personally and professionally.
"Being able to communicate with a loved one or friend is vital for your mental health when you're not feeling well," he says, adding that it's especially true at a time when people are more isolated than usual.
And while he prefers in-person to virtual interactions at work, Rousseau has definitely come to appreciate the value of online communication platforms.
"I would never have imagined having to use Zoom or Teams as much as we do now for videoconferencing!"
His closing advice for colleagues returning to campus this fall?
"Take it one day at a time. It will eventually become normal to come into the office, just as it was before the pandemic."

Visit Concordia's COVID-19 information page to keep informed of latest developments.
---