Life on campus — with Normand Lanthier
The officer of fire and public safety talks about construction site inspections and his new appreciation for online meetings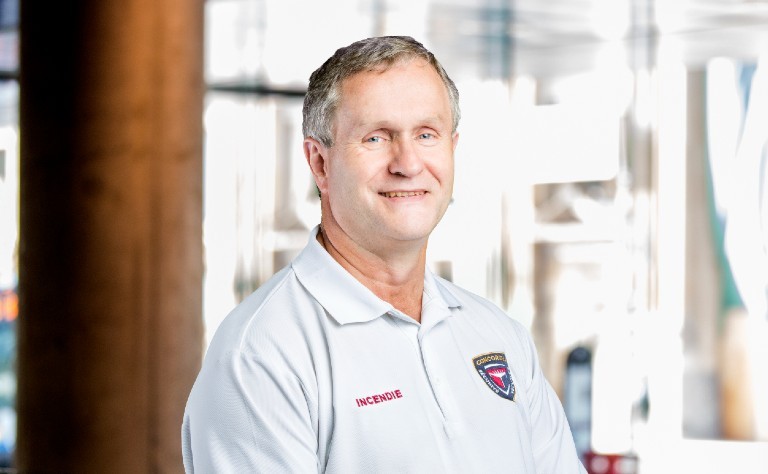 "Take it one day — or even one task — at a time."
Life on campus is a series profiling inspiring faculty and staff who have been working on the Sir George Williams and Loyola campuses throughout the COVID-19 pandemic. To nominate someone you know, send an email to now@concordia.ca.
Three weeks after Concordia sent faculty and staff home to work remotely in March 2020, Normand Lanthier received a call asking if he could return to campus.
"During those first three weeks, I was hearing all kinds of stories about masks and how many people weren't wearing them properly," says Lanthier, who is the officer of fire and public safety in Campus Security and Emergency Services.
"Since I was coming back to work by bus and metro, let's just say I wasn't very confident."
His apprehensions subsided when he started to make the trip to Concordia, though. With so few passengers using public transportation, Lanthier had no trouble keeping his distance and his calm.
He also took the opportunity to remind some commuters how to wear their masks correctly but stopped after a few negative encounters. Still, he doesn't hold any resentment to others and admits that he too can sometimes be forgetful.
"It's happened a few times where I was at the bus stop and noticed at the last minute that I forgot to bring my mask," he says. "Now, I put it beside my lunch box every night."
Obstacles, improvements + advice
On campus, Lanthier's work differs from before the pandemic in that he advises people to adhere to COVID-19 health and safety protocols. He notes that this has happened several times when he was inspecting construction sites toward the beginning of the campus closure.
"We had to face situations where some people were reluctant to wear a mask," he recalls. "Sometimes, it was only after a long discussion that they agreed to put it on."
For his part, Lanthier looks forward to removing his mask after a long day on site so he can breathe a little easier. Still, he enjoys some of the changes to his work that came about as a result of the COVID-19 pandemic.
"I have come to appreciate online meetings, especially when they involve people from both campuses," Lanthier says. "I also find that I have more time to complete reports and spend less time travelling from one location to the next."
While the next few months will most certainly come with their own set of obstacles, Lanthier suggests a gradual approach for those coming to campus for the first time since March 2020.
"Take it one day — or even one task — at a time," he says. "But always keep in mind that wearing a mask and keeping your distance doesn't come easy. You have to build on those habits."
Visit Concordia's COVID-19 information page to keep informed of latest developments.
---