Concordians now have access to 4,000 online courses through the Udemy platform
Faculty, staff and students are invited to boost their professional skills, with an emphasis on digital capabilities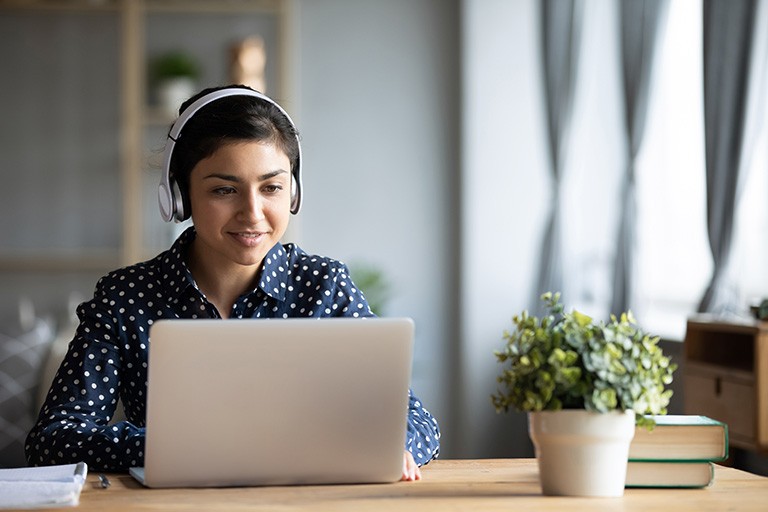 The Concordia community now has access to a free Udemy subscription until September 23, 2021.
The on-demand learning platform offers a vast selection of non-academic courses. These range from IT operations and web development, to leadership and marketing, to project management and operations.
In light of the COVID-19 pandemic and the uncertain timing of the transition back to campus, Concordia's Digital Capabilities project team wanted to give students, faculty and staff the opportunity to develop or refresh their skills, with an emphasis on digital competencies.
Online learning platforms are increasingly the way that people seek out and receive non-academic training. A collection of more than 4,000 online courses through the Udemy for Business service is now available.
Concordia community members will benefit from the Udemy platform's high-quality professional course content, access to online courses anytime, anywhere and curated learning resources that can be combined to build customized learning paths. It's a much-needed substitution for in-person workshops, given the current public health crisis.
"I am thrilled to offer the Udemy service to the Concordia community," says Guylaine Beaudry, vice-provost of digital strategy and university librarian.
"This service provides students, faculty and staff with many opportunities to build on their digital capabilities and enhance their professional skills, and this continues to strengthen Concordia's digital strategy."
Flexible and dynamic on-demand learning opportunities
The platform can provide managers the possibility of professional growth and offer them the potential to give more agency to their employees through training and professional development.
Faculty members can acquire new skills to adapt to online delivery of curriculum for the fall term. There is also a chance to leverage some of the online content to complement course outlines for students.
The Udemy platform will also provide staff with professional growth opportunities, helping them develop or refresh their skills.
The vast selection of Udemy's online resources provides students with the opportunity to acquire new skills in preparation for upcoming courses at their own pace and to boost their experience with additional competencies.
"I am very excited about the Udemy courses and how they might complement some of the existing FutureReady program virtual workshops," notes Andrea Taylor, project coordinator for FutureReady at the Student Success Centre.
"Online learning platforms like Udemy provide flexible and complementary training options for students that can help them boost their skills for the job market."
Examples of courses include:
Leadership and Management: Listening Skills – The Ultimate Workplace Soft Skills
Marketing Psychology – The Art of Ethical Persuasion
Complete Machine Learning and Data Science: Zero to Mastery
Social Media Marketing Agency: Digital Marketing + Business
Practice and Perfect your French – Intermediate Level
Signing up for the Udemy service can be done in several easy steps. To begin, users must have an active Concordia email address, provided through their respective student or faculty and staff licensing of Office 365.
Additionally, first-time users will need to visit the service's MyConcordia portal page, listed under the Accounts and Settings heading, in order to consent to the privacy terms of the service.
Depending on the demand, an account may take two or more hours to be enabled on the Udemy service once consent has been recorded.
After the account is enabled, users must log in to the Concordia Udemy for Business web page with their Concordia email address to access the selection of online learning courses available to the community.
Users can visit the IT Services catalog for detailed login instructions to the Udemy platform.
Digital Capabilities self-assessment tool
Concordia's Digital Capabilities project team has also developed an online self-assessment tool. Part of Concordia's digital strategy initiatives, the tool aims to provide students, faculty and staff with a more comprehensive understanding of their own digital strengths and weaknesses.
The project will also offer the community an opportunity to adopt a practice of continual digital capabilities development.
The self-assessment is a valuable primary resource that can guide Concordians as they select the online courses on the Udemy platform most pertinent to their skills development.
The goal of the digital capabilities framework is to map out various competencies required to maintain beneficial levels of digital skills for specific academic, administrative and professional roles. The framework is available as a reference tool when articulating skillsets, developing academic requirements and identifying professional development goals.
By completing the short online self-assessment, students, faculty and staff will be better equipped to accurately gauge their level of digital skills across 12 different dimensions within the digital capabilities framework. These include problem-solving, digital resources for learning, communication and personal and professional empowerment.
In addition to obtaining their proficiency level results — strengths and weaknesses — for each of these 12 dimensions, the outcome of the self-assessment will provide the Concordia community with a list of resources they can explore to improve their digital skills in the areas they think would benefit them the most.
The Digital Capabilities self-assessment is a first step in helping faculty, staff and students assess their digital skills and identify their digital knowledge gaps, notes Jasia Stuart, coordinator of digital technologies for Concordia Library.
"Equipped with new information and resources from the self-assessment, the Concordia community can take full advantage of Udemy's vast collection of online learning resources to upgrade their professional skills and build on their digital capabilities."

Visit the MyConcordia portal page to sign up for the Udemy service and take the Digital Capabilities self-assessment today.
---