Living and working in Saint-Henri grounds PhD student's research on gentrification
Concordia doctoral candidate Fred Burrill is a community organizer and long-time resident of Montreal's Sud-Ouest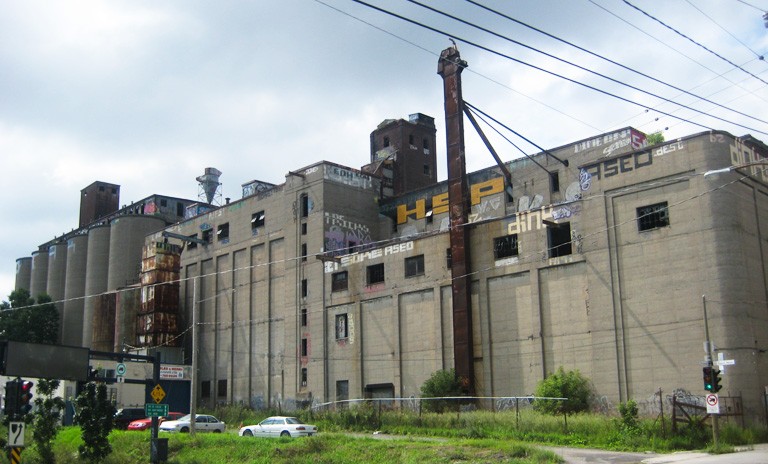 The old Canada Malting Company site in Saint-Henri has been identified by community collective À nous la Malting! as a major opportunity to expand social housing in the area. | Photo by Fredoues, via Wikimedia
For Fred Burrill, a PhD student in Concordia's Department of History, one of the best parts about living in Montreal's Saint-Henri district is running into his neighbours. They're the people with whom he shares a connection, however slight — people he's seen around for years.
Those run-ins used to happen all the time. But now?
"The little networks of connection that you get around a certain block or a certain intersection, those are gone," he says.
Saint-Henri, like other neighbourhoods in the Montreal Sud-Ouest borough and across the city, is undergoing rapid gentrification, pushing out low-income residents who have built lives in the area over years and decades.
This term, Concordia's University of the Streets Café was set host three public conversations in Saint-Henri relating to urban development issues. The events have been put on hold due to the ongoing COVID-19 crisis.
Burrill is supervised by Steven High, professor and co-founder of Concordia's Centre for Oral History and Digital Storytelling, of which Burrill is an affiliate member. His dissertation is entitled "Displacement Wars and the Battle for Collective Memory in Saint-Henri, 1970-2016."
The oral history project is grounded in the relationships Burrill has cultivated in the neighbourhood he's called home for more than 10 years.
"I don't think my project — at least the way that I'm doing it — would be possible if I hadn't spent so much time here and gotten to know people in the area," he says.
His work documents the collective memory of Saint-Henri residents. It's particularly attuned to a messy transition from the neighbourhood's working-class history to a present day defined by deindustrialization, a reality embodied by the mass conversion of vacant factories into sparkling condo developments.
An influx of new faces means more tenuous connections and a decreasing awareness of what the neighbourhood means to people who have lived there for years. It also means fewer longstanding residents can remain as the networks that support resistance are diminished.
"Whether you call it solidarity or just being friends with each other, that is one of the main forces of opposition to gentrification," Burrill argues.
He met many of these friends when he worked as an organizer at Projet d'organisation populaire, d'information et de regroupement, better known as P.O.P.I.R., a housing rights organization of which he continues to be a member.
Defending the southwest
P.O.P.I.R. recently celebrated 50 years of advocating for tenants in Montreal's Sud-Ouest borough. Its vision has evolved since it first started grappling with the problem of gentrification two decades ago.
Patricia Viannay currently works as a community organizer with P.O.P.I.R.
"We didn't initially see how development negatively impacts not only the people we work with, but also those who are already renters in affordable housing on the private market," she says.
Viannay pinpoints P.O.P.I.R.'s first foray into the battle against gentrification: an early-2000s fight against the Alta-Socam Group's Quai des Éclusiers development, which converted a factory along the Lachine Canal into more than 400 condos.
P.O.P.I.R. feared such projects were a lost opportunity to build social housing that would better suit the needs of the neighbourhood. According to Viannay, its concerns were widely dismissed by those who felt such developments could introduce a beneficial cultural mix.
Overall, the neighbourhood has been rapidly transformed in the past 20 years, with pressures on long-time residents becoming increasingly acute.
"After years, there is no more to develop, so they want to take what the tenants have," Viannay explains. She says that many people have been pushed out over the past five years.
According to the community organizer, some companies buy whole buildings with the goal of forcing out the tenants and redeveloping the property into something more profitable.
One of P.O.P.I.R.'s strategies is to save buildings from redevelopment by organizing tenants to collectively resist landlord pressure.
Viannay estimates that if more than half of a building's tenants refuse to budge, then resistance will be likely to succeed. "When tenants are here for years and years and years, even when they are not the owners, it's their building," she says.
"Not according to the bank and not on paper, but it's their building, it's their community. They will fight back and struggle. Otherwise, we lose them."
When P.O.P.I.R. is able to wrest control of a building from a frustrated landlord, it can be transitioned into social housing or become cooperatively owned, Viannay adds.
"The idea that you will pay what you can afford, it changes everything," she says. "People come to our workshops and they say, 'I need a co-op. I need social housing. Because I know that otherwise I will have to move out one day, and I don't know when.'"
How can Concordia play a role?
Burrill describes universities as sites of struggle, believing it is up to the individuals who populate them to push for the transformation of these institutions and their impacts. This means recognizing universities as seats of structural power that have the potential for harmful as well as helpful impact.
"It's not really acceptable to be passive participants in that structure," he says.
Burrill believes researchers have to begin by looking to community. "The first question has to be, what does this struggle need?" he says. "And then work from there."
In Burrill's case, he saw a need to deepen the understanding of the history surrounding the movement he has been a part of in Saint-Henri, and how it relates to problems that can be found in organizing today.
This preference for hearing directly from community residents reflects the importance of deferring to those most affected by change, particularly when dealing with the fundamental transformation of contested neighbourhoods.
This stands in contrast to institutional approaches that can be rooted in the top-down analysis of data based on a posture of innovation and assumptions of what is best for a community.
Viannay points out that universities can have unintended impacts. "It's for university communities to understand what gentrification is," she says.
"Students are part of the gentrification process if they don't defend their rights, and if they don't understand the community they move into."
However, Viannay values the role the academy can play by providing a basis in evidence that can support P.O.P.I.R.'s organizing work. "Data and statistics are important," she says. "Different work, like what Fred is doing at the historical level, can really help us also."
Yet despite the necessity of such contributions, the people most affected can identify solutions, Viannay adds. "Our work is to bring this analysis to a larger community than just people who are experiencing the problem. That's our work as a community organization."
Burrill believes the academy has the opportunity to help empower organizing work but that it is important to understand the limitations of this route.
"I think there's a lot of storytelling within academia about our relevance," he says. "There's no lack of understanding on our part of what the problem is and even how to fix it."
What the effort lacks, he adds, is enough boots on the street.
"It's a misunderstanding of how power works to think that the main element that we're missing is a convincing discourse and a well-researched argument," Burrill says.
"I think you have to have those things, but it's not the key element. The key element is people power — a mass movement putting pressure on the people in power."

Concordia's University of the Streets Café, a program coordinated by the Office of Community Engagement, was planning this term to host to three public conversations in Saint-Henri. The events, now on hold, were to look at how community members can consolidate their voices to take control of urban development in their neighbourhoods.
---