Get involved with Concordia's Community Compass
Build skills and meet friends by participating in short-term volunteer opportunities throughout Montreal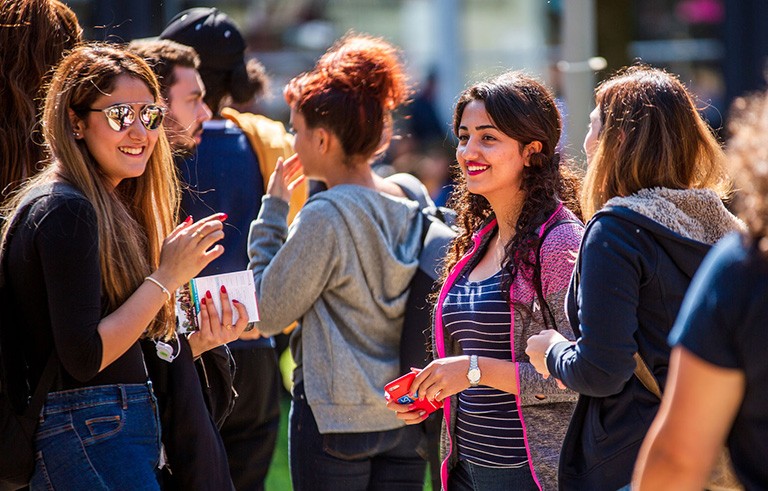 "Many participants tell us the program is transformational," says Alexander Oster about Community Compass, an experiential learning initiative that connects teams of volunteer-curious students with community organizations around Montreal.
Oster, coordinator of student engagement at Concordia, organizes the program with Katie Broad, the coordinator of the LIVE Volunteer Resource Centre.
Community Compass facilitates group volunteer placements with community partners and provides training and reflection exercises before and after all student team volunteer experiences.
Oster says the program offers students a meaningful avenue to connect with peers and community members who they might not otherwise get to know.
"You can expect to have fun, meet new people and make new friends, all while being introduced to a framework for learning from experience," he says.
The program collaborates with Concordia groups who already place students in community settings, such as the Multi-faith and Spirituality Centre.
'I made new friends and new connections'
Lhalyn Valencia, a second-year biochemistry undergrad, echoes Oster's description of the program.
When she moved to Montreal from the Philippines last year, she felt alienated. "I had difficulty adjusting to a whole new country and a new life," recalls Valencia. As a result, she began to isolate herself.
"That's when I decided to get involved with the volunteer work offered through Community Compass. It helped me bring back my old self — the sociable person I knew."
Last spring Valencia signed up for the Reading Week program, which saw her spend a few days at the Saint-Antoine 50+ Community Centre near Montreal's Georges-Vanier metro station.
"We helped with their garden cleaning and event decorating. The experience was so rewarding that I set myself the goal of volunteering at least once every month," she says.
Not only did the work itself prove satisfying, but she also benefitted from the social connections garnered through it.
"It was a great experience with the advantage of making new friends and connections," Valencia says.
"The people I met from volunteering were all amazing, and we established solid friendships. We still hang out once in a while and bond through doing more volunteer work together."
Learning new skills
On top of the meaningful connections Valencia made through the Community Compass program, she says volunteering helped her develop her communication skills and boosted her confidence in unexpected ways.
"My first language isn't English, so I had a fear of talking. The volunteer work I participated in helped me overcome that fear," she says. "I learned to stop trying to be the best in everything I do, and that what matters most is doing something you can be proud of, like helping others. It was such an encouraging environment."
Oster says many students, like Valencia, are pleasantly surprised by how experiential learning can be applied to many aspects of their personal, professional and academic lives. "It is a great way for students to work on developing teamwork and leadership skills," he says.
"While our office coordinates and frames these experiences for students, all of the energy and impact is thanks to the amazing students who want to help and our partners who dedicate themselves to the needs of their communities."
How to get involved
Students can find information on how to get involved directly through the Community Compass website. The Dean of Students Office Facebook page also hosts information and registration links for all upcoming group volunteer opportunities.
Community Compass holds one-day volunteer events throughout the fall term and two-day events toward the end of each semester. Those who want more can participate in a four-day experience over Reading Week.
Participation in the Reading-Week program can be applied toward the completion of core skill modules in Concordia's FutureReady program.
"Community Compass helped me build relationships and connections. It helped me learn about things that can't be learnt inside the classroom," Valencia says.
"Help is something worth giving. I hope more students will be able to participate and experience these wonderful opportunities Concordia offers."
Community Compass is made possible through support from the George and Helene Coward Endowment Fund.

Looking to meet new people and gain some volunteer experience? Contact Concordia's Community Compass to find out how to get involved!

---