Convocation 2019: 'You'll always be our best ambassadors'
1,000-plus fall graduates are inspired to take pride in their accomplishments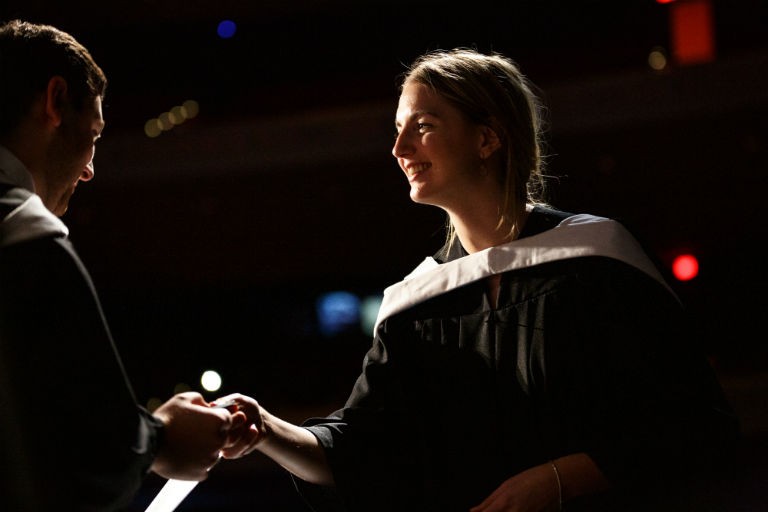 Photo: Lisa Graves
It may have been winter temperatures outside, but more than 1,000 graduates helped heat up Montreal's Place des Arts at the fall 2019 convocation ceremonies on November 18.
Graham Carr, Concordia's interim president, along with class valedictorians and honorary degree recipients, inspired graduating students from the Faculty of Arts and Science, Faculty of Fine Arts, John Molson School of Business (JMSB) and Gina Cody School of Engineering and Computer Science.

Carr began his address by acknowledging that Concordia is located on unceded Indigenous lands. Yet he pointed out that these are not just words. "At Concordia, knowledge comes from a diversity of peoples alluded to in the territorial acknowledgement," he said.
"If you remember only one thing from today, may it be that you'll always be our best ambassadors," Carr added.
"As you go on to do great things, take with you the immense pride everyone in this hall today has in you. Go out and lead your life proudly and do it in a way that makes it impossible for everyone in the world to forget you were here."
Valedictorians' speeches
Each ceremony featured an impassioned speech from a class valedictorian.
Mostafa Ayoobzadeh, PhD in Business Administration, addressed his fellow JMSB graduates. His research was on the impact of mentoring and how it relates to leadership development outcomes.
"As an international student I started my journey with so many questions in my head and so many challenges ahead," said Ayoobzadeh, who's now a postdoctoral fellow at Carleton University in Ottawa.
"What were my takeaways from all those experiences and challenges? I would like to summarize them with four words that start with the letter P:
"Purpose. Goals keep us determined and remind us why we shouldn't give up.
"Perspective. Studying at Concordia gave me the opportunity to study, work and communicate with people from so many backgrounds.
"Practice. Success requires taking actions, practice and progress.
"And finally, people. I had a great support system that helped me continue my journey.
"I have one last word: don't forget to thank all the people who stood by you on your journey."
Highlights from the honorary doctorates' addresses
Barbara Davidson addressed Faculty of Arts and Science and Faculty of Fine Arts graduates
Pulitzer Prize-winning photojournalist and Montreal native Barbara Davidson (BFA 90) spoke of the struggles she faced when she embarked on her career in a male-dominated field. Applying for internships, she received numerous letters of rejection, but she never gave up.
Finally, Davidson secured a posting with the Kitchener-Waterloo Record and went on from there to fill staff positions at the Washington Times, Dallas Morning News and the Los Angeles Times.
Covering the fall of the Taliban in Afghanistan, Davidson was in Kabul on the first day when girls were welcomed back into school classrooms. Through a translator, the girls asked her how it was possible that a woman had travelled so far to meet them.
"I smiled and told them there are millions of working women just like me where I live and that girls just like them have the freedom to grow up to be whatever they want to be. They looked at me as though I was from Mars!"
Davidson implored the new graduates to travel, explore the world, and find out what it is that inspires them. "You're at the beginning of your adventure, and what an amazing place to be," she said.
"Listen to your inner voice, be aware of it, and let it guide you in your quest to be the architect of your life."
Annette Verschuren addressed graduates from the John Molson School of Business (JMSB)

Cape Breton native and business success story Annette Verschuren launched the Canadian division of Michaels, then became president of The Home Depot Canada and now is chair and CEO of NRStor Inc., a leader in the commercialization of energy storage technologies.
"I'm so excited to receive this honorary doctorate from this great university," she said to the graduating John Molson School of Business class.
Verschuren revealed that she always made decisions keeping two things in mind: "Sustainability — sustaining the earth, sustaining what we take from Mother Nature, sustaining our planet; and diversity — diversity of thought."
She talked about the lessons of inclusiveness that she learned from her father, a farmer.
"You have to invite everybody at the table to help you make decisions. An inclusive environment with diverse opinions make better decisions than one group of people that are homogeneous.
Verschuren referred to her book Bet on Me. "One of the chapters is, 'Mediocre strategy, great execution.' You learn way more by going at it quickly and fixing it on the way. Have the courage to go faster on strategy but making sure the execution is superb," she said.
"Don't be afraid to make mistakes. If you don't mess up, you're not going to get ahead."
Rebecca Brent and Richard Felder addressed the Gina School of Engineering and Computer Science graduates

Rebecca Brent recalled a problem faced by many new graduates, including herself: imposter syndrome.
"I was pretty sure I was about to reveal myself as a fraud who really did not belong — in graduate school or getting a doctorate, or teaching at a university, or evaluating programs or facilitating teaching workshops or writing a book," she said.
But that voice is wrong, she said. "Recognize that voice for what it is — a scammer — and forge ahead to whatever that next step is. And remember, you are ready."

Richard Felder, her husband, brought up another concern felt by a lot of new graduates: that they're not doing what they should be doing — that they may even end up hating the first job they get.
He recalled starting out in academia as a professor in chemical engineering. While he enjoyed the research component, he found his true passion was pedagogy.
"I didn't just like teaching, I loved teaching," he said.
Eventually, Felder decided to dedicate the rest of his career to it. He conducted research on teaching, instead of engineering, wrote about his discoveries, and received invitations to talk about them. "It was a dream career for me."
Felder told the fall 2019 Concordia graduates not to worry if they find themselves unsure about where they end up next.
"Sooner or later, and I hope sooner, you'll find a position that allows you to do what you're good at, what you enjoy doing, what you love doing, and you will be a success at it. Once that happens you can start working on your award acceptance speech."
---