Material Trace: The undergraduate student exhibition opens January 14 at the FOFA Gallery
This year's show is a cross-disciplinary collaboration with a focus on the physical form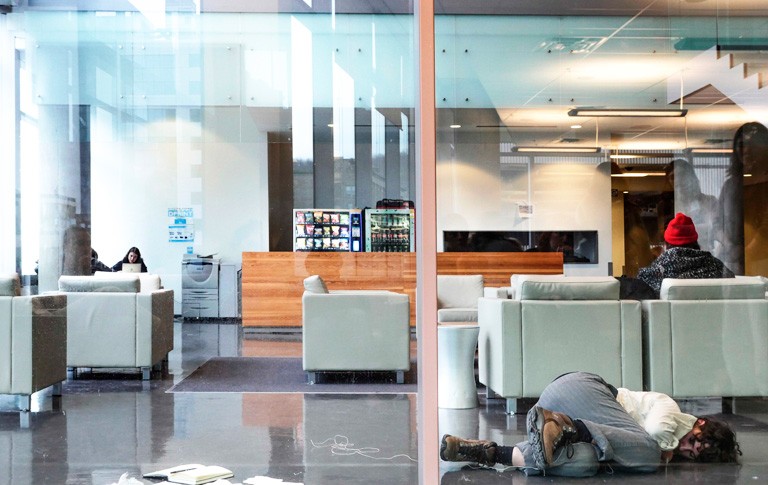 Si Yu Li,
Origami.
Performed by Xdzunúm Danae Trejo-Boles. | Photo by Aboozar Beheshti
A new exhibition opens January 14 at Concordia's FOFA Gallery. Material Trace shows off the strengths of many departments in the Faculty of Fine Arts and encourages undergraduate students from various fields to work together to explore different practices and thought processes.
"One of the goals of the exhibition, in its many collaborative components, is to foster cross-disciplinary artistic practice," says Jennifer Dorner, director of the FOFA Gallery.
Writers collaborate with artists
Material Trace brings together undergraduate students in the departments of Studio Arts, Art History and Design and Computation Arts to produce an exhibition catalogue.
Studio art students were paired with art history students, who wrote short catalogue texts about the artists' works. Design and computation arts students, meanwhile, produced competing design proposals for the catalogue as part of their coursework.
Lisa Massa is an art history undergrad who collaborated with Sung Hui (Sonnie) Park on her piece Untitled (2017). Massa found that working on the exhibition not only allowed her to experiment with new forms of writing, but it provided her with greater insight into the artist's perspective.
"Frequently, artwork stands alone, so the interpretation and understanding of the work becomes placed solely on the viewer," Massa says.
"But to have the artist behind the work explain her process, ideas and influences provided me with a much greater understanding."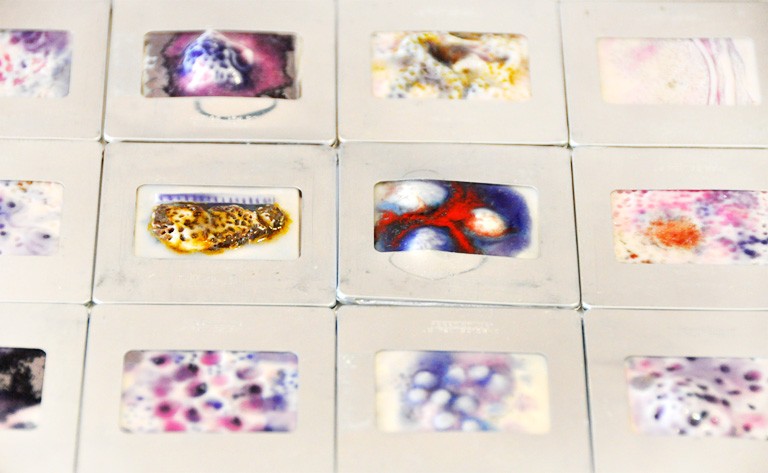 Pathologia
, 2017, by Erin Berry. | Courtesy of the artist
Interpretative dance
2019 also marks the third year of the gallery's collaboration with Angélique Willkie, assistant professor in the Department of Contemporary Dance. Her students have paired up with artists and will perform choreographed performances that respond to the artworks on exhibit. A jury made a selection of pieces and the dancers will perform in the gallery in dialogue with the art.
"I am really looking forward to seeing what the dancers do. How are you going to interpret this into dance and movement? My work is about the body so there's a direct connection," says Erin Berry. The final-year ceramics student is presenting two pieces, including Pathologia (2017), a series of porcelain slides based on her grandfather's work as a pathologist.
Dance student Fia Grogono is paired with Florence Tremblay's work "Parlafenetre" and Eva Myers will dance their piece "Insider."
"In the dance studio, we roll around, scream, express all sorts of wildness, and it is supported and valued as important aspects of human expression," says Grogono.
"But when we take this freedom out into the world, it is very apparent how heavily societal norms and expectations weigh. I enjoy working in the gallery because it exposes dance to an audience that might not usually seek out physical performance. It brings human life into still work, and reveals a way of interacting with the art to the audience that they may not have thought about."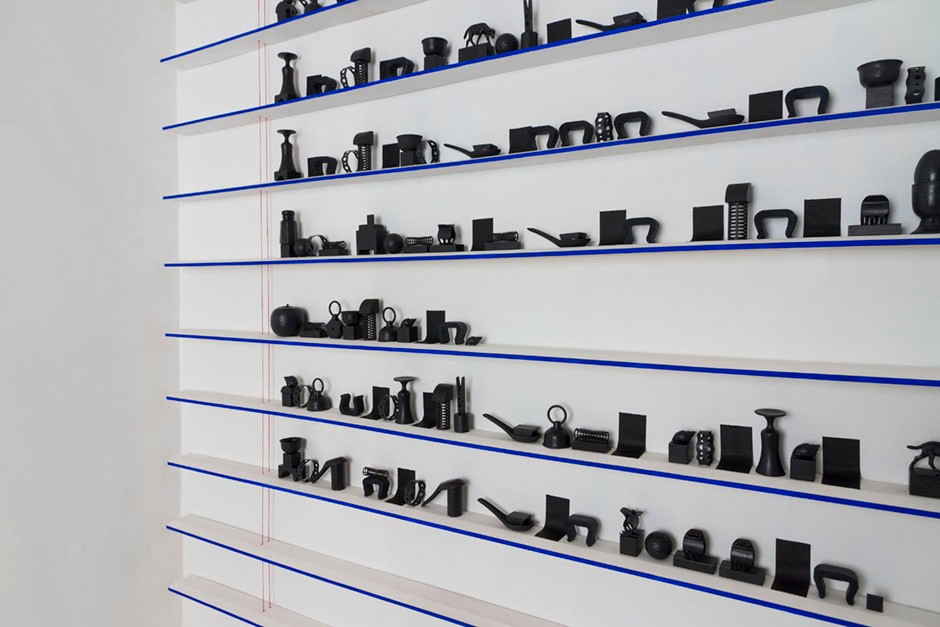 Objectifier l'écriture
, 2018, by Clara Couzino. | Courtesy of the artist
'A great discussion'
The title of this year's exhibition, Material Trace, refers to how the selected artworks give physical form to ideas through collecting, recording, logging, documenting or archiving.
The pieces investigate the construction of identity and the essence of relationships in the digital age, as well as questions surrounding borders, overconsumption and ecology.
"It will be fantastic for my CV, of course, but it's also been great making connections with other undergraduates and people in the gallery," adds Berry.
Clara Couzino (BFA 18), a recent graduate who won the BMO 1st Art! Competition last year for Objectifier l'écriture (2018) — the piece she is exhibiting in the vitrine — also appreciated the collaborative atmosphere.
"I particularly enjoyed having somebody write about my work and to see their point of view," Couzino says.

Material Trace runs from January 14 to February 22 at the FOFA Gallery on the first floor of the Engineering, Computer Science and Visual Arts Integrated Complex (1515 Ste-Catherine St West) on the Sir George Williams Campus. The vernissage and catalogue launch is on January 17.
Selected performances will take place January 24 and February 7, from 5 to 7 p.m. Check the event listing for a full description of the exhibition, including artist bios and artwork samples.
---