Centraide funding allows Montreal organizations to help populations most in need
Donations from Concordians support 350 local agencies and projects, including the NDG Senior Citizens' Council and Head & Hands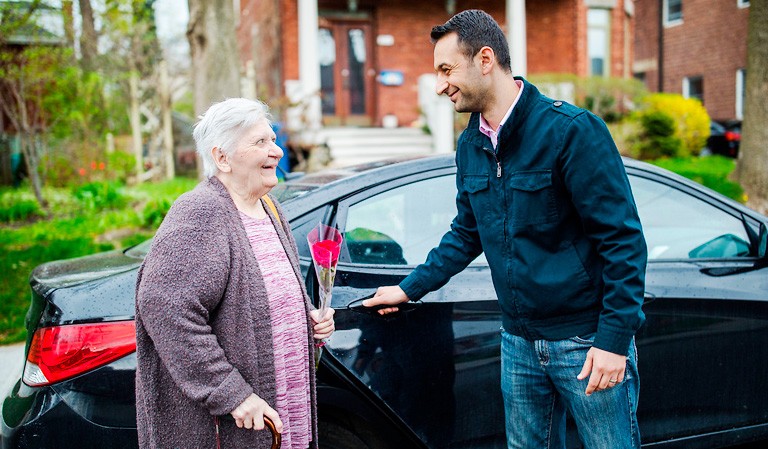 NDG Senior Citizens' Council programs include transportation services to medical appointments and treatment.
Montreal offers inhabitants and visitors an extraordinary mix of culture, diversity, natural beauty, cleanliness and safety. Yet, as is the case in all large metropolitan areas, a significant portion of its residents face hurdles due to poverty, poor access to health care and various professional services, social exclusion and other related challenges.
That's where Centraide of Greater Montreal steps in. The 350 community agencies and projects in Centraide's network support one out of seven people living in Greater Montreal — and nearly 25 per cent living on the island.
The slogan for the 2018 Concordia Centraide Campaign, "Give to Centraide — YUL be glad you did," emphasizes the role of the fundraising organization as a community hub, just as Pierre Elliott Trudeau International Airport is the city's air-travel hub.
'We work to have the seniors' voices heard'
One of those community organizations under the Centraide umbrella is the NDG Senior Citizens' Council (NDGSCC). The west-end non-profit is dedicated to improving the quality of life of low-income adults 50 years and older in Notre-Dame-de-Grâce (NDG), Montreal West and Côte Saint-Luc. NDGSCC has been around since 1975, the same year Concordia began to raise funds for Centraide.
"Our role is comprehensive. We provide direct services to adults, including boomers and seniors, who are most vulnerable," says Sheri McLeod, executive director of NDGSCC. "Our range of services include medical transportation, individual advocacy and income tax support, among others."
McLeod explains that NDGSCC has a broad mandate. "We also have a policy role. We lobby governments at different levels for social change related to issues of aging, housing and poverty. And we're involved in community development," she says.
"We work to have seniors' voices heard and to advance cross-population issues in NDG, Montreal West and Côte Saint-Luc. About 1,000 people per year benefit from NDGSCC's services."
McLeod, who has been with the organization for more than 28 years, lends her experience to a number of other regional community groups. She's president of La Coalition pour le maintien dans la communauté (COMACO), which brings together 80 seniors organizations in the Montreal area to deal with grassroots issues such as elder abuse and housing concerns.
NDGSCC is also a research partner of Concordia's engAge: the Centre for Research on Aging.
Centraide's backing is vital for the council, McLeod says. "They provide about a third of our funding, which allows us to support the vulnerable in our community."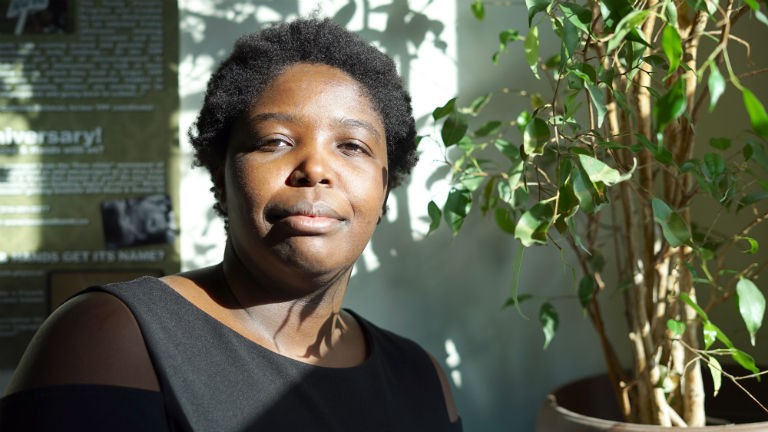 Andrea Clarke of Head & Hands: "Centraide provides us with reliable funding tied to delivering quality services."
'We're there to remove the barriers'
Like NDGSCC, Head & Hands is an NDG-based community organization founded in the 1970s and committed to assisting those marginalized in society. However, its target population fits into another demographic: youth, primarily between 12 and 25.
"Our role is to provide services that are as accessible as possible to youth who are facing situations beyond their control. The challenges that many people face are further compounded by being young," says Andrea Clarke, executive director of Head & Hands.
"Essentially, Head & Hands provides legal, medical and social services — but that doesn't quite capture it," Clarke adds. "We develop our services to meet individual needs. For example, you can access our medical clinic whether you have a RAMQ card or not. If you drop by our Food Pantry, we don't ask for any proof of your needs. We're there to remove the barriers."
Clarke explains that Centraide lends essential financial support to Head & Hands.
"Thanks to Centraide, our core funding isn't left to the whim of political change," she says. "They provide us with reliable funding tied to delivering quality services. We both want the same thing."
Clarke, who has been with Head & Hands since 2014, is a three-time Concordia graduate (BSc 09, MSc 12, MBA 16).
"I began at Head & Hands while I was doing my MBA," she says. "I was able to use the organization for my program's research project. It was a great example of experiential learning."
Head & Hands also partners with Concordia's Office of Community Engagement as a location for University of the Streets Café, which brings public conversations into the community.
"Concordia has been very supportive," she reports.
How to contribute
Join in making a difference — give to Centraide. For your custom link to giving, refer to your Centraide email from October 22 or email to centraide@concordia.ca. Lump sum or payroll deduction — every donation makes a difference.
Visit the Concordia Centraide page to learn more about the campaign and the impact of your donation, as well as to see infographics about the services provided by Centraide-funded agencies in Greater Montreal.
Be sure to register and buy your tickets online for the $15 pasta lunch for a good cause:
And don't miss the inspiring talk by Justin Kingsley: Giving in the modern world:
November 28, 6:30 p.m., York Amphitheatre, EV-1.605, Engineering, Computer Science and Visual Arts Integrated Complex (EV), 1515 Ste. Catherine St. W. Limited spaces available. Buy your tickets today.
For more information or to volunteer, contact centraide@concordia.ca.
For managers: To organize a visit to your department or unit from a Centraide volunteer who can explain more about the campaign, contact centraide@concordia.ca.
Find out more about Concordia's 2018 Centraide campaign.
---