Donors' commitment to Centraide benefits all Montrealers
5 Concordians share their reasons for giving to the annual fundraising effort that supports agencies across the city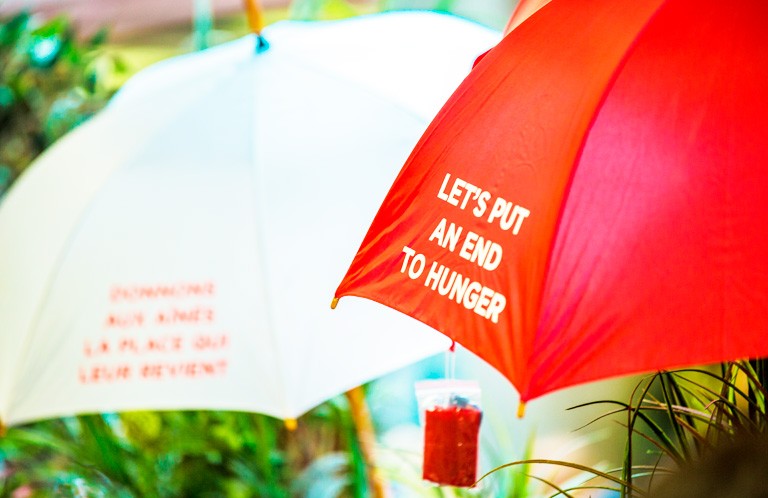 The Concordia Centraide Campaign has benefitted from the generosity of university community members for more than four decades.
Centraide of Greater Montreal helps 500,000 people each year through 350 local agencies and projects. The 2018 campaign, whose slogan is "Give to Centraide — YUL be glad you did," runs until December 10.
As fundraising efforts on campus gain momentum, five Concordians and long-time Centraide supporters describe their university roles and explain why they give to the organization — and why others should as well.
Andrew Woodall, dean of students
I've been the dean of students at Concordia for seven years. My role involves supporting the richness of our student life by making sure that as many students as possible are involved outside of the classroom.
I also oversee service subunits including the Sexual Assault Resource Centre, the Aboriginal Student Resource Centre, the LIVE Volunteer Resource Centre, the Multi-faith and Spirituality Centre, the International Students Office and the Concordia University Student Parents Centre.
I have been giving to Centraide for over 25 years. I started when I was running a not-for-profit that I co-founded with friends, and we saw the importance of Centraide's role in supporting grassroots, community-based organizations.
Since then my reasons have evolved, as have Centraide's services and approach. Now they are supporting comprehensive community anti-poverty initiatives as well as making sure that much-needed and incredible organizations can keep their lights on.
What could be more important for our city?
Miriam Posner, manager of planning and academic facilities for the Faculty of Arts and Science
I have worked at Concordia for over 40 years. In 2015 I assumed the role of manager of planning and academic facilities in the Faculty of Arts and Science, working on numerous exciting projects including the new Science Hub on the Loyola Campus.
I earned a BSc in 1974 and an MBA in 1989 from Concordia. I currently chair the university's Employee Assistance Program and am president of the Association of Concordia University Management and Administrative Employees.
I have been supporting Centraide since 2003. As a first-generation Canadian on my father's side and a second-generation Canadian on my mother's side, I saw first-hand what it means to have hope, work hard and share with others similarly struggling to meet daily needs. And I learned the value of giving.
The reward in knowing that you made a small yet extremely significant impact on someone's life is immeasurable. As an employee and alumna, I urge others to make a difference in the building of a strong and vibrant community, one that we can all be proud of.
Shanna Parisien, manager of events for Advancement and Alumni Relations
I oversee all aspects of event planning and implementation for Advancement and Alumni Relations. I collaborate with colleagues across the university to ensure that attendees have a memorable guest experience to further their engagement with the university while enhancing our image and reputation.
I also lead the Concordia Parents Association by developing and maintaining events, marketing and a communications strategy to increase engagement and philanthropy from current parents.
I have been supporting Centraide Concordia for more than 10 years. I do so because I believe every little bit counts, and I trust that my contribution is being used well to help those in need.
I encourage other Concordians to give to Centraide because together we can make a bigger dent in helping alleviate the stresses of poverty for so many.
Alan Nash, professor in the Department of Geography, Planning and Environment
I have been a faculty member in the Department of Geography, Planning and Environment since the late 1980s. I have spent those years teaching courses on human geography and on the geography of food — a speciality I have developed in recent years, with a research focus on Montreal's restaurants and food trucks.
I began to give to Centraide Concordia shortly after I arrived at Concordia.
I support Centraide because of its involvement with local projects within Montreal. As a geographer, I understand the importance of local initiatives that meet community needs and I would certainly encourage other Concordians to contribute to Centraide: there's important work to be done in our own backyard, but it can only happen with sufficient resources.
Kevin Austin, professor in the Department of Music
I started teaching at Sir George Williams University (one of Concordia's founding institutions) in 1970. I hold bachelor's and master's degrees in music and composition. I teach Electroacoustic Studies in the Department of Music.
I have been supporting Centraide and similar organizations for many more than 30 years.
Centraide has a direct effect on the quality of life for those in the Montreal region whose lives are subsumed with difficulties related to poverty — food and housing, social and mental health issues, and issues of ethnicity, legal, gender and family circumstances.
I have lived a blessed life. I came from poverty and through the anonymous kindness of strangers have developed to where I am today.
I contribute to alleviating societal problems by giving back through the groups that provide support to others who live the life I could have been living if the helping hand had not been there in my life.

Be sure to register and buy your tickets online for the $15 pasta lunches for a good cause:
November 20: Centraide Sir George Williams Campus pasta lunch, 11:30 a.m. to 2 p.m., Atrium, Engineering, Computer Science and Visual Arts Integrated Complex (EV Building), 1515 Ste. Catherine St. W.
November 27: Centraide Loyola Campus pasta lunch, 12 to 1:30 p.m., Loyola Jesuit Hall and Conference Centre (RF Building), 7141 Sherbrooke St. W.

November 28, Don't miss Giving in the Modern World, a special Centraide talk by Justin Kingsley, 6:30 p.m., York Amphitheatre, EV-1.615, Engineering, Computer Science and Visual Arts Integrated Complex (EV), 1515 Ste. Catherine St. W. Limited spaces available. Tickets are $10, and all proceeds go to Centraide.
Watch concordia.ca/centraide for updates.

Ready to give? For your custom link, refer to your Centraide email sent on October 22, OR wait for the reminder email on November 14. Lump sum or payroll deduction — every donation makes a difference.
Visit the Concordia Centraide Campaign page to learn more about the campaign, about the impact of your donation and to see the infographics about the services provided by Centraide-funded agencies in Greater Montreal.
For more information or to volunteer, contact centraide@concordia.ca.
For managers: To organize a visit to your department or unit from a Centraide volunteer who can explain more about the campaign, contact centraide@concordia.ca.
---