Meet Concordia's first Bachelor of Aerospace Engineering graduate
NOV. 19: Leander Zemke will mark the achievement at fall convocation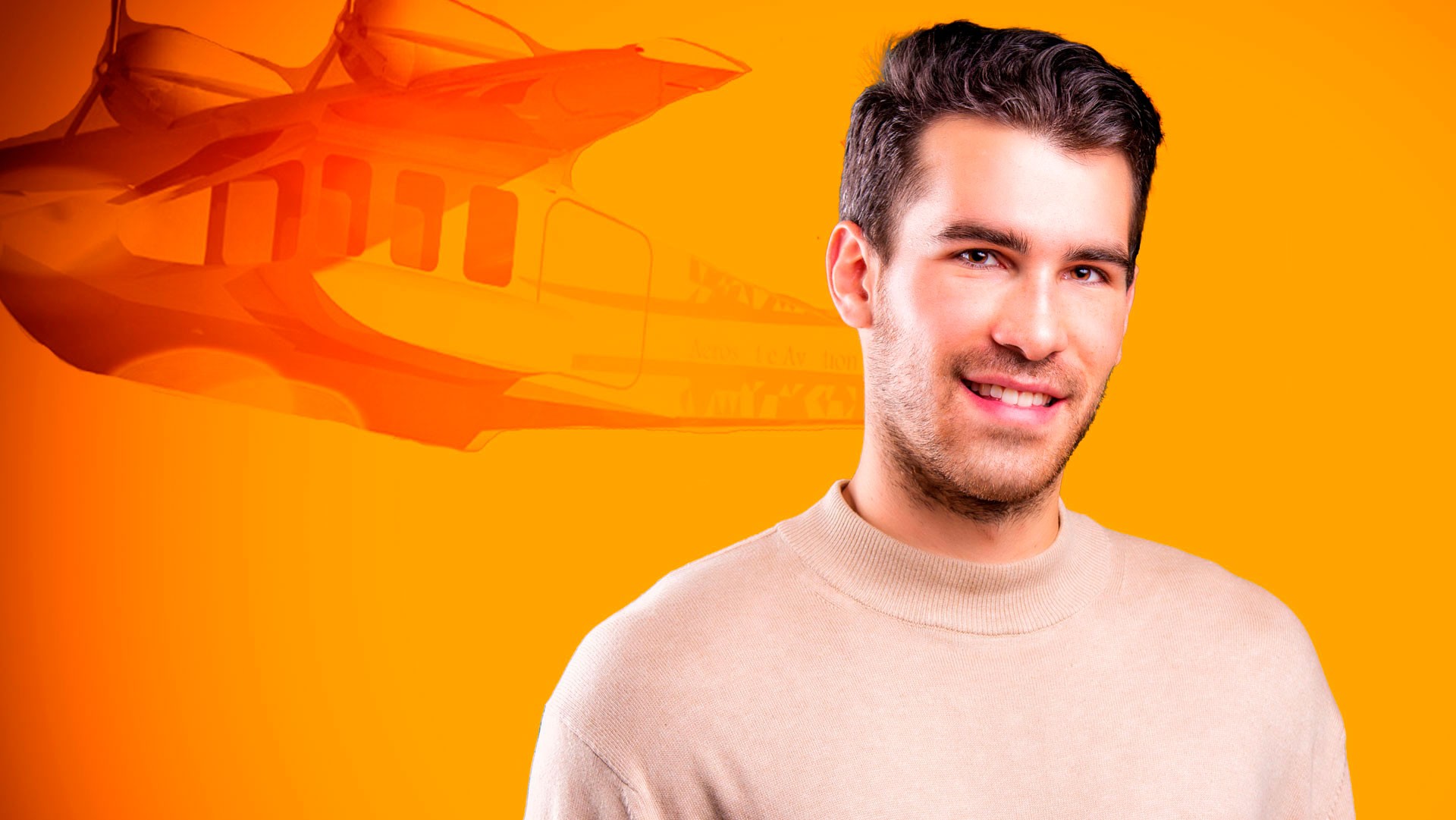 Leander Zemke is one of a handful of people who can say they designed an aircraft before graduating from university.
The 26-year-old student spent eight months working on a collaborative Capstone Engineering Design Project, as one of a group of 30 students in Concordia's new undergraduate Aerospace Engineering Program.
Aided by their professor and industry sponsors who attended design review meetings and offered feedback, the group devised an aircraft that fulfilled technical requirements set out at the beginning of the course.
"To come up with an actual — albeit 3D — aircraft was a very unique experience and I really enjoyed it," Zemke says.
On November 19, he will cross the Salle Wilfrid-Pelletier stage at Montreal's Place des Arts and become the first graduate of the Gina Cody School of Engineering and Computer Science's Bachelor of Engineering (BEng) in Aerospace Engineering.
'Montreal is one of the world's aerospace hubs'
The program, approved in 2016 by the Government of Quebec, was created to give Concordia engineering students more exposure to the aerospace sector. Previously, their option was to earn a BEng in Mechanical Engineering with an aerospace specialty. The new program received accreditation from the Canadian Engineering Accreditation Board in June 2018.
"Creating a new program is a lot of work and that was like the stamp of approval on our aerospace degree," says Martin Pugh, the chair of the Department of Mechanical, Industrial and Aerospace Engineering.
"We're very excited about the prospect that we're now going to have the first students graduating from the aerospace engineering degree."
Pugh says the undergraduate program was a "natural progression" for Concordia, which has been involved in aerospace engineering for many years through the Master of Engineering (MEng) in Aerospace Engineering Program, research work in aerospace and the Concordia Institute of Aerospace Design and Innovation, which connects students with summer work terms in aerospace companies. It also made sense given Montreal's thriving aerospace community.
"Montreal is one of the world's aerospace hubs. It's one of the places where you can actually build a complete aircraft. There are structures, engines, control systems and avionics — everything's here," Pugh says.
"So we felt it would be timely to have a complete degree that offered all the areas of aerospace engineering in an undergraduate program."
'Hands-on training and design experience'
The program gives students exposure to industry. That includes opportunities to visit l'École nationale d'aérotechnique, Quebec's leading technical training institute for aerospace, and the Laboratoire d'enseignement des systèmes intégrés en aérospatiale du Québec and its Challenger 300 test platform.
In addition, two of the program's leading aerospace design professors, Catharine Marsden and Susan Liscouet-Hanke, come from the industry. Marsden is also Concordia's NSERC (Natural Sciences and Engineering Research Council of Canada) Chair in Aerospace Design Engineering (NCADE).
"Our aerospace program ensures the industry can access a new breed of Canadian aerospace engineers with extensive hands-on training and design experience," says Amir Asif, dean of the Gina Cody School.
"It has been developed in consultation with the aerospace industry in the province, meeting their unique needs" he adds. "And it's unique in Canada with its focus on the university's strategic directions "teach for tomorrow" and "get your hands dirty" through apprenticeships and other experiential learning opportunities for our students."
Zemke transferred into aerospace from Concordia's Mechanical Engineering Program after landing an internship in his native Germany with an aerospace company. Speaking to his professors about the internship, he learned of the new program.
"I liked what it was offering, the professors that were involved and the Capstone Project," he says. "And with Montreal having a huge aerospace industry, it was beneficial to have that background."
Zemke says the energy behind the program made it particularly memorable.
"A lot of the professors really want to teach students and bring something interesting to the program," he says.
"You could sense they were open to criticism and wanting to know what was working and what wasn't. It was cool to be a part of that and to be exposed to new things."

Find out more about Concordia's Department of Mechanical, Industrial and Aerospace Engineering (MIAE) and check out a video of Leander Zemke and other students at the 2018 Capstone Fair.
---