These students want to hear your opinions on gender and diversity at Concordia
NOV. 14: Join PhD candidates Leanne Keddie and Michelle Savard at the next Idea Café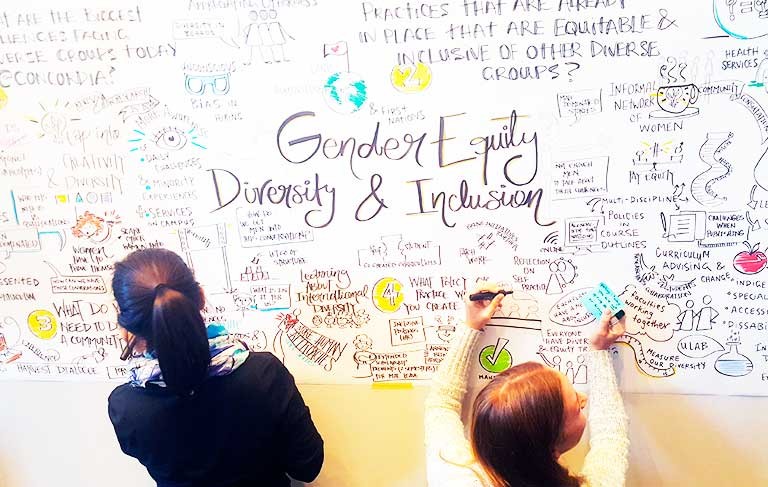 The first of two Idea Cafés on gender and diversity generated "great policy ideas and tangible recommendations."
A walk around the Henry F. Hall (H) Building is enough to demonstrate Concordia's diverse student population. With more than 16 per cent of international students coming from 150-plus countries, the university prides itself on its openness and progressive tradition.
Yet public institutions should never take fair and proper treatment of diverse groups for granted — whether based on race or nationality, gender identity, physical capabilities or sexual orientation. Pervasive racism, sexism, homophobia and ableism are present in universities, as traditionally oppressed groups of people share their experiences and realities.
In collaboration with the Department of Applied Human Sciences in the Faculty of Arts and Science, two graduate students have organized a series of meet-ups to discuss issues of gender and diversity with the Concordia community.
Leanne Keddie, a PhD candidate in business administration and 2017 Concordia public scholar, explains that the idea stemmed from her participation in the Gender Summit 11 in Montreal in November 2017. The School of Graduate Studies sponsored 10 Concordia students to attend the international event, alongside more than 675 advocates of gender equality from science, innovation and development.
"The conference inspired us to do something more. We thought it would be good to share our insights and produce recommendations for Concordia," Keddie says.
Join the discussion
Michelle Savard, a PhD candidate in education and 2018 Concordia public scholar, also attended the summit. One year later, she and Keddie are now leading two Idea Cafés to assess where Concordia students, faculty and staff stand with regards to questions of gender and diversity.
Orchestrated by Rosemary Reilly, associate professor in the Department of Applied Human Sciences, the Idea Cafés are designed as think tanks where the community can share their views on a certain topic. Students in Applied Human Sciences facilitate the group discussions, while graphic facilitators recreate some of the ideas that come up at the sessions in real-time on a large piece of paper.
Previous Idea Cafés covered topics such as health and well-being and consultations on the university's Strategic Directions. They have been good starting points to engage in broad and complex conversations.
The first of the two events on gender and diversity took place at the Loyola Campus on October 24. Keddie is quite pleased with the experience.
"I already see some great policy ideas and tangible recommendations that are relatively easy to put into action."

Reserve your spot for the Gender and Diversity Idea Café on November 14 in Room E-104 of the Grey Nuns (GN) Building (1190 Guy St.) on Concordia's Sir George Williams Campus.
---