'Hate speech crosses the spectrum'
Grad students and professionals get set to tackle the timely issue at Concordia's interdisciplinary summer institute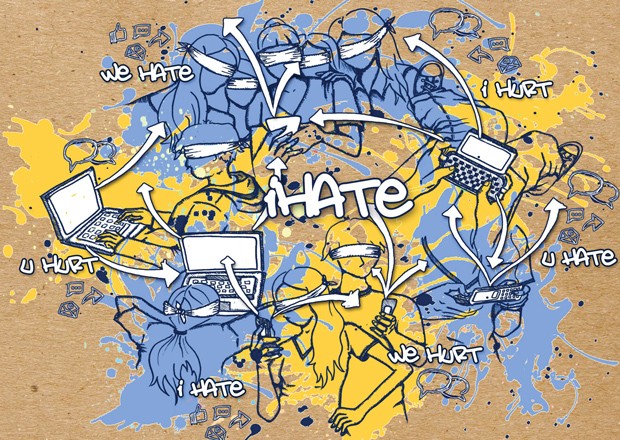 Learning to Hate: An Anti-Hate Comic Project
by Project SOMEONE

What constitutes hate speech? How have social media platforms separated people into echo chambers, while exacerbating the virulence and dissemination of hate?
This June, 20 high-achieving university students and professionals will gather to explore issues around hate speech through the Concordia University Interdisciplinary Summer Institute (CUISI).
The intensive week-long course, running June 18-22, will be led by guest lecturers from Concordia and other universities across North America, as well as criminology experts and multimedia performers.
Bradley Nelson, associate dean of Academic Programs and Development in the School of Graduate Studies, asserts that examining hate speech through an interdisciplinary lens is necessary because its expressions and rationalizations occur in all areas.
"Hate speech crosses the spectrum. It's a psychological issue, it's a sociological issue, it comes up in literature and culture, and it's a media-driven phenomenon in some cases," he says.
"One of our goals is to create a critical consciousness about how hate is created, instrumentalized and mobilized in all kinds of violence."

A pluralistic space
This year's summer institute is being co-curated by Nelson and Vivek Venkatesh, the UNESCO co-chair in Prevention of Radicalization and Violent Extremism and associate dean of Recruitment and Awards in the School of Graduate Studies.
The founder of Project SOMEONE, Venkatesh's research includes developing digital media applications to sensitize and prevent online hate speech among the general public.
"The fact that we've put together a suite of 25-odd experts, research-creation specialists, artists and theorizers from multiple disciplines is something that I don't think we can find in other universities," he says.
Nelson says hosting the institute at Concordia makes sense because the university's program offerings are more agile compared to those of more traditional or established institutions. Montreal also provides a perfect backdrop for the course, he says, because issues like language, culture and ideology are being negotiated in the city every day.
"Montreal is a diverse yet open enough place to attract people to wrestle with some very difficult issues and sets of concepts," Nelson explains.
"Talking about hate speech in a place like Montreal allows for multiple perspectives to percolate and simmer in a unique way."

Practical and conceptual tools
Participants will come away from the course with concepts and frameworks to understand and engage with different paradigms that explore hate speech. But Nelson and Venkatesh also hope to impart some practical skills for creating pluralism when faced with multiple perspectives.
"How do you become comfortable using mobile and digital media to create counter narratives to hate? How do you think of those as reflexive tools?" Venkatesh asks, adding that students will also benefit from a series of methodology-based workshops throughout the week at the Milieux Institute for Arts, Culture and Technology.
"The idea is to move beyond didactic forms of teaching and learning."
Two public events will also take place during the June program. A panel session with former extremists will examine what drove them to pursue ideologies espoused by radical groups and how they have coped with building counter narratives after they disengaged.
The week will conclude with a special Landscape of Hate performance that will incorporate sound, visual and textual materials collected by students in the course.
Find out more and sign up for Concordia University's Interdisciplinary Summer Institute.
---