Teaching for tomorrow: 4 phenomenal Concordia professors
The President's Excellence in Teaching Awards honour faculty members who go above and beyond for their students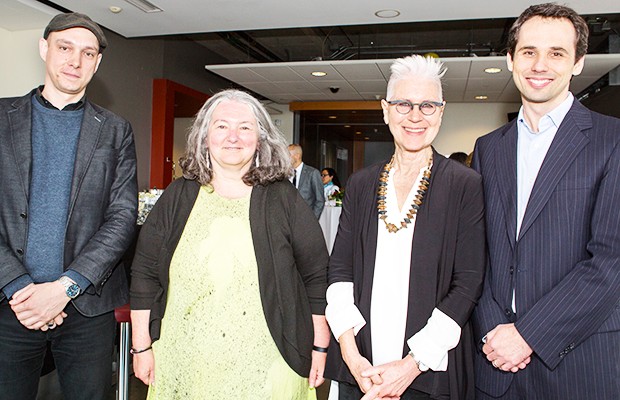 'Many rich contributions': Brandiff Caron (left), Rosemary Reilly, Bonnie Baxter and Krzysztof Skonieczny.

Everyone remembers the teachers who inspired and challenged them.
That's why each year, Concordia presents the President's Excellence in Teaching Awards to honour four outstanding professors.
"Excellence in teaching has always been a priority at Concordia," says the university's president Alan Shepard.
"This annual celebration provides us with the opportunity to honour the many rich contributions of faculty who provide students with an exceptional experience, both inside and outside the classroom."
Lisa Ostiguy, deputy provost, introduced each recipient at the award ceremony on June 1 before welcoming them to the stage.
"These awards celebrate one of our core missions," she said, going on to note that many of Concordia's Strategic Directions are directly linked to teaching.
This year's honoured professors embody those directions, motivating their students to experiment boldly, get their hands dirty and go beyond the classroom, Ostiguy added.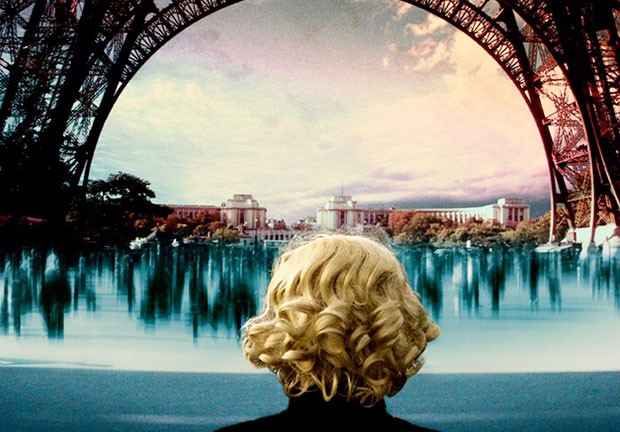 'Paris (monuments)' from
Le voyage de Jane
, 2008, by Concordia part-time faculty member Bonnie Baxter

The 2017 President's Excellence in Teaching Awards

Krzysztof Skonieczny
Assistant professor
Department of Electrical and Computer Engineering
New Teacher Award
The New Teacher Award recognizes a professor who has shown evidence of enhancing the academic experience of Concordia students by inspiring them to achieve high standards.
This year's winner, Krzysztof Skonieczny, says the award renews his confidence in his pedagogical approach, which balances theory and practical experience.
"I love teaching because I love sharing my wide-ranging interests with others, and I fully embrace my inner nerd in the classroom," he adds.
"I'm not shy with my excitement about the cool things we get to learn."
Skonieczny's research revolves around improving the capabilities of planetary rovers by understanding how they react to terrain. It was featured in an article last May announcing his appointment as Canada Research Chair in Aerospace Robotics.

Brandiff Caron
Assistant professor
Centre for Engineering in Society
Award for Innovative Excellence in Teaching
The Innovative Excellence in Teaching Award recognizes individuals who approach the teaching of a subject from a different angle, in the hopes of stimulating creative thinking.
Brandiff Caron was singled out for his teaching of "ENGR 392 - Impact of Technology on Society," in which he successfully encouraged students to interpret social history through the lens of science and technological development.
"The first question everyone asks is: 'What do ethics have to do with engineering?' My answer is: 'Everything,'" Caron says.


Bonnie Baxter
Part-time faculty
Department of Studio Arts
Excellence in Teaching, Part-Time Faculty
Bonnie Baxter won the Part-Time Faculty Award for Excellence in Teaching for her ability to engage with students and stimulate intellectual growth.
A multidisciplinary artist with a national and international exhibition record spanning four decades, Baxter creates everything from public art installations to large-scale pieces in print media, video projection and sculpture. She has been teaching at Concordia since 1984.
"This is an especially sweet moment within my 33 years here," says Baxter. "What I love about teaching is being part of such a vibrant creative community. I especially appreciate the contact with my students who have taught me a lot and permitted me to have so much fun."


Rosemary Reilly
Associate professor
Department of Applied Human Sciences
Excellence in Teaching, Full-Time Faculty
Reilly won the Full-Time Faculty Award for Excellence in Teaching for her ability to impart a wide range of knowledge to her students while challenging them with hands-on community engagement.
Her research interests include the use of learning as a lever for change at an individual, organizational or community level.
"I was absolutely thrilled when I was notified about this award. I am so grateful, lifted and encouraged," Reilly says.
"But this isn't something I've done on my own. I have powerful role models, particularly within my department, who allow me to have compelling learning experiences and meaningful exchanges about the ups and downs of teaching and learning,"
Reilly adds that her graduate and undergraduate students in the Department of Applied Human Sciences have worked with her to create classroom environments where their minds, hearts, spirits and creativity can awaken — allowing them to become who they're truly meant to be.
"We nourish each other in this endeavour."
Read more about Concordia's nine strategic directions.
---