16 cool tools for Concordia faculty and staff
From videoconferencing to free anti-virus software, explore the IT services available to you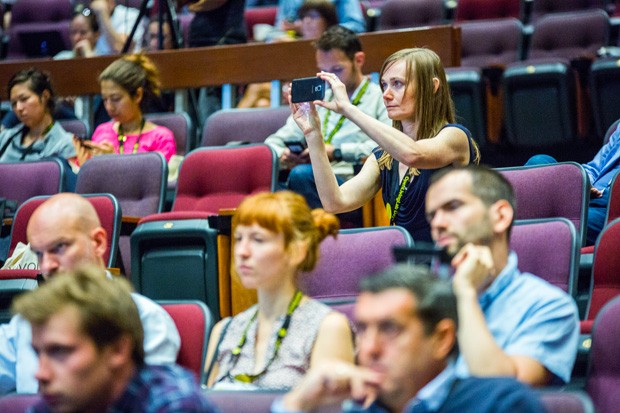 In case you haven't heard, faculty and staff at Concordia have access to a myriad of free software and services at the university. And the best part? Signing up is usually as easy as entering your Concordia username and password online.
From lecture capture and videoconferencing to anti-virus and statistical analysis software, here's a look at some of the free offerings you can take advantage of.

Eduroam
Concordia is a member of eduroam, which is a secure, roaming access service developed for the international research and education community. Eduroam allows students, researchers and staff from participating institutions to obtain wireless internet connectivity when visiting participating institutions.

Panopto lecture capture
Linked with Concordia's Centre for Teaching and Learning, Panopto is a pilot project software system that records classroom lectures, and captures related slides and images. Currently, the service is limited to 15 classrooms throughout the university.
Professors enrolled and using one of these classrooms have access to Panopto to record live lectures, after which they can edit their recordings through Moodle.
Lecture recording can be combined with PowerPoint slides and content from secondary devices to form a single presentation accessible to your students.
To request Panopto you must register with the Centre for Teaching and Learning at teaching@concordia.ca. Please note, the available number of participants is limited.

Videoconferencing
Videoconferencing at Concordia is simple. You can have up to 25 participants simultaneously communicate with one another in a virtual meeting room.
These multi-site sessions are well-suited for thesis defences, job interviews, guest speaker presentations, training sessions, meetings and more.

Lync
As staff and faculty you have access to Microsoft Lync, which is a unified messaging system combining instant messaging, video calls, virtual meetings and presence (availability) information in one easy-to-use tool. Lync connects people everywhere — on their computers, tablets or mobile devices — as part of their everyday productivity experience.

Office 365 ProPlus Suite
As staff and faculty you are eligible to download the Office 365 ProPlus Suite free of charge as a benefit of Concordia's Microsoft Campus Agreement. Install it on up to five computers, five tablets and five smartphones.
The suite features the latest versions of Microsoft Word, Excel, PowerPoint, Outlook and OneNote.

Sophos Antivirus
You've got a new computer, and you need to protect your data. Worry not: faculty and staff can download and install antivirus software by Sophos on home and self-managed computers free of charge.
Read about some other steps you can take to protect your identity and data.

Adobe
A popular tool for facilitating collaborative workflows, Adobe Acrobat Pro DC is available to all active faculty and staff. The software allows you to make comments and changes directly on a PDF, edit text and provide a digital signature … all at the click of a button.
Concordia's Adobe license also provides faculty and staff access to the Creative Cloud, with powerful applications including Photoshop, InDesign, Illustrator and more.

Alertus
If something happened on campus that might affect your security, you'd want to be among the first to know, right?
That's why you should install the Alertus app on your smartphone. It's free and available for Apple and Android devices, as well as Blackberry 10.2.1 or later. Download it from the Apple App Store or the Google Play Store. Don't forget to keep this app up-to-date so that it functions properly in an emergency situation.
Alertus is quick to install, takes minimal storage and the data transfer is negligible.

Educause
Concordia has a subscription providing faculty and staff access to the Educause reports library, which gives insight into the latest major information technology trends impacting the higher education sector. Topics of research include cybersecurity, libraries and technology, as well as teaching and learning.

Microsoft Imagine
Build a game, design an app or launch a project with MS Imagine. Concordia's membership grants active faculty and staff the right to download MS developer tools, platforms and servers for academic use.

Gartner
The university's subscription grants faculty and staff access to the Gartner research reports library. Reports provide insights on major information technology trends, including business intelligence, enterprise architecture, networking and communications and much more.

Statistical Analysis System (SAS)
This system gives employees at Concordia the ability to mine, alter, manage and retrieve data from a variety of sources and perform statistical analysis on it. SAS provides a graphical point-and-click user interface for non-technical users and more advanced options through the SAS programming language.

Statistical Package for Social Science (SPSS)
SPSS is a widely used program in social science that allows Concordia researchers to do their own statistical analysis. In addition, you can use the software for data management and data documentation.

Maple
Maple is a symbolic and numerical computing environment. Faculty and staff can also use the software to assist with technical computing, including visualization, data analysis, matrix computation and connectivity.

Mathematica
For instruction and non-commercial academic research, faculty and staff have access to Mathematica. It's a symbolic mathematical computation program, sometimes called a computer algebra program, used in many scientific, engineering, mathematical and computing fields. Mathematica uses the Wolfram programming language.

LimeSurvey
The LimeSurvey web-based tool allows you to create surveys and publish them to a public or private audience. It includes a variety of different question types, including open-ended text, radio buttons, check boxes and drop-down lists. No software download or installation is required.

Got questions? Get help
Contact the Service Desk for any IT-related issues by email (help@concordia.ca), by phone (514-848-2424, ext. 7613) or by submitting a support request. Of course, you can also stop by an IT Service Centre. Consult each location for operating hours.

Be sure to check out the IT service catalog for the full list of IT tools and resources.
---