Trolls got you down? Try GAMERella
This November, get your 'game jam' on at Concordia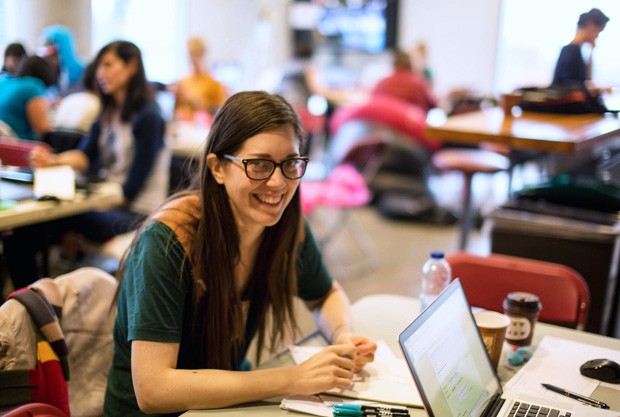 Gina Hara: "The most important thing is to get your hands dirty."

Let's face it, the gaming industry isn't exactly known for embracing diversity.
Enter GAMERella — a game jam that caters to all self-identified women, gender nonconforming game makers, people of colour and people with different abilities.
Conceived by Concordia's Technoculture, Art and Games (TAG) research centre in 2013, the jam will take place this year from November 12 to 13 on the 11th floor of the Engineering, Computer Science and Visual Arts (EV) Integrated Complex.
(Another game jam — in this case health-related — is happening simultaneously in Concordia's Faubourg Building (FB). Find out more below.)
We sat down with Gina Hara from the TAG lab to talk about GAMERella, why it matters and what participants can expect if they attend.

First off, what are some of the barriers women and other minorities face in the video gaming industry?
Although the number of diverse game developers is growing, there's still a long way to go to achieve equity in the industry. Many groups still feel intimidated by the gaming scene and find it difficult to participate in events like game jams.

Why do you think that this industry struggles with diversity?
It is a complex issue. There is more and more effort put into hiring people with diverse backgrounds. However people often forget about making sure that the work environment itself is safe for all employees.
Employers have to be aware of different needs and how things like micro-bullying or subtle discrimination can easily create toxic environments. It is paramount that people educate themselves about how they can make a difference, how to take up less space, how to listen and how to use their own privilege to help others.

How does GAMERella help women and other minorities overcome these barriers?
The event is preceded by several workshops about basic game-making tools and methods. These workshops don't just teach participants skills, but also boost their confidence.
I often hear people realize during a workshop that making a game is much easier than they thought and this helps with impostor syndrome, which is very common.
We also have a safer space policy to make sure that harm is minimized during the jam, and a team-forming session for those who arrive alone.
It is important for us that people take care of themselves, so unlike other jams, we try to provide healthy food, a break-out space and we ask participants to go home at night and get some rest.

Can you describe what a day at GAMERella might look like for someone thinking of attending?
We start Saturday morning with orientation and a keynote by Montreal-based artist Skawennati, who will help the jammers interpret this year's theme, "inter/section" and provide insight into her successful career.
Jammers are free to start working in their teams at around 11 a.m. Those who arrive alone or need more team members can participate in a team-forming exercise or be adopted by an experienced group. The jam continues until 10 p.m. and starts again Sunday morning.
The second day wraps up with a public playtest where people can visit to try out the games. Finally, instead of a competitive jury process, we are doing a raffle with prizes donated to GAMERella.

Do you need developed skills in video gaming to participate?
You do need some basic skills so you can start making a game. That is why we offer free workshops before the jam.

What can you learn by participating?
GAMERella is a great place to meet other like-minded people and learn from each other. But the most important thing is to get your hands dirty, to start making something. It is totally okay if you do not finish a game or if it's very simple and only does one thing.
GAMERella is a fun and safe place, so you feel comfortable making mistakes. Breaking the barrier of making your first game is an exhilarating and freeing experience.

What impact has GAMERella made thus far?
We have many people who made their first game at GAMERella and now work in the industry at big game companies or small indie studios. Many others use the game-making skills they learned at GAMERella in other creative fields or make games with their kids or friends at home.

GAMERella takes place in the EV 11.725 lounge of the Engineering, Computer Science and Visual Arts (EV) Integrated Complex (1515 Ste Catherine Street West) beginning Saturday, November 12 at 9:30 a.m. Register by Friday evening.
Build a breathing game
Aspiring developers can also check out Breathing Games' Health Game Jam, another event happening simultaneously at Concordia.
Organized by Milieux Institute member and INDI program graduate student Fabio Balli, the goal of the event is to collectively create digital games to prevent asthma crises, and a hardware device to measure breathing.
All work created will be released under free licenses so that it can be used and improved by everyone, Balli says. "This will enable emerging countries to produce minimal cost material – some of them do not even have these devices for their hospitals."
Health Game Jam takes place on November 12 and 13 in the active learning classroom located in the Faubourg Building (1250 Guy Street).
---