After a sexual assault: what are your options?
Concordia's new rapid response team streamlines the process for survivors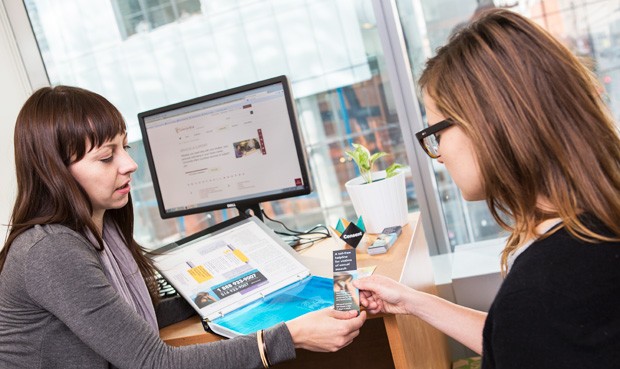 Sexual Assault Resource Centre coordinator Jennifer Drummond: "We act as a guide."

What if you've been sexually assaulted? Or a friend tells you they've survived an incident? Who do you tell?
To help survivors and their advocates navigate their way through the emotional and physical ramifications, Concordia has developed a Sexual Assault Response Team to streamline and simplify the process.
The university's Sexual Assault Resource Centre (SARC) is central to the new team. It's led by coordinator Jennifer Drummond, who acts as a first point of contact in cases of sexual violence.
With the consent of survivors, she provides support by liaising across internal and external resources.

The front line
"It can be easier on the survivor if they don't have to repeat their story to five or six different people and relive the trauma multiple times," Drummond says.
"So, I'm the front line. Then, I can reach out to the response team, accessing help from many sectors — Campus Wellness and Support Services, Security or the deputy provost, for example."
She adds that the survivor may also need academic accommodation, such as moving an exam to remove additional stress.
The Sexual Assault Response Team has officially been in place since May, part of Concordia's policy on sexual violence. A recognition of intersectionality is also entrenched in the policy, reflecting Concordia's respect for diversity in its community.
Any person — regardless of gender, race, ethnicity or sexual orientation — will be treated with the same options to disclose confidentially, and have their preferences to report or not, be respected.
"Essentially, we act as a guide, going over the survivor's internal and external options to meet their support and resource needs," says Drummond.
At Concordia, she explains, a survivor can get many types of help, such as medical treatment or psychological support. A survivor may also wish to involve the security department, or speak with an advisor at Concordia's Office of Rights and Responsibilities about lodging a complaint when their situation involves members of the Concordia community.
In addition to guiding survivors to supports within Concordia, SARC also accompanies survivors to the police, community organizations, and designated centres such as the Montreal Sexual Assault Centre.
A designated sexual assault centre is where a survivor can have evidence collected should they decide to press charges, receive medical care, psychological support and information about compensation offered through the Crime Victims Compensation Act.

Triggers don't always respect a timeline
Drummond and her volunteers at SARC note an increase in reports of sexual assault in November and March. The increase may indicate a correlation between disclosures and the timing of high-stress periods such as mid-terms.
Howard Magonet, director of Counselling and Psychological Services, agrees.
"When additional stressors are placed on an individual who is already dealing with something intense, those stressors themselves can be triggers," says Magonet.
"Not only are you trying to deal with the emotional side, but you have to concentrate on your studies, lectures and exams. In the past, survivors may have been able to deal with stress in a relatively healthy way, but with the addition of the assault, it's very difficult."
However, Magonet adds, psychological issues can't always be put on a timeline.
"People deal with a crisis like an assault in many different ways, and at different times. Some deny or repress their feelings, only to face them later."
Common physical reactions include headaches, chest pains and shortness of breath. Emotional symptoms might include fear, sadness or anxiety. Behavioural reactions range from crying to hyper activity and aggression. Cognitive symptoms could include difficulty concentrating during lectures and persistent intrusive thoughts.
"We're well trained. We know what to do and we know how to act," says Magonet. "We make it the least intrusive as possible for a survivor."

Find out more about the Sexual Assault Resource Centre's consent campaign on campus and view Concordia's policy on sexual violence.
---