Concordia adopts new stand-alone policy on sexual violence
Rapid response team, intersectionality of survivor support highlighted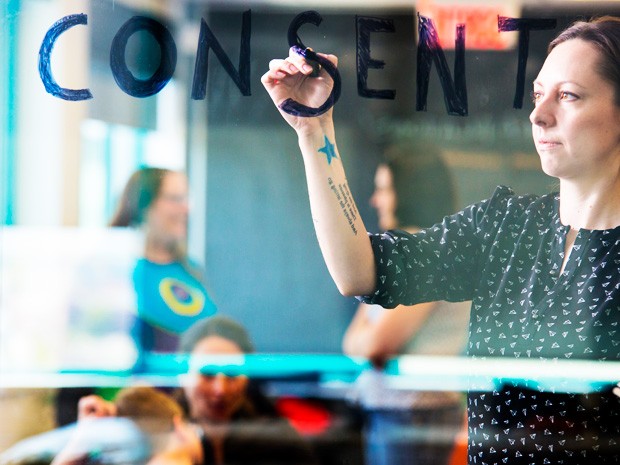 Concordia is at the forefront of Canadian institutions adopting a stand-alone policy regarding sexual violence, one that clearly defines processes for rapid response to incidents, reporting options and the survivor support available to all members of the community.
A key recommendation of the Sexual Assault Policy Review Working Group (SAWG) report released in August 2015, the new policy approved May 20, 2016 sets out guiding principles regarding sexual violence for the University community and its commitment to creating and maintaining a campus free of such violence.
"I am extremely pleased with the result of this comprehensive work achieved within a year," says Deputy Provost Lisa Ostiguy, who co-chaired the adhoc committee responsible for the work along with Melodie Sullivan, senior legal counsel. "For the first time we have clear definitions of sexual violence and consent, created a single point for coordinated response and an infrastructure for support that is inclusive and respectful of the wishes of survivors."
This Adhoc Code of Rights and Responsibilities Review (CRR) Committee – including faculty, staff and representatives from both the undergraduate and graduate student unions – conducted an extensive review to gain best practice insight from policies across North American institutions. There are definitions in the policy for sexual violence, sexual assault and sexual harassment, as well as one for consent directly aligned with the Criminal Code of Canada.
Concordia's Sexual Assault Resource Centre (SARC) is central to the new Sexual Assault Response Team, led by its coordinator who will act as a point of first response in cases of sexual violence and who will – with the consent of the survivor – provide support and manage the case through coordination across internal and external resources.
Ostiguy emphasizes the importance of this single point of contact to coordinate the individual case as key to effective and respectful support. "Having one person accompany a survivor to navigate the options available means they don't have to repeat their story multiple times and relive the trauma they have experienced."
In fact, the new response team was already put to the test when a recent incident that occurred over a weekend resulted in a student survivor quickly having their final exam deferred. This academic accommodation helped to remove additional stress and create time for the survivor to seek help and cope with the situation.
Recognition of intersectionality is also entrenched in the policy, an important aspect reflecting Concordia's respect for diversity in its community so that any person – regardless of gender, race, ethnicity or sexual orientation – will be treated with the same options to disclose with confidentiality protected and their preferences to report or not respected.
"The expertise of Jennifer Drummond, SARC coordinator, was essential to ensuring diversity and survivor preferences were fully represented in the new policy. I thank her for this important contribution," adds Ostiguy.
A new procedures manual will be prepared over the coming months to link to the policy and will be accessible online.
"I thank the committee led by Ostiguy and Sullivan for creating a solid policy that promotes a safe learning and working environment at Concordia and one that sends a clear message that sexual violence will not be tolerated," says Concordia President Alan Shepard.
"I'm proud of the collaborative and conscientious approach taken to ensure inclusiveness of diversity and a commitment to providing the ongoing education and training needed to make it so," he adds.

View the policy and follow ongoing progress online.
---