Concordia's fresh take on consent
A new animated video series — produced by Concordia grads for Concordia students — seeks to start the conversation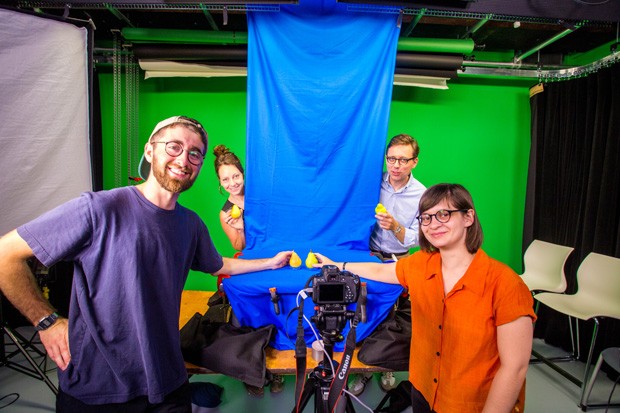 "The whole idea of the campaign is to make it as accessible as possible." From left: Daniel Sterlin-Altman, Jennifer Drummond, Luigi Allemano and Lori Malépart-Traversy.

A pineapple and a peach are negotiating a romantic rendezvous. Things start off okay, but when the pineapple attempts to take things a step further, the peach expresses surprise then firmly rebuffs the invitation.
This 20-second stop-motion animation is part of a series of three videos created by recent graduates Daniel Sterlin-Altman (BFA, 16) and Lori Malépart-Traversy (BFA, 16) for Concordia's Sexual Assault Resource Centre (SARC). They're the key components of a new consent and bystander intervention campaign.
The animated fruit represent individuals trying to navigate sexual consent — a subject of conversation that is always current, but even more so at the start of the academic year when thousands of new students are first introduced to university life.
The videos outline the campaign's three key messages: sexual contact without consent is sexual assault; trust your intuition and speak up to stop sexual violence (bystander intervention); and 82 per cent of sexual assault survivors know their perpetrators.
"We wanted to create a new look and feel for our consent and bystander intervention campaign that would appeal to students," explains Jennifer Drummond, SARC coordinator.
"That is why we approached our cinema department to solicit proposals for three short animated videos to help convey these messages in a fun way that would attract a student's attention."
Daniel Sterlin-Altman, who specialized in stop motion as part of his bachelor's degree in film animation from Concordia's Mel Hoppenheim School of Cinema, teamed up with Lori Malépart-Traversy to submit one of 10 proposals for consideration.
The selection committee — which included Drummond, cinema professor Luigi Allemano and representatives from University Communications Services — narrowed the field down to three finalists. Then they held a series of focus groups with students to obtain feedback.
Sterlin-Altman and Malépart-Traversy were chosen for their unique presentation, which was warm, friendly and conveyed the content in a way that resonated with students.
"These videos provide an entry point into a more serious conversation," adds Drummond.

'Speaking up is important'
Malépart-Traversy says the filmmaking duo decided to use fruit for their animation because it's attractive and colourful. "You can really pass the message on, but it's something fun to watch."
The videos cover three different scenarios: the pineapple-and-peach encounter, a situation between two strawberries — in which a member of a bunch of grapes intervenes — and a conversation between two pears in bed.
The campaign is not only about consent, but also about empowering students to speak up and intervene if they notice a situation that could lead to sexual violence. It could be an interaction that looks relatively minor but has the potential to escalate.
"SARC works to raise awareness about sexual violence and prevention" Drummond says. "Speaking up to prevent sexual assault is something we can all do to help create a culture of respect and consent"
The three short videos are available on SARC's website. Still images are being used for postcards, digital screens and washrooms around the Sir George Williams and Loyola campuses.
'Understated but respectful'
Allemano, who heads the film animation undergraduate program at the Mel Hoppenheim School of Cinema, says his former students' experience collaborating on the SARC video campaign might serve as a launch pad for two very successful careers.
"Using fruit in animation isn't a novel concept, although using it to address the topic of sexual assault is fairly uncommon," he said. "I like the combination of ingenuity, charming appeal and understated but clear respect for the subject that Daniel and Lori brought to the project."

Watch the three videos created for the new campaign:
Find out more about Concordia's Sexual Assault Resource Centre.
---