How to articulate the 'very hard to verbalize'
From March 13 to 19, Creative Arts Therapies Week comes to Concordia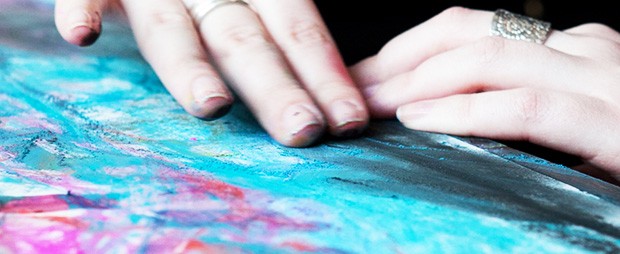 How would you define creative arts therapy? Put simply, says Yehudit Silverman, associate professor, it's the use of the arts in a therapeutic and health context, in order to help people access issues they may be dealing with.
"It could be trauma, it could be more community issues or social issues, but it's really that art takes a central place, so it's not just verbal therapy," she says.
"It's helping clients to be able to articulate through a creative medium, what's going on with them and what often can be very hard to verbalize."
Across North America, the third week of March is Creative Arts Therapies Week. Professionals in the field get together and discuss their practices, share research and hold public events.
Concordia's students and faculty are no exception.
This week, the Department of Creative Arts Therapies is hosting several events to mark the occasion. Things kick off tonight (Tuesday, March 15) at 7 p.m. in the Visual Arts Building (VA) with a public dialogue around ways creative arts therapists can help Syrian refugees arriving in Canada.
On Friday, March 18, La Ruche d'Art, a public art hive in St. Henri, will celebrate its fifth anniversary. Established by Janis Timm-Bottos, associate professor, the hive is a public space designed to help citizens tap into their creativity and come up with solutions for community issues.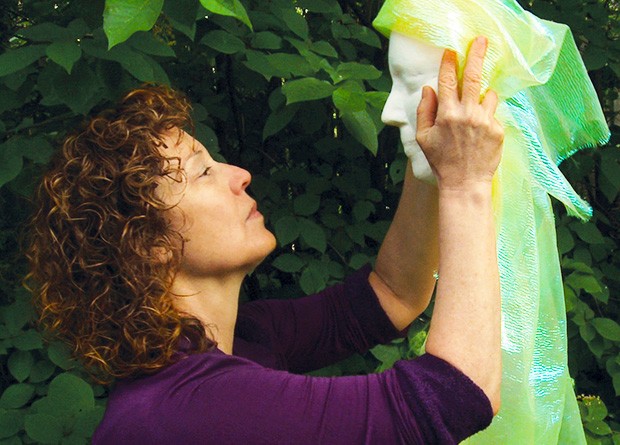 From the film The Hidden Face of Suicide © Yehudit Silverman
The Department of Creative Arts Therapies will host a day-long event on Saturday, March 19, featuring a symposium and film screenings at Concordia. "That's the day when people can get exposed to a lot of different kinds of creative arts therapies," says Silverman, who is screening her award-winning 2010 film, The Hidden Face of Suicide, at 7 p.m.
There are other conferences, exhibitions and workshops happening throughout this week in different community spaces and institutions around the city. You can consult the full calendar on Quebec's Art Therapy Association website.

'These are people who really want to use their art to help others'
Currently, Silverman and other faculty members are busy interviewing applicants to the Department of Creative Arts Therapies' graduate programs.
What sort of people apply? Silverman says they generally have an artistic background and a minor, or at least 24 credits, in psychology.
"These are people who are strongly creative, they understand the power of the arts," she says. "A lot of them have volunteer experience, they've had some exposure to the arts in therapy, and they usually really want to use their arts to help other people and to help communities."
Silverman says what makes Concordia's creative arts therapies programs in art and drama unique is that students undertake two years' worth of internships. "Immediately when they come into the program, they're working in community settings," she says.
The department also offers a graduate diploma and a master's in music therapy.
'A vibrant and diverse research scene'
There's a lot of exciting research happening in the department, Silverman says, including several new projects under the umbrella of Concordia's partnership with the Montreal Museum of Fine Arts (MMFA).
Since 2014, associate professor Josée Leclerc has been looking at the effects of art exposure and art therapy on people with heart problems or eating disorders. Currently, Timm-Bottos is bringing an arts hive into the MMFA's public spaces, and Silverman herself is leading an arts-based initiative at the museum, to work with diverse communities in Montreal around the issue of suicide.
Sandi Curtis, professor in Music Therapy, is exploring issues around domestic violence, while assistant professor Laurel Young is looking at aging and singing. In drama therapy, Stephen Snow, professor and chair of the department, is doing a play about caregivers of the mentally ill, and Bonnie Harnden, associate professor, is working on a film version of her mental health stage drama.
"We have a very vibrant and diverse research scene," Silverman says. "That's the thing about creative arts therapies; it can be used clinically — in a hospital, one to one — and it can also be used in community settings and for social issues. There's a real spectrum as to how it's used."

Find out more about events happening in and around Concordia during Creative Arts Therapies Week.
Thumbnail: Cross cultural arts workshop for suicide awareness © Yehudit Silverman.
---