A 'ground-breaking' partnership to serve the community
Concordia researchers are working with the Montreal Museum of Fine Arts to develop educational programming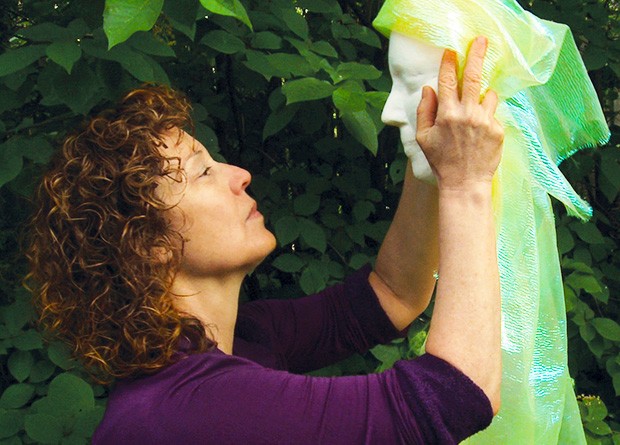 Image from the film "The Hidden Face of Suicide" © Yehudit Silverman, to be screened at the museum as part of the suicide awareness activities. | Courtesy of the artist
Local community members are about to reap the benefits of a new educational partnership between the Montreal Museum of Fine Arts (MMFA) and Concordia.
As part of an outreach initiative spearheaded by the museum, professors at the university are currently developing the first in a series of courses and public programs in art education, art history and creative arts therapies.
In total, eight new programs will be offered through the MMFA's new Michel de La Chenelière International Atelier for Education and Art Therapy.
They include a series of creative arts therapies workshops on suicide prevention, an art history course that looks at interpretations of family in fine art and an art hive — a unique community studio space — to be established at the museum.
As well, the MMFA will participate in a new museum studies certificate program at Concordia as a result of the new partnership.
"It is fitting that two close neighbours with overlapping missions and shared social values strategically pool their talent and resources for educational advancement," says Alan Shepard, president of Concordia. "This ground-breaking partnership, will serve not only scholars, students and researchers, but other Montreal communities as well."
Nathalie Bondil, director and chief curator of the MMFA, says the museum approached Concordia with the idea of creating a partnership after it announced the construction of the new Michal and Renata Hornstein Pavilion for Peace — expected to be completed next year.
"As a result of this collaboration, our permanent collection will be enhanced by pedagogical content designed by university researchers," she says. "Today, peace and harmony unite for the well-being of our society."
Rebecca Duclos, dean of the Faculty of Fine Arts, explains that collaborative research endeavours are in line with the Faculty's goals to connect with, support and enrich the surrounding community.
"We share the same corner of downtown, we care intensely about the cultural life of Montrealers and we believe in the power of the arts to affect the soul of a city," she says. "This is more than a collaboration between Concordia and the MMFA — it is an alliance, a shared vision, and we commit to enriching civic life and the cultural health of our communities."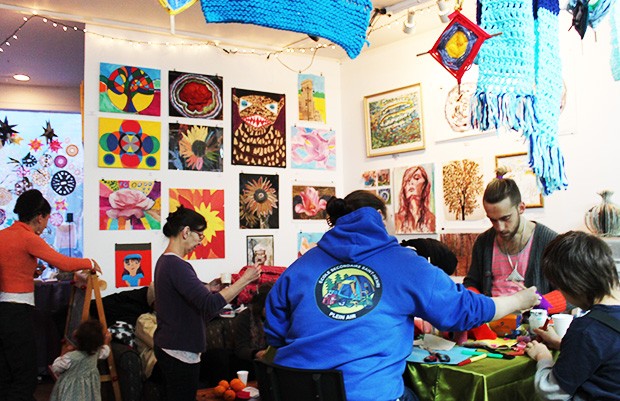 Art hives, such as the one that will open at the museum in Fall 2016, are non-programmed art studios that allow for connections to take place.
Here are brief descriptions of the eight projects driven by Concordia faculty members as part of the Michel de La Chenelière International Atelier for Education and Art Therapy:
La ruche d'art at the MMFA
An art hive is a community space open to anyone who wants to come in and create. Developed by associate professor Janis Timm-Bottos from the Department of Creative Arts Therapies, art hives are designed to stimulate the imagination, informally build art skills and foster community among neighbours.
Peace Trail course
Associate professor Kathleen Vaughan from the Department of Art Education will challenge students to study the permanent collection in the new MMFA pavilion, then create accompanying sound installations that encourage museum visitors to reflect on issues surrounding social justice and peace.
Family Works: A Multiplicity of Meanings and Contexts
Offered this fall term in the Department of Art History by professor Loren Lerner, the Family Works course focuses primarily on a selection of images from the MMFA collections to highlight unexpected interpretations about the family, children and childhood identity.
Suicide Prevention and Aftermath: Educational Arts-based initiatives
An arts-based initiative to work with diverse communities in Montreal around the issue of suicide developed by Creative Arts Therapies associate professor Yehudit Silverman. This project will include community workshops, a community-based multimedia exhibition, interactive activities, and the screening of Silverman's film, The Hidden Face of Suicide.
Art and trauma
Led by Creative Arts Therapies associate professor Josée Leclerc, participants in the Douglas Institute's Eating Disorders Program reflect on the impact of art exposure and art therapy on their sense of well-being during closed-group workshops. It's already underway.
A second project, in partnership with the Montreal Heart Institute, in association with Leclerc, will study the effect of art and art therapy on clients with rhythmic heart problems.
Graduate Certificate in Art Museum Education and Mediation
This 18-credit graduate program, being developed by professor Richard Lachapelle from the Department of Art Education, will enable training in the museum setting, including internships. For the first time, the MMFA will contribute to Concordia's certification process.
Creative Art Therapies and Education
Professor Miranda D'Amico from the Department of Education, co-director of the Centre for the Arts in Human Development, will develop autism-related programming in collaboration with the MMFA.
Training of Museum Guides
To provide visitors a meaningful learning experience through dialogue, Concordia's Centre for Continuing Education will continue to provide prospective volunteer guides specific skills to help them facilitate group learning in the museum's collections.
Next spring, the Zone Éducation-Culture urban planning initiative, in partnership with the City of Montreal, will announce new links between Quartier Concordia and Quartier du Musée that are currently under development.

Find out more about programs offered through Concordia's Faculty of Fine Arts.

---