Geospatial Technologies (Cert., Minor)
Certificate (Cert), Bachelor of Science (BSc)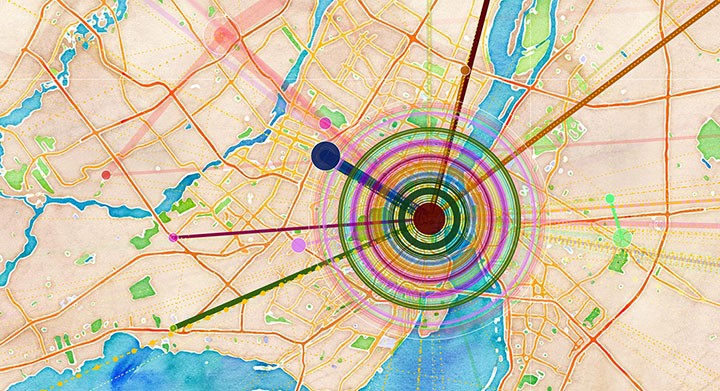 Why study Geospatial Technologies?
It's what powers Google Maps but its application goes far beyond. Master Geographic Information Systems (GIS) technology to the point of making your own maps, and you'll gain the power to see and understand a specific location in a way that allows you to forecast issues and solve problems. An oil spill hits a river: where will the pollutant go next and how bad will the damage be? You're opening a new bike shop: what's the best location given existing bike stores and the flow of bicycle traffic? You want to map the migration journey of your parents: what is the best available online mapping application for telling and sharing spatial stories? You'll also become a more savvy producer of maps as you take a critical approach to understanding the choices behind presenting data sets in visual form.
The Minor in Geospatial Technologies is open to students in all Faculties.
The Certificate in Geospatial Technologies is designed for students who wish to advance their career but are not currently enrolled in a degree program.
Concentrations:
Certificate in Geospatial Technologies (30 credits)
Minor in Geospatial Technologies (24 credits)
Minimum cut-off averages and course requirements
Quebec CEGEP: 21
High School: C+

ACT or SAT is NOT required

International Baccalaureate (IB) diploma: 26
Baccalauréat français: 11
British system of education (GCE):

A-levels: At least two A-level exams CD or
AS-levels: At least 4 AS-level exams with equivalent results or
BTEC: Level 3 Diploma or Extended Diploma in a related subject area with equivalent results

University Transfers (internal/external): C
We consider complete applications year round and we give priority to applicants who apply by official deadlines. Late applications will be considered if places are still available for the fall term only.
You've sent your application from:
Fall term deadline
Winter term deadline
Inside Canada
March 1
Certain programs have extended their deadlines. Please check program availability.
November 1
Not all programs are available for this term.
Please check program availability.
Outside Canada (International)
February 1
September 1
We reserve the right to close admission to a program at any time after the official deadline without prior notice.

Thanks to Concordia's emphasis on taking an interdisciplinary approach to your field of study, you'll graduate with a depth of knowledge informed by an understanding of how your subject connects to the wider world. You'll be ideally positioned to succeed in a professional role that demands rigorous analytical thinking, sharp communication skills and the ability to approach problem-solving from multiple dimensions.