Recycling at Concordia
You can help Concordia reach its Zero Waste objective by properly sorting your recyclable materials. Here's how.
Why recycle?
Along with organics, recyclable materials make up the most substantial part of Concordia's waste stream.
That's why recycling is an important option in the sustainable resource management hierarchy. If you can reduce and reuse, choose those first, but recycling is still an effective option on the whole. The most important thing to remember is that the more people sort their waste correctly, the better recycling works.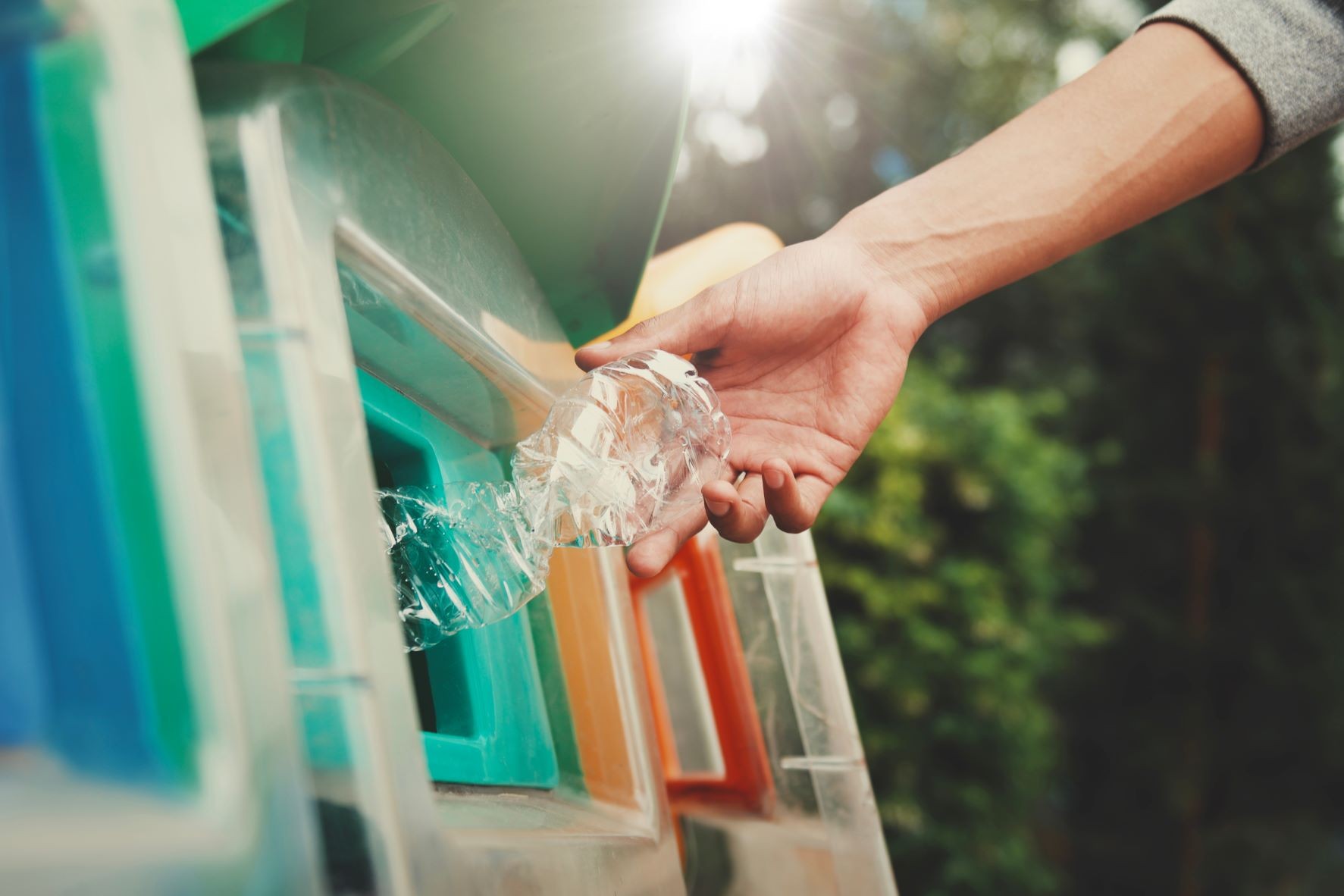 Read on to learn about what goes in which bin, and what happens to your sorted waste at Concordia.
What's recyclable at Concordia
Concordia's recycling rules are slightly different than those in municipal recycling systems. We place posters and stickers on our waste bins to help guide you, but sometimes your item may not be represented!
Contact us at zerowaste@concordia.ca for any questions on what goes where. For municipal recycling rules, use Recyc-Québec's Ca Va Où app.

Where can I recycle on campus?
Concordia offers mixed recycling collection bins at most waste stations on campus, as well as paper recycling bins in locations that generate significant volumes of paper waste (like photocopy rooms). If you think we missed an opportunity for a recycling bin placement, use our waste bin request form to make a suggestion.

Frequently asked questions
There are many valid criticisms of recycling. Yes, it is market-driven, which means sometimes there is no market for the hard-to-recycle items like plastics or glass. And yes, alone, and as is, recycling is not a sufficiently sustainable materials management strategy. However, experts generally agree that recycling is still an important piece of a larger strategy that prioritizes reducing and reusing. Recycling reduces greenhouse gas emissions on the whole. When recycling is properly sorted, there is less chance that it will get sent abroad or to landfill. Concordia prioritizes reduction and reuse in its Zero Waste plan, but still stresses the importance of learning our recycling rules and sorting waste that cannot be avoided.

Glass recycling has had a bad reputation in Quebec ever since the closing down of a major local glass recycling facility in 2013. Glass recycling is a 'fragile' affair, and producing a sorted output of high enough purity can be a great challenge. In the last few years, glass recycling has had a major boost in Quebec, with the investment of advanced sorting equipment in several material recovery facilities (MRFs) that greatly increases the purity of the recycled output. Quebec is also expanding its consignment program to accept wine bottles, which constitute most of the recyclable glass in the province. This return program will ensure that bottles have the best chance of being recycled. So how can you make sure your glass is recycled? First of all, try to reduce single use and reuse your bottles when you can! If you can't, bring bottles marked for "Refund in Quebec" to designated locations. What happens to glass when it is recycled? It can be recycled back into bottles if the purity of the glass is high enough, but it can also be made into insulation, or used for filters, abrasives, or cement additives.

Rinsing your food and drink containers is a huge help to the employees of material recovery facilities; the food and drink residues can be a health hazard when they produce mold or attract pests. However, all recyclables undergo a rinsing step during recycling so of your item is only lightly soiled, you can still recycle it.

Coffee cups are generally made of food-grade paper and a plastic protective lining. These are the same components that a recyclable milk carton is made of. So why aren't coffee cups accepted for recycling in municipal recycling? This may have to do with the quantities generated. Concordia University and other non-municipal clients of recycling haulers produce a high density of coffee cups, which allows the hauler to sort these materials and sell them to recyclers. One thing is for sure: coffee cups ARE recyclable — they just aren't accepted for recycling everywhere.

Just like with coffee cups, plastic number 6 is actually recyclable, but not accepted for recycling everywhere due to market conditions (ie, not enough local demand). This unfortunately means that Quebec does not accept plastic number 6 for recycling, while our neighbors in Ontario can chuck styrofoam and other forms of plastic 6 in their recycling bin! There are a few spots where you can drop off plastic number 6 in Montreal (see the Ça Va Où app for an up-to-date list). Concordia is also piloting a plastic 6 recycling option for its operational waste, so get in touch with us if your department generates a lot of unavoidable styrofoam or plastic 6 and want to arrange for a special collection.

If you can't find the answer to your question about what is recyclable at Concordia, get in touch with us and we'll try our best to answer you! If you are inquiring about recycling rules at home, check out the Ça Va Où app.