Former Concordian Heather Igloliorte named Canada Excellence Research Chair in Decolonial and Transformational Indigenous Art Practices
The professor at the University of Victoria's Department of Visual Arts will lead research and advance Indigenization efforts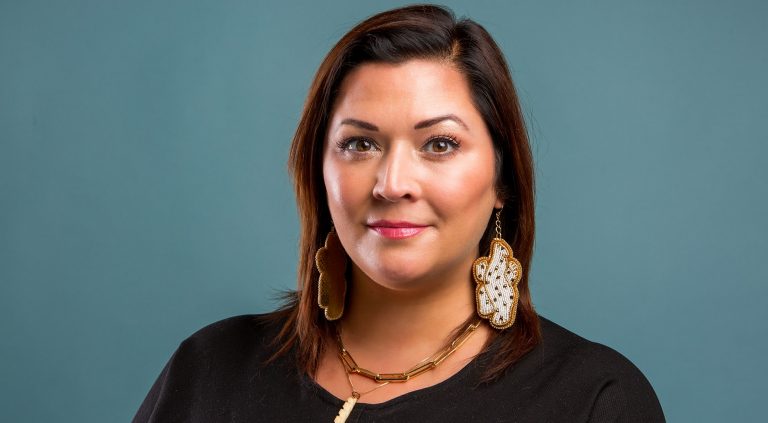 Heather Igloliorte, a Concordia faculty member from 2012 to 2023, has been named a Canada Excellence Research Chair (CERC).
Igloliorte joined the University of Victoria's Department of Visual Arts in September to lead the eight-year CERC program in Decolonial and Transformational Indigenous Art Practices. The program seeks to advance decolonization and Indigenization efforts dramatically through the arts.
"I'm looking forward to working with Inuit, other Indigenous peoples and a diverse group of BIPOC artists, students and colleagues to create artworks that focus on issues relevant to Indigenous peoples," she says.
Igloliorte was previously an associate professor in Concordia's Department of Art History and the university's Research Chair in Circumpolar Indigenous Arts.
"These issues include the future of our communities, our climate concerns, the changes we want to see in arts institutions, and the excitement we feel around the possibilities of new media arts to share our stories," she notes.
Igloliorte explains that the program will lead to creating new exhibitions, installations and engagements with the public. It will also result in new policies and best practices for institutions.
'An enormous impact'
"On behalf of the faculty, I want to congratulate Heather on this prestigious and well-deserved appointment," says Annie Gérin, dean of the Faculty of Fine Arts. "We are extremely grateful for her contributions to the Faculty of Fine Arts and her dedication to advancing the university's Indigenous initiatives."
Since joining Concordia in 2012, the Inuk scholar and independent curator has made a significant impact.
In 2018, Igloliorte was appointed the special advisor to the provost on advancing Indigenous knowledges. In this role, she worked across the university to advance its Indigenous academic research and research-creation priorities.
As an Indigenous Directions Leadership Council member, she also played an important part in developing Concordia's Indigenous Directions Action Plan.
Igloliorte became a co-director of the Indigenous Futures Research Centre in 2020. Her co-director, Jason Edward Lewis, is the Concordia University Research Chair in Computational Media and the Indigenous Future Imaginary and professor of computation arts, design and computation arts.
"Heather has had an enormous, positive impact on Concordia's engagement with Indigenous communities, students and faculty," Lewis says.
"We will sorely miss her generous, rigorous and kind contributions to our world-leading Indigenous research. But we look forward to continuing to work with her from afar as she builds out her exciting new CERC program."
Igloliorte also directs the Inuit Futures in Arts Leadership: The Pilimmaksarniq / Pijariuqsarniq Project, a national initiative that supports emerging Inuit academics and arts professionals. In 2018, she was awarded a Social Sciences and Humanities Research Council of Canada (SSHRC) Partnership Talent grant program grant to develop the project.
'A wonderful experience at Concordia'
Reflecting on her time at Concordia, Igloliorte says she feels privileged to have worked with so many brilliant students. She also expresses her thanks for the guidance she received as a new faculty member.
Igloliorte credits her successful transition from PhD student to university professor in 2012 to the mentorship of Anne Whitelaw. A fellow faculty member at the time, Whitelaw is now Concordia's provost and vice-president, academic.
"Anne guided me through that major transition. It has been an honour to continue working with her over the years," she says.
Igloliorte also noted that Whitelaw has been a steadfast champion of the university's Indigenous initiatives.
"I've had a wonderful experience at Concordia, largely because I have been fortunate to work with such engaged, invested and supportive colleagues — from all the colleagues in my department to everyone in the dean's office, the Office of Research and beyond," she adds.
Igloliorte recalls that she and Lewis were among the few Indigenous faculty members when she first joined the university.
"Early on, Jason and I dreamed of increasing the number of Indigenous faculty and resources for students. University leadership was incredibly supportive," she says.
"He has been an amazing colleague, and I have learned so much about institutional and academic leadership from working alongside Jason," Igloliorte adds.
"I'm proud of what has been accomplished. And I look forward to continuing to collaborate with Concordia on several Indigenous initiatives."

Find out more about Concordia's Indigenous Directions.
---