Concordia's Simone de Beauvoir Institute honours trailblazing Black educator and human rights advocate Esmeralda Thornhill
The institute partners with Harambec to celebrate the 40th anniversary of the first Black women's studies course in Canada and its creator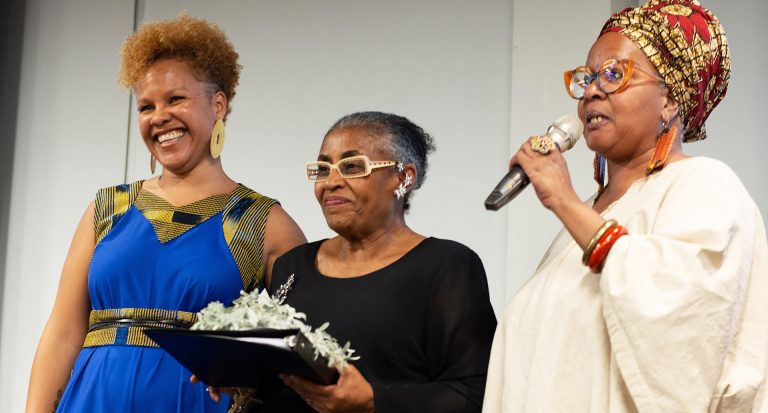 Esmeralda M.A. Thornhill, LLD 97, is a woman of firsts.
In 1983, she introduced Black Women: The Missing Pages from Canadian Women's Studies, the first university-accredited course on Black women in Canada. On October 25, she also became the first speaker for the Simone de Beauvoir Institute's new Dr. Esmeralda Thornhill Black Feminist Speaker Series, named in her honour.
In collaboration with Harambec: Reviving the Black Feminist Collective, the Simone de Beauvoir Institute (SdBI) celebrated the momentous occasion by also awarding Thornhill the Simone de Beauvoir Institute Prize in recognition of the 40th anniversary of her groundbreaking course at the institute.
Among her many other firsts, in 1996 Thornhill was named the inaugural James Robinson Johnston Endowed Chair in Black Canadian Studies at Dalhousie University in Halifax, making her the first Black woman in Canada to become a full professor of law. She was also a founding member and later national president of the Congress of Black Women of Canada.
The SdBI Prize event was the last in a series of events organized by Harambec's co-founders, Marlihan Lopez, outreach coordinator, and Jade Almeida, research affiliate, both at the SdBI. The series, titled "Flame Keeping! Unearthing, Preserving, and Ensuring the Legacy of Montreal's Black Women's Groups," also included an event, titled "Honoring the Legacy of Black Women's Groups in Montreal," at Concordia's 4TH SPACE on October 17.
In her introductory remarks, Lopez shared, "I've come to understand how institutions often rewrite history by erasing it, but we resist through flame keeping and continue challenging the dominant historical narrative of inclusion adopted inside and outside academia, within the feminist movement."
The celebrations on October 25, held at Concordia's Conference Centre, featured local poet, performer and creator Deanna Smith and Haitian poet and eminent scholar Stéphane Martelly, Kimberley Manning, principal of the institute and Concordia professor of political science and women's studies, and Nathalie Batraville, assistant professor at the Simone de Beauvoir Institute.
Nadia Hardy, Concordia's deputy provost and vice-provost of enrolment and student experience, introduced Thornhill and awarded her the Simone de Beauvoir Institute Prize, making her the third recipient of the honour. She follows Beverley McLachlin, the first female Chief Justice of Canada, and Alanis Obomsawin, LLD 93, the award-winning Abenaki filmmaker, singer, artist and activist.
Hardy explained how recognizing Thornhill "for her extraordinary contributions to the Simone de Beauvoir Institute and expanding and deepening the work of Black feminism in Canada for more than 40 years" underscores the importance of Concordia's commitment to implementing the recommendations outlined in the President's Task Force on Anti-Black Racism Report, introduced a year before.
"Her expertise and leadership in analyzing racism and racial discrimination as well as in developing educational programs and opportunities for social change are recognized nationally and internationally," Hardy added. "Fluent in English, French and Spanish, Dr. Thornhill has researched, published and lectured extensively on critical race theory, the material reality of racism in law, education and the public services, as well as on the cumulative impact of discrimination, human rights and international law."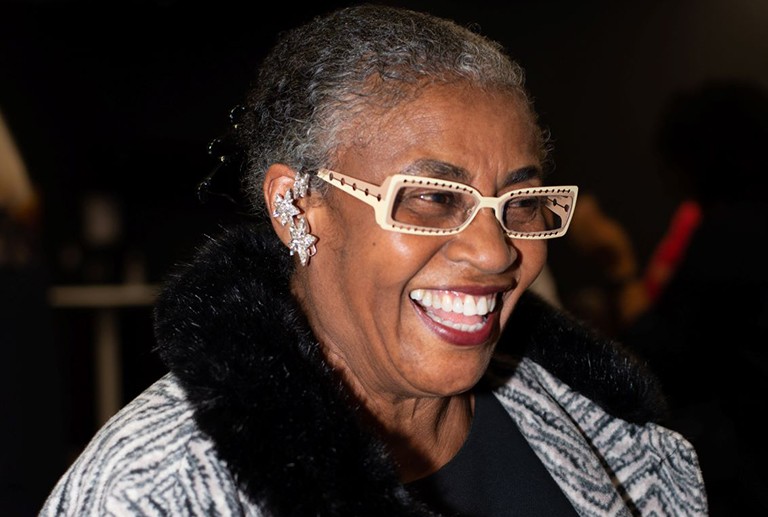 Esmeralda Thornhill: "Black Women: The Missing Pages moved the needle."
Extraordinary career
Among her many accomplishments as a teacher, lawyer, professor of law and scholar specializing in human rights and anti-racist education, Thornhill is also a member of the Quebec and Nova Scotia bar associations and holds several degrees, including an LLB in civil law from the Université du Québec à Montréal. In 1992, she was named Quebec's Lauréate de l'année for humanitarian and social action, and Concordia conferred an honorary degree on Thornhill in 1997.
Addressing a rapt audience that included a number of prominent Montreal Black community leaders, Thornhill spoke of the legacy of erasure and exclusion of Black women in Canadian history and the importance of historical recovery. She called the commemorative events an act of agency that "honour the legacy of unrelenting anti-racist struggles at home and abroad" by "black women predecessors in Montreal."
In her keynote address, Thornhill said she was honoured to be the third recipient of the Simone de Beauvoir Prize, "a public acknowledgement and recognition by Concordia University." She also recognized that her groundbreaking course was "a direct outcrop of Montreal's English-speaking Black community."
"I also wish to pay homage to all those foremothers, other mothers and sisters in struggle, past and present, who collectively both directly and indirectly have painstakingly contributed over the years to creating the context that now frames this commemoration," she said.
Thornhill described the work that went into developing the Black Women course and the institutional and administrative barriers that made scheduling the course difficult. She also noted the importance of dialogue, such as when the Black Women's Congress members approached the Simone de Beauvoir Institute with the idea for the course. "Principal Dr. Maïr Verthuy listened and agreed that it was urgent for us all to begin, and I quote her words, 'making women's studies relevant to all women,'" Thornhill recounted.
She highlighted the course's historic impact on traditional women's studies at the time.
"Black Women: The Missing Pages moved the needle. It raised the level of debate and improved the quality of discourse, thereby disrupting traditionally accepted epistemology and discourse about women and about feminism in Canada," Thornhill said.
"For women's studies, Missing Pages also unearthed the obfuscated historical presence of Black women and our true daily reality in Canada. Missing Pages shed light on the little-known tradition of Black women's groups in North America lifting as they climbed, lifting up and uplifting family, community, collectivity and indeed society at large."
Simone de Beauvoir Institute celebrates 45 years
The events coincided with the 45th anniversary of the Simone de Beauvoir Institute, the oldest women's studies program in Canada. Established in 1978, the institute continues to provide a platform for research, teaching and thinking on gender, sexuality, race and other forms of oppression.
Kimberley Manning, principal of the institute, expresses her deep appreciation of Thornhill and her legacy.
"The important work being done today to make visible this history, and to dedicate resources to support Black feminist research, scholarship and activism at our university, is part of our present and future commitment at the SdBI in the 45th year since our founding," she says. "This is work that is amplified by the leadership and organizing work of our Marlihan Lopez, and the future speakers of the Dr. Thornhill Black Feminist Speaker Series."
"We still have much work to do to address past injustices and erasures in relation to Black research and teaching at Concordia," says Pascale Sicotte, dean of the Faculty of Arts and Science.
"The effort being undertaken by Harambec and the SdBI to recognize the past contributions of Black feminist academics to Concordia and Canada is thus pivotal, and an important example of collaborations we need to continue to support in the coming months and years."

Learn more about Concordia's Simone de Beauvoir Institute.
---