Concordia's Learning Toolkit+ marks 20 years of advancing literacy and math worldwide
Since its inception in 2002, the project has expanded to support students across North America, Europe, Africa and Asia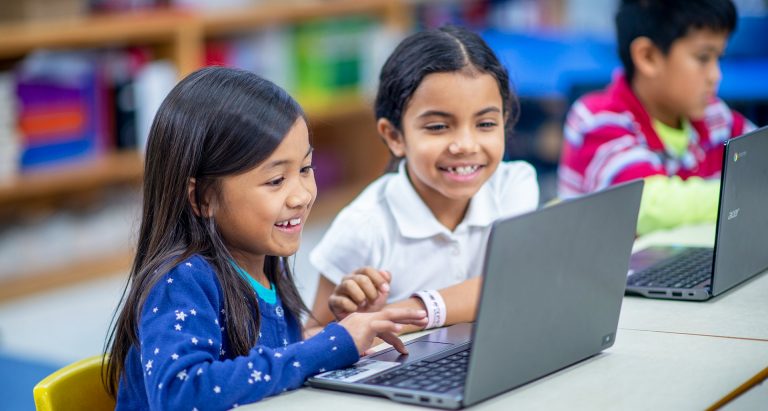 Learning ToolKit+ (LTK), a Concordia-based project housed in the Centre for the Study of Learning and Performance (CSLP) that develops evidence-based pedagogical software, recently celebrated its 20th anniversary.
The toolkit was first created in 2002 with the goal of developing a tool to improve English literacy among children in Quebec. Since then, LTK has developed four more research-backed tools to improve foundational educational skills, including early literacy, early math and information literacy.
LTK, which was initially designed for Quebec competency-based classrooms, has expanded to support students and teachers across North America (Canada, United States), the United Kingdom, Australia, Europe (France, Portugal), Africa (Ghana, Kenya, Morocco, Rwanda) and Asia (Bangladesh, China, Hong Kong, India). All the tools and accompanying array of support material are bilingual — offered in French and English.
Concordia faculty and staff and international partners celebrated 20+ years of LTK research on August 31.
"I think it's fair to say that in Concordia's history, the success of the CSLP and the projects coming out of and associated with the Learning Toolkit have really been at the vanguard of our success as a social science and humanities-oriented university," Concordia President Graham Carr said at the celebration.
The August 31 event was also an important opportunity to thank Philip Abrami for over 20 years as the lead on the LTK+ projects, and to welcome Robert Cassidy, former director of the Centre for Teaching and Learning, as the new lead.
"Learning ToolKit+ promotes Concordia University as an international leader in cutting-edge education for the real world," says Philip Abrami, CSLP founder and distinguished professor emeritus of education in Concordia's Faculty of Arts and Science.
"We are off to a good start with software that clearly works, that teachers and students enjoy using, and that helps emerging readers become good readers. Our numeracy tools do likewise for teachers and students."
According to UNESCO, around 763 million adults worldwide lack basic literacy skills and global illiteracy costs the worldwide economy about $1.9 trillion USD annually.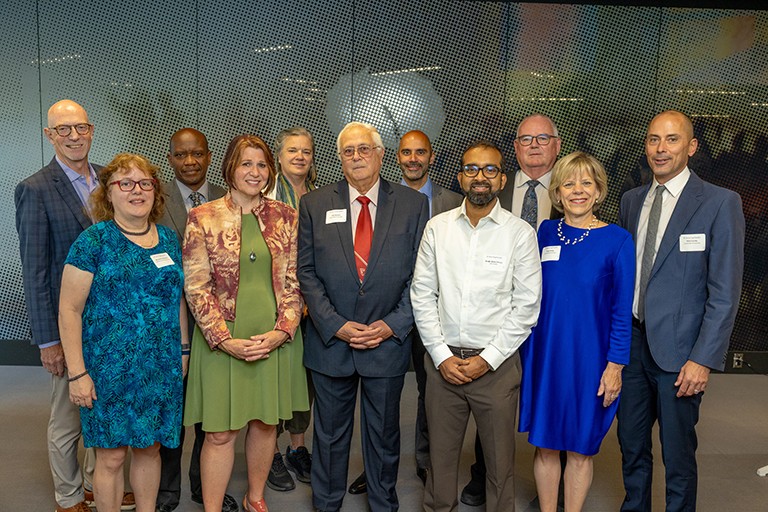 Faculty and staff and international partners celebrate over 20 years of Learning Toolkit+ research on August 31.
The toolkit comprises five online learning resources:
ePEARL: An electronic portfolio enabling students to establish their learning objectives and cultivate self-regulated learning skills
ABRACADABRA: Supports beginning readers from kindergarten to grade three (ages five to nine) through dozens of engaging interactive activities and stories
READS: A database of more than 600 free stories (or 2,500+ when considering multiple languages of the same book) from 13 countries
ELM: Provides support for early math learning
IS-21: Fosters information literacy skills among middle school students
"These tools were designed to build foundational competencies as we want young children to have a strong start," explains Anne Wade, the LTK global manager. "Literacy, numeracy and information literacy are all important competencies that will set students on the right path for academic and personal success."
Backed by major funding and active collaborations
Over the past 20 years, LTK has received more than $20 million in research and development grants from the Social Sciences and Humanities Research Council of Canada (SSHRC), the Fonds de recherche du Québec – Société et culture (FRQSC) and the Max Bell Foundation, among many others.
LTK has been part of several large federally funded national networks focused on education technology and literacy research. More recently, through funding under the SSHRC Partnership and Global Partnership for Education — Knowledge and Innovation Exchange (GPE-KIX) programs, LTK has been investigating the tools' impact on student learning in the Global South and looking at how to scale and sustain a proven educational innovation across a country.
This has resulted in collaborations with several important international partners, including World Vision Canada, Kenya and Rwanda, and the Aga Khan Academies.
In 2017, CSLP received the UNESCO King Sejong Literacy Prize for its work creating and implementing LTK in Kenya. The prize is awarded annually to candidates who've proven their capacity to develop and deliver mother-tongue literacy education and training.
"We have been able to successfully train a large number of teachers in the use of these tools and at the same time improve their understanding of good practices in the teaching of literacy and numeracy," says Jonathon Marsh, who recently retired from his position as global manager for teacher professional development at Aga Khan Academies.
"As a result, we have been able to greatly improve learning gains and enhance the lives of thousands of young learners."

Find out more about Concordia's Centre for the Study of Learning and Performance and their Learning Toolkit+.
---