Concordia prof wins a SSHRC grant to study and promote endangered Indigenous languages
René Lemieux will use the funds to further develop existing documentation and create accessible learning resources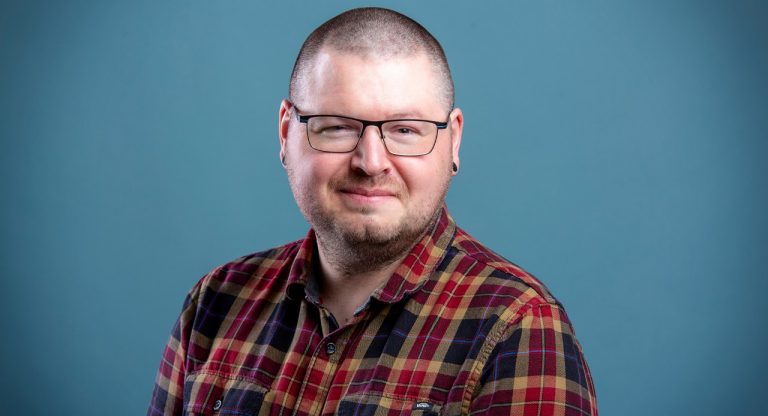 René Lemieux, an assistant professor in Concordia's Département d'Études françaises, has received funding worth over $23,000 from the Social Sciences and Humanities Research Council (SSHRC).
Lemieux will be using the funds to further his work with the Awikhiganisaskak Project, which gathers a team of researchers and community members to promote Indigenous linguistic and cultural documentation.
The Awikhiganisaskak Project is born
Lemieux arrived at the department last year from the University of Sherbrooke. He says he has always been interested in translation as a tool in intercultural mediation.
"I participated in the foundation of the Awikhiganisaskak Project with colleagues from diverse higher-education institutions in the Eastern Townships and in collaboration with Indigenous community members from Odanak, an Abenaki community," Lemieux explains.
He says that the Odanak community's collaboration has been essential to the project's success thus far.
Awikhiganisaskak is an Abenaki word meaning "a place where books and reading materials are stored," Lemieux notes. "It was our way to translate the expression 'documentation centre.'"
Lemieux co-founded the project three years ago as part of the 2019 UNESCO International Year of Indigenous Languages. The project continues in the spirit of the 2022–2032 International Decade of Indigenous Languages, declared by the United Nations General Assembly.
Living languages at risk
"The Abenaki language is under threat. But nowadays we see an important engagement of the Abenaki community for the resurgence of their language," Lemieux says.
The Abenaki language belongs to the Algonquian language family, which includes languages like Cree, Innu-Aimun and Mi'gmaw. Multiple efforts are currently under way to help preserve the languages from this family and all those of the other 11 Indigenous languages families in Canada, which include up to 70 different languages.
Abenaki is in a special position, since that there are over 400 years' worth of works existing in the language, scattered in various archives.
Lemieux and his team of members from the inter-institutional Awikhiganisaskak Project hope to compile as much material as possible, transcribe it and, in some cases, translate it into French, so it can be as available as possible.
The latest grant for the project was secured through a collaboration with Univers culturel de Saint-Sulpice, a non-profit organization created by the Prêtres de Saint-Sulpice de Montréal.
With this SSHRC funding, Lemieux will hire a team of students. In collaboration with Indigenous language specialists, the students will work on the curating a portion of the manuscripts owned by the Archives of the Sulpicians to understand the manuscripts' history and learn more about the people involved in their production — Indigenous and non-Indigenous — to discover the Indigenous languages present, and finally to make them accessible for research and pedagogical initiatives.
"Documentation usually means you go into Indigenous communities, you take the language, you come back to your university and you write a dictionary," says Lemieux.
"We are doing the opposite. We want to use existing documentation and process it. Indigenous community members can then use that processed documentation to relearn their languages."
Public talks and community learning
In addition to his documentation work, Lemieux is in charge of the Indigenous Translation Observatory, for which he has been organizing a series of public talks. Subjects range from the role of translation in dictionaries in Indigenous languages to co-authorship of Indigenous manuscripts.
The series has been successful so far, and Lemieux is planning more talks for the fall.
"We will be looking at topics like creating manuals for learning nêhiyawêwin/Cree, or how to conceptualize intercultural translation, for instance in context of resurgence of Indigenous legal orders," he says.
Ultimately, Lemieux adds, "The goal is to make sure our work is available to Indigenous community members themselves, so that they can decide how to use it."

Learn more about Concordia's Département d'Études françaises.
---