Concordia journalism and Kahnawake Survival School collaboration makes airwaves
Stories produced by participating students go live on CBC Radio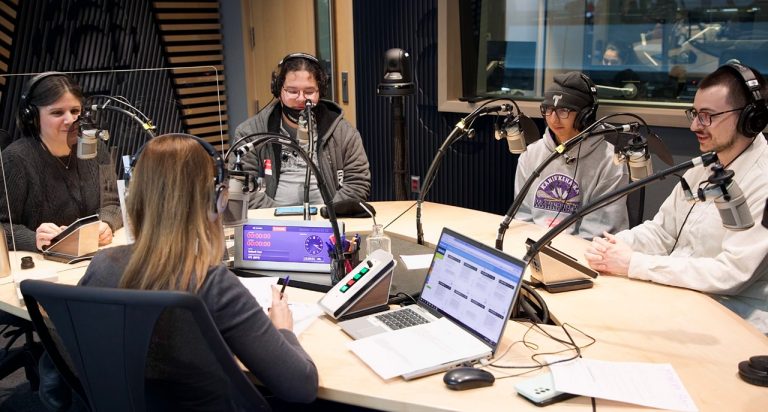 Stories produced by students from Concordia's Department of Journalism and the Kahnawake Survival School (KSS) in the Kahnawake Kanien'kehá:ka Territory, were featured on CBC Radio in Montreal on April 24.
The Concordia journalism students mentored the secondary five KSS students over the course of the winter term to help them develop radio stories about their community.
The collaboration is based at the department's Institute for Inclusive, Investigative and Innovative Journalism (I3J), which is headed by the university's journalist-in-residence Kristy Snell. The award-winning multi-platform journalist has been the voice of CBC Radio's morning newscasts in Montreal for over a decade.
The project started as an extracurricular activity at KSS last November. The school decided to integrate the partnership into its curriculum this year by involving a secondary five class.
"I was so proud of them," Snell says. "We had seven teams of students, and all of them were able to put stories together. And they're amazing — each story is a little slice of life in Kahnawake."
Kahnawake's iron-working tradition, language revitalization, firefighting as a way to give back to one's community, keeping culture alive — these are just some of the stories that emerged this term.
"The KSS students came up with ideas and did the interviews. I think they did a wonderful job voicing, too," Snell says.
"Our Concordia students were amazing. They really stepped up and did a fantastic job mentoring the younger students, helping them with writing and all the way along."
Storytelling, not story-taking
The stories aired on CBC Montreal's "Let's Go" program with Sabrina Marandola. Journalism student Anthony Issa and KSS students Rorihwatoken Cross and Wyatt Harper were invited to speak on air about the collaboration.
For Issa, the project was the highlight of his time in the journalism department.
"I'm so glad I had the opportunity to work on this project. Everything I learned in the last three years in the department I put into this project and was able to share with my team and have an impact," he says.
"This experience taught me how to be a storyteller and not a 'story taker.' I liked being a mentor and through this class I realized I want to do more of it."
Issa was paired with Cross and Harper. The students told the story of Kahnawákeró:non J.D. Saylor and his at-home workout plans for his community.
Harper reveals that he completely stepped out of his comfort zone with this project. "The experience was great. Anthony had great energy," he says.
"There was a lot of laughs, good memories and jokes. The whole journey was great. I would do it again."
Harper describes how he called his grandparents before going live on-air so that they could tune in.
"My grandparents are really impressed because they know me as the shy, quiet kid and normally I don't talk much. When they heard me on the radio, they were really proud and surprised," he says.
"After the interview, my grandmother told me she is very proud of me."
Harper and Cross say that journalism has become a future career option for each of them.
"It feels good that our story is out there, and people can hear it. It was a fun experience," Cross adds.
"I feel different now towards journalism and how the process really is. Now I see how much you have to put into a story. Journalism was not an option before but now it is."
Celebrating what's to come
KSS hosted a radio listening party in Kahnawake. The school invited Concordia's Department of Journalism to celebrate the collaboration's success since its November launch.
"We're grateful that CBC was committed to featuring the kids' achievements and the community by airing the stories," Snell says. "I hope listeners enjoyed learning a little about Kahnawake through the voices of its young people."
KSS and Concordia are both aiming for the project to advance, evolve and improve each term.
"The coordinators at Kahnawake Survival School have said they definitely want to continue with the project and so do we, so we're looking forward to that. It's exciting because we've been through the process now so we will be able to fine-tune things and make it even better," Snell says.
"My dream is that some of the kids we're working with at KSS will show up at Concordia's School of Journalism in a few years."

Find out more about Concordia's Department of Journalism and Institute for Inclusive, Investigative and Innovative Journalism.
---