Concordia professor launches season two of The Irish in Canada podcast
Jane McGaughey draws on her university lectures to shine a spotlight on intriguing yet little-known historical figures and events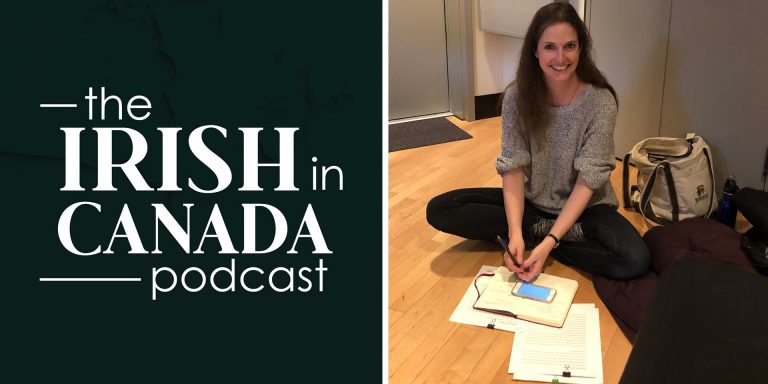 A second season of The Irish in Canada podcast — created, researched, written and narrated by Concordia's Jane McGaughey — launched on March 2, just in time for Green Season.
McGaughey is the Johnson Chair of Québec and Canadian Irish Studies as well as an associate professor of diaspora studies at the university's School of Irish Studies. She developed the podcast to explore the lives and legacies of Irish immigrants and their Canadian descendants. Each 15-to-20-minute episode tells the story of a notable person or event in Irish Canadian history.
"Some history podcasts can go on too long," McGaughey says. "We wanted something that you could listen to while out walking or driving and finish in one go."
Some of the show's most popular episodes from its first season include the stories of Grace Marks, the alleged teenage murderer from the 1840s who was the subject of Margaret Atwood's Alias Grace, and Mary Gallagher, the ghost of Montreal's Griffintown neighbourhood.
"As anyone who has listened will know, I also have quite the soft spot for Colonel James FitzGibbon, who is an Irishman straight out of a Jane Austen novel," McGaughey adds.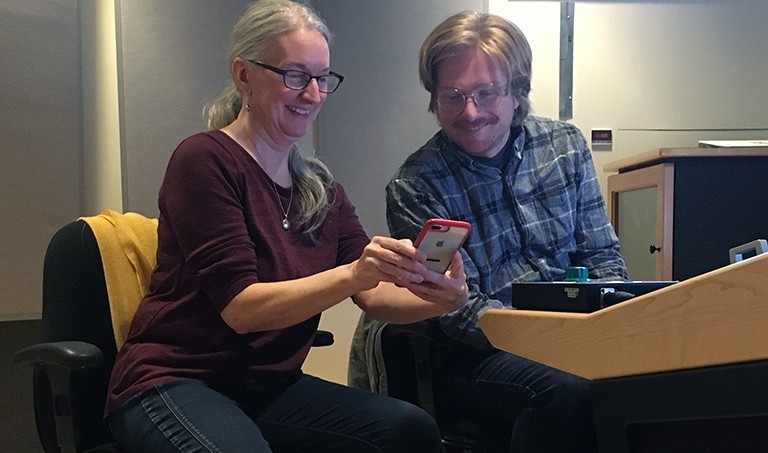 From left: Marion Mulvenna and Patrick McMaster in the recording studio.
Storytelling beyond the classroom
Edited and mixed by Patrick McMaster and produced by Marion Mulvenna, The Irish in Canada podcast released nine episodes last year. The team's goal was to formally record what is known about the Irish who came to Canada and convey that information to a wider audience in an accessible and captivating way.
"During the lockdown, my love of podcasts increased exponentially," McGaughey shares. "I had already listened to many, but I started thinking about the possibilities a podcast would have to reach people who can't attend a class or a public lecture."
The show is based on a series of lectures from McGaughey's work at Concordia, which includes the Irish in Canada (IRST 210 / HIST 212) course she's taught since 2012. She came to realize how many fascinating stories her students had never heard before.
"I have a specific mandate to reach out to the community to make them more aware about how the Irish have helped to shape and build the province and country since the mid-18th century," McGaughey says. "I thought the podcast would be a great chance to mix the more popular anecdotes from my classes with a broad audience who just loves a good story, hopefully well researched and well told."
McGaughey says was surprised the podcast involved a lot more work than she initially expected. "The way I write in my publications is quite formal, and in the classroom I try to be more relaxed," she notes.
"Becoming just 'a voice' took a bit of time in terms of finding the right tone and adding what we call 'Jane-isms' in each episode to make sure things aren't getting too academic. I can be rather sarcastic and dry in the classroom, so those were elements that Marion and Patrick wanted to make sure I also delivered in the recording studio."
Despite those small challenges, McGaughey says the blend of research approaches she has accumulated from having learned about Irish history from Canadian, Irish, British and American perspectives has helped equip her for this new project.
New season digs even deeper
According to McGaughey, the show's second season is shaping up to be very exciting. While it will maintain the same general format as the first, season two of The Irish in Canada podcast will feature more detailed storytelling, dive a bit deeper into each topic and incorporate more locations including British Columbia, Manitoba, the Yukon, the Northwest Passage, Montreal and more.
"Our first episode will look at the doomed Franklin Expedition and Francis Crozier, the Irish captain of the HMS Terror," McGaughey says, referring to the failed 1845 Arctic exploration.
"That episode has a bit of everything: adventure, tragedy, a disastrous love affair, polar bears, racism and, of course, the great mystery of what exactly happened to the lost crews after they abandoned their ships in the ice. There's nothing like rumours of cannibalism to kick off a new season!"
In the season's last episode, McGaughey will also debut the intriguing story of Mary Boyd, a young Irish Quebecker who became a maid in Toronto with "absolutely horrific results" and who is the focus of McGaughey's next book.
McGaughey reports that she and her team are already plotting out episodes for a third season, so there is sure to be more to come.

The new season of The Irish in Canada podcast launched Thursday, March 2, and is available for listening on most podcast platforms. For more information, visit the podcast's website or social media profiles on Twitter, Facebook and Instagram.
---