How a $725,000 gift enabled a new professorship in Irish literature
Donation from Canadian Irish Studies Foundation to Campaign for Concordia strengthens key university program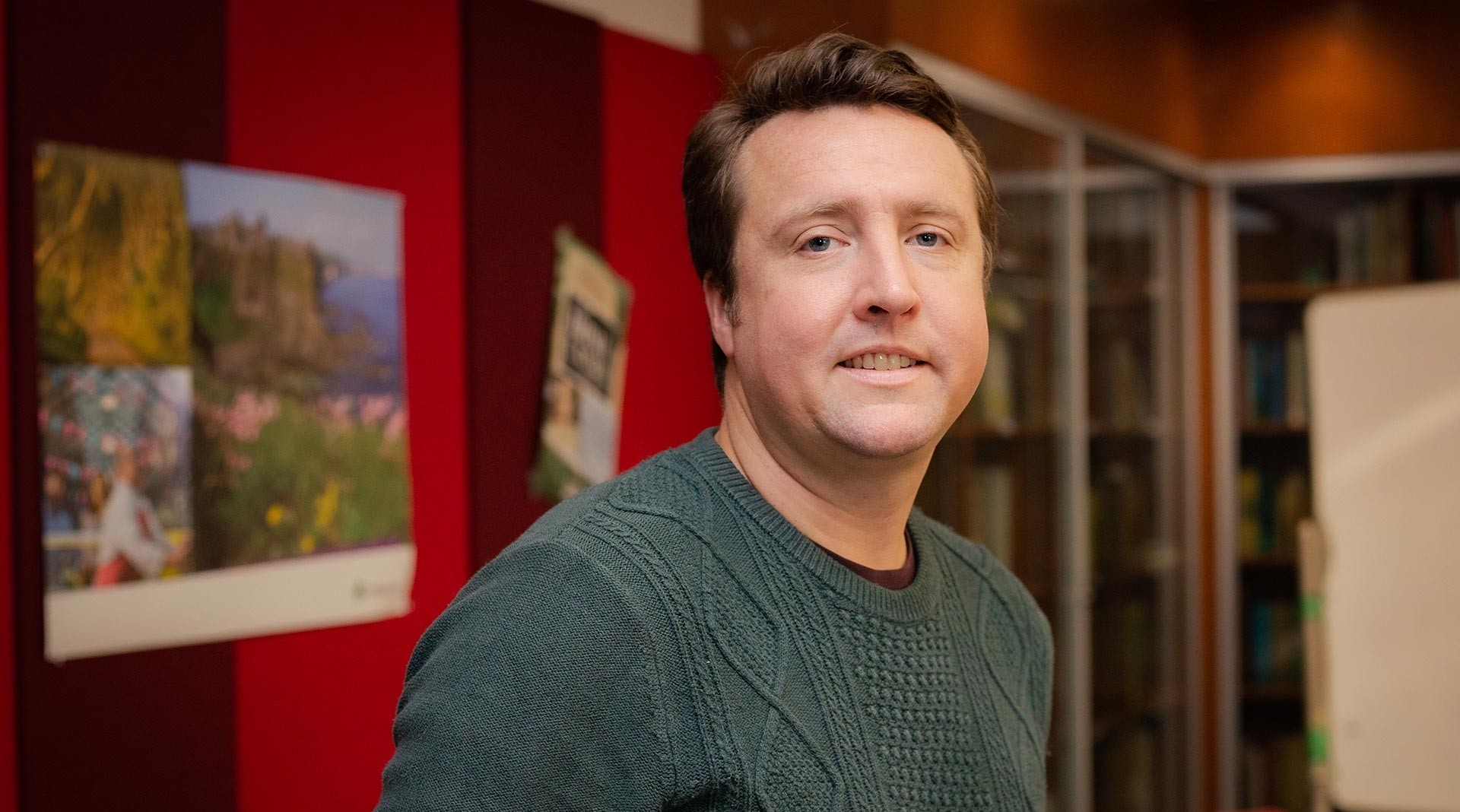 Keelan Harkin is the newly appointed professor in Irish literature at Concordia's School of Irish Studies.
Swift. Wilde. Yeats. Heaney. Enright.
The list of literary luminaries hailing from Ireland is long and accomplished.
It's all the more fitting, then, that the Canadian Irish Studies Foundation (CISF) is funding a new position in Irish literature at Concordia's School of Irish Studies, thanks to a gift of $725,000 to the Campaign for Concordia: Next-Gen Now.
"With this donation, the Irish community — through the CISF — has donated approximately $13 million since we began to develop Irish studies at Concordia in the early 1990s," notes Michael Kenneally, an authority on Irish literature who co-founded the School of Irish Studies and served as principal from its inception in 2009 until early 2022.
Kenneally and his spouse, Rhona Richman Kenneally — a retired Faculty of Fine Arts professor and the school's other co-founder — are central to Concordia's enduring relationship with the CISF, says the foundation's chair, Pamela McGovern.
"Michael and Rhona were the ones who first had the initial dream of establishing a school for Irish studies," McGovern remarks. "The St. Patrick's Society of Montreal had started funding courses in 1991, but then around 1995 Brian O'Neil Gallery and Peter O'Brien founded the CISF. That's when they started raising funds, with generous support from community members, corporations, foundations and several governments, to help make that dream a reality."
With education a major priority for the foundation's trustees, adds McGovern, the proposal to support a new position explicitly devoted to literature just made sense.
"It's a need we were keenly aware of for some time," she says. "After the presentation was made to the foundation we started a fundraising campaign almost immediately — and I'm delighted to say that we met our goal within two years, thanks to the hard work of our trustees and the generosity of our donors."
'What country in the world wouldn't like to claim Joyce?'
The new postion will be taken up by Keelan Harkin, a lecturer at the School of Irish Studies since 2019. Harkin has also held academic appointments at McMaster University, Trinity College Dublin and McGill University, where he earned his PhD in English literature in 2018 (thesis title: Imagined Constitutions: Citizenship and Narrative Form in Ireland since Independence).
"I am very excited and grateful to be able to return to Concordia in a full-time capacity," says Harkin. "I know I will be amongst an excellent and welcoming group of colleagues in the School of Irish Studies, and the students at Concordia are such a joy to teach — they are always very engaged, creative and enthusiastic in their work, and they always enrich my own approach to the study of Irish literature."
Harkin will teach such courses as Highlights of Irish Literature; The Irish Short Story Tradition; Contemporary Irish Literature; Classics of Irish Theatre; The Modern Irish Novel; and The Irish Literary Revival, which were previously taught by Kenneally before his retirement.
Gearóid Ó hAllmhuráin, a professor at the school and principal since the departure of Kenneally, takes great pride in the quality of literary talent that Ireland has developed.
"We've been extremely fortunate to produce such extraordinary writers, both in Irish — the oldest written language in Europe — and in English," says Ó hAllmhuráin. "This new position is significant for the school because of the profile of Irish literature globally.
"Let's face it, what country in the world wouldn't like to claim James Joyce?"
When asked to describe the impact he hopes to make as principal, Ó hAllmhuráin, who calls his predecessor's legacy "Promethean," remarks that he'd like the school to continue innovating and advancing new knowledge in the field of Irish studies.
"I'm very interested in building on our research profile," he says. "This was disrupted during the pandemic, when travel was not possible. So, it will be nice to get back on planes again.
"Our research theatre is a global one. We have scholars working in the Caribbean, in Argentina, in France and all over North America and Ireland, of course. You need to get to these places when you're working with people — you need to be on the ground. We're going to spend the next four to five years reboosting this effort and making sure we're back on the front lines."
---