Concordia instructor uses her home garden to unite artists around the climate crisis
Bonnie Baxter's video installation The Patch screened at the Musée d'art contemporain des Laurentides in Saint-Jérôme, Quebec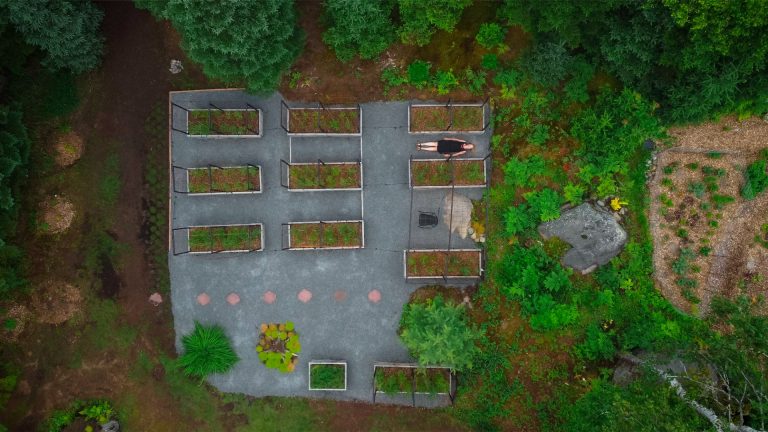 It began as an experimental project by artist and Concordia part-time print media instructor Bonnie Baxter. She gathered students and artists around a burgeoning tomato garden that she created as a food resource for the food bank in Val-David, Quebec. Now it's grown into a 360° video installation that was recently shown at the Musée d'art contemporain des Laurentides (MACLAU) in Saint-Jérôme, Quebec.
The project, titled The Patch, is a series of contemporary fables created and told by 11 artists and collectives from different countries. Ranging in age from 4 to 76, the participants were invited by Baxter to reflect on ecology, the climate crisis and food sustainability as they engage with the tomato garden.
In 2020, Baxter found herself locked down at her home in Val-David. She realized that she needed to do something about the immense isolation that her students and fellow artists were experiencing. Conditions for art-making were quite dire for her students, with little-to-no access to materials, studio spaces or community.
"How can you go beyond your own personal references and do something that could be helpful for the future?" Baxter asks, as she reflects on how The Patch began.
The idea for the project emerged from Zoom conversations between Baxter and her students. The Patch evolved during lockdown from the simple gesture of scattering a handful of tomato seeds into pots during lockdown on Baxter's property, which then grew into 120 plants and eventually into a series of performances that she and her crew filmed.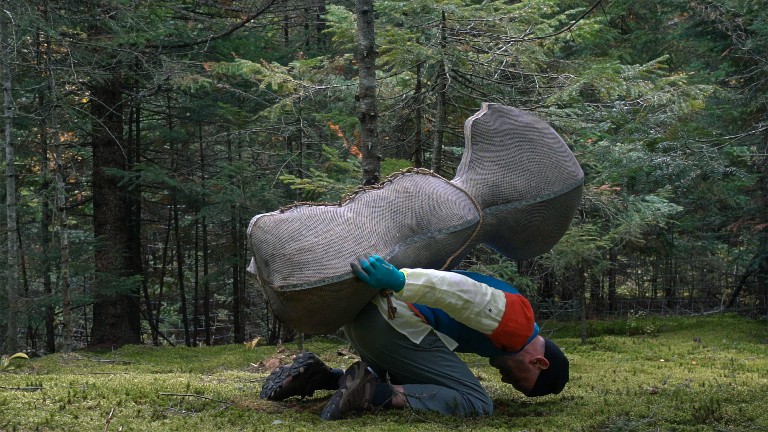 Image from
The Patch,
Book I: Changing Seasons. "The Gift (Re-Membering the Garden)" by François Morelli | Photo: François Morelli
'Many of my students felt paralyzed by the subject of climate change'
The project involved close to 100 people in front of and behind the cameras, including many artists and students from the Concordia community. They include: Devora Neumark, BFA 84, PhD 13; Alana Riley, BFA 03; Mathilde Rohr, BFA 17; Camille Charbonneau, BFA 19; Nico Williams, MFA 21; Ingrid Bachmann, professor of studio arts; François Morelli, BFA 75, professor of painting and drawing; and lecturers Juliana España Keller, BFA 00, MFA 03, and Kathleen Kennedy-Turner, BA 14, GrCert 19, PhD 20.
Other participants include former Concordia instructors Joe De Leo, Richard Purdy and Jen Rae, Johannes Zits from Toronto, the Serene Seasons Dream Collective — made up of young artists from Montreal and Guelph, Ontario — and A Climate Chorus.
Florence-Ariel Tremblay, assistant coordinator of The Patch, recalls that Baxter pitched the idea to her as a feminist empowerment art project. "It's been nice to learn different skills for the various parts of it," she says. "It's also really inspiring to see Bonnie keep on, especially during COVID."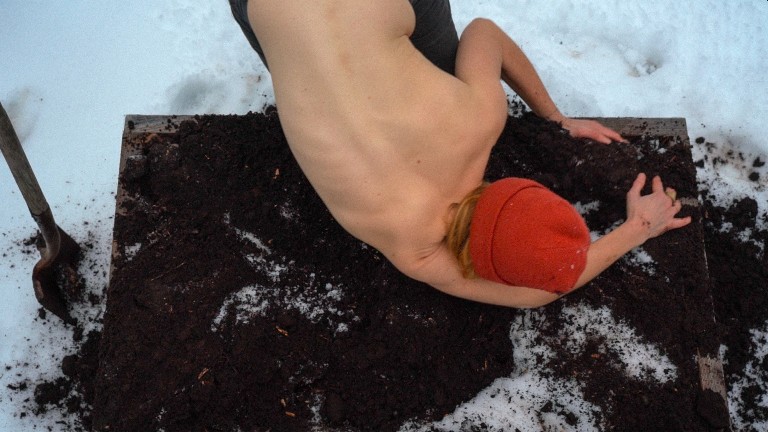 Image from
The Patch,
Book I: Changing Seasons. "Semences et floraisons : Fable contemporaine d'une mue des consciences" by Mathilde Rohr | Photo: Ingrid Bachmann
The Patch was shot using a drone camera, 360° camera, infrared camera and video camera. After editing down hours of footage, the finished film in three parts, or "books" — documents — uses footage from the 11 performances and weaves together multilayered stories of hope, loss and change.
The video books are projected floor to ceiling onto four walls to create a 360 immersive installation.
"It's hard to know what audiences will have as a takeaway, but I desire it to be the urgency of the climate crisis," Baxter says. "Many of my students have told me they felt paralyzed by the subject of climate change."
The Patch was supported by the Conseil des arts et des lettres du Québec (CALQ) and the Concordia University Part-Time Faculty Association (CUPFA).
Part of Baxter and her team's philosophy behind The Patch comes from a paraphrase of the poem Tout est un by the famous Persian poet Rumi, "There is nothing that exists in this world that is not contained within you."
Baxter says the poem was restated as a caution, a reminder to be careful of what we are willing to let die. She adds that the team behind the film hopes its message and values at its heart inspire viewers to care for themselves, each other and our environments.
Find out more about Concordia's Department of Studio Arts.
---